Iowa State vs BYU Predictions, Odds Week 11 2023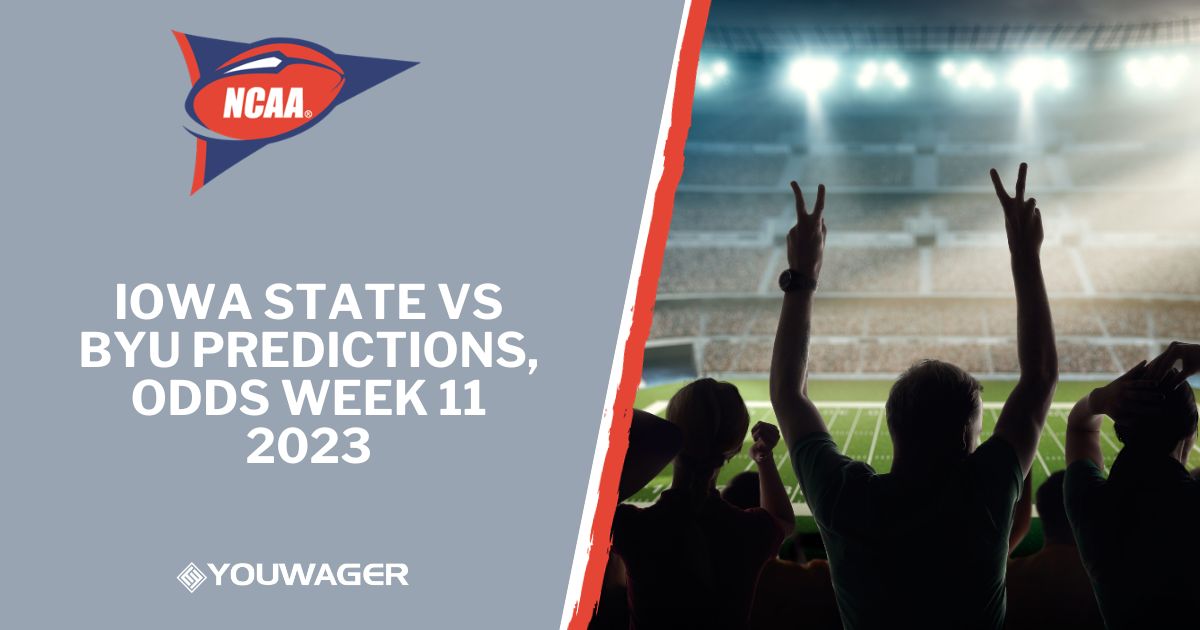 Check out our free Iowa State vs. BYU preview for this week 11 college football matchup in Provo. See who we think will win and cover the spread in this NCAA preseason showdown.
Iowa State averages 219.7 passing yards per game.
BYU's defense allows 26.9 points per game.
IOWA STATE VS BYU PREVIEW
The Cougars and Cyclones square off in Week 11 college football action on Saturday, November 11th at 10:15 a.m. ET. The Cougars will play the Cyclones at LaVell Edwards Stadium, and the game will be broadcast on ESPN.In this Big 12 matchup, the Cyclones are 6.5 point favorites on the road. Can they win on the road and cover the spread?
IOWA STATE VS. BYU MATCHUP AT A GLANCE
Sport: College Football
Teams: Iowa State Cyclones at BYU Cougars
Where: Provo at LaVell Edwards Stadium
Date: Saturday, November 11th
IOWA STATE PREVIEW: WILL IOWA STATE BULD OFF THEIR WIN?
After their most recent loss to Kansas, Iowa State's overall record fell to 5-4. The Cyclones were defeated by a score of 28-21. This season, Iowa State has been the favorite in four games and the underdog in four. Their current ATS record is 4-4. The average over/under line in Iowa State's matches after nine games is 44.9 points. The average score in their games has been 44.2 points, giving OU a 3-5 record.
In terms of rushing, the Cyclones' offense scored two scores and covered 75 yards on 29 attempts versus Kansas. However, their passing game failed to produce a touchdown, totaling 258 yards on 27 attempts. Rocco Becht did not throw a touchdown versus Kansas, but he did find the endzone with his legs. He threw for 216 yards and completed 76.9% of his attempts.
Against Kansas, Iowa State's defense allowed 374 yards of offense. They allowed 287 yards in the passing game and 87 yards on the ground. The Iowa State defense enters this week's game ranked 70th in points allowed, allowing 20.7 points per game. Opponents have averaged 212.6 passing yards per game against them (ranking 77th in the country). They rank 42nd in college football by allowing 119.1 rushing yards per game.
BYU PREVIEW: WILL BYU ADD ANOTHER WIN?
BYU's overall record has dropped to 5-4 following their recent game versus West Virginia. The Cougars were unable to earn the victory, falling 37-7. BYU has an ATS record of 3-4 after being the underdog in all of their games thus far. Their season scoring margin is -4 (per game). The average point total in BYU's nine games this season is 49.8. As a result, the Cougars have a 4-3 over/under record.
The Cougars' offense scored one rushing touchdown and gained 67 yards on 21 attempts against West Virginia. Unfortunately, their passing offense was unable to hit the endzone, finishing with 210 yards from 42 pass attempts. Jake Retzlaff finished with 210 yards and a completion percentage of 57.1% versus West Virginia. He finished the game without scoring on the ground or through the air.
West Virginia gained 568 yards against BYU on defense. This includes allowing 337 yards on the ground and 231 passing yards. With 26.9 points allowed per game, BYU's defense ranks 100th in the US. Teams have averaged 236.2 passing yards against them (111th in the country). They've given up 174.8 rushing yards, ranking them 132nd in college football.
IOWA STATE VS BYU BETTING ODDS, TRENDS & ANALYSIS
The previous ten head-to-head meetings between Iowa State and BYU have gone in favor of Iowa State, with a 6-4 record.
In addition to going 2-1 vs. the spread in the last three meetings with Iowa State, BYU is 2-1 ATS in the last three meetings with Iowa State.
Iowa State, who entered as 7-point road favorites, is still the favorite, with the lines presently at -6.5. Iowa State was granted a moneyline payout of -278 at the start, which has since been reduced to -273. Based on the odds, BYU has a 32% chance of winning and Iowa State has a 73% chance of winning.
KEY BETTING TRENDS
Iowa State's last 10 games against the spread have resulted in a 4-6 record.
BYU is 0-3 against the spread in its last three games at home.
Looking back at the last three games in which BYU was the underdog, their ATS record was 1-2.
Iowa State's ATS record over the last three times they were favored was 2-1.
YouWager.lv you can wager on the different betting types, such as moneyline, spread, and total, and you can bet either on your favorite team or an undervalued underdog, always with the best and latest wagering lines. Open your account now and receive a 100% bonus on your first cryptocurrency deposit, just click below: