Arizona State vs Utah Betting Odds, Predictions, Week 10 2023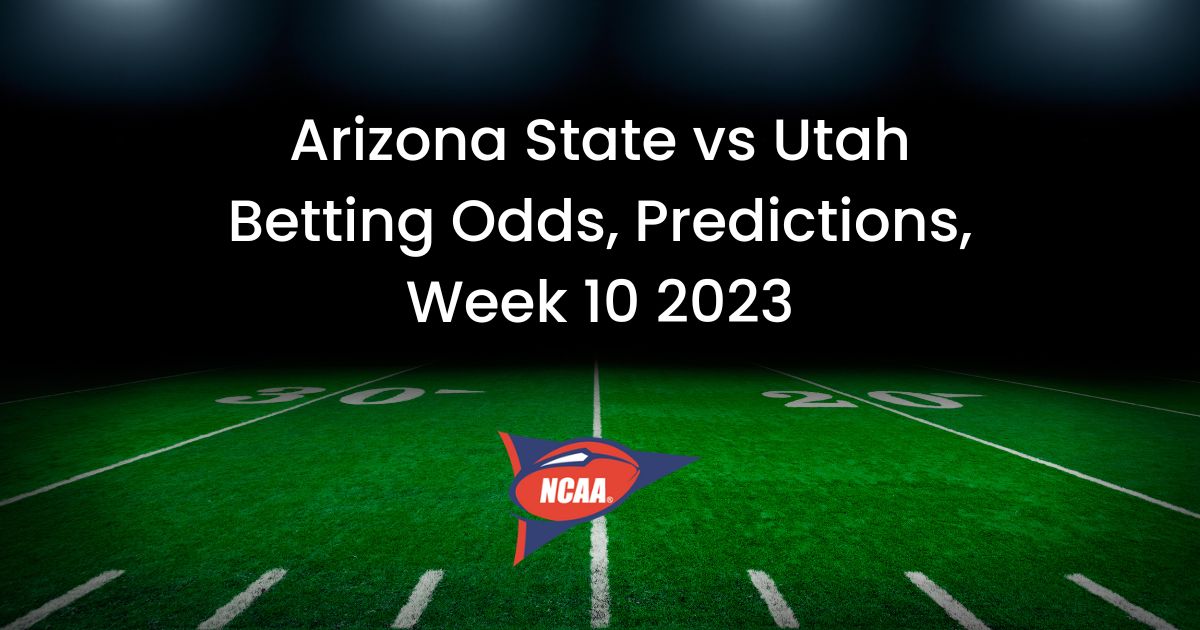 Arizona State vs Utah Betting odds and predictions for this week 10 college football game. Place a college football bet at YouWager.lv.
By passing attempts, Arizona State's offense is ranked 17th.
17.5 points are surrendered by the Utah defense each contest.
The Sun Devils and Utes play their NCAAF Week 10 showdown at Rice-Eccles Stadium at 2:00 ET. The game is scheduled for Saturday, November 4th, and PACN will be the broadcast partner for it.The Utes are the 11-point home favorites in this Pac-12 clash for week 10. Will this be a victory for the Utes? Find out on Saturday how I envision this game going.
Arizona State vs Utah Betting Odds
Here are the Arizona State vs Utah Betting odds:
| TEAM | SPREAD | MONEYLINE | TOTAL |
| --- | --- | --- | --- |
| Arizona State | +11 | -+320 | Over 41.5 |
| Utah | -11 | -400 | Under 41.5 |
Place a bet on this game with the best odds at YouWager.lv:

Arizona State vs Utah Betting Preview
Here is the Arizona State vs Utah Betting preview.
Arizona State Preview
Arizona State, which has a 2–6 overall record, takes against Utah. They recently defeated Washington State 38–27, the outcome of their best performance. Arizona State's overall record is 4-2-1 after they have started as the underdog in every game thus far. They have a -6.9 (per game) scoring margin for the season. Arizona State has a 2–5 over/under record this season. With an average over/under line of 53.9 points, their games have yielded a cumulative total of 46.1 points.
Against Washington State, Arizona State's offense ran for five touchdowns but failed to throw for a touchdown. They ended up with 512 total yards, averaging 6.6 yards per rush attempt, and 274 total passing yards. Trenton Bourguet went 19 for 26 for a completion percentage of 73.1% versus Washington State, finishing with 274 yards. There was not a single passing or rushing score by the end of the game.
Against Washington State, Arizona State's defense allowed 403 yards of offensive production. They gave up 88 yards on the ground and 315 yards in the passing game. With 26.5 points allowed per game, the defense of Arizona State is ranked 102nd in terms of points allowed. Teams facing them allow an average of 236.5 passing yards per game (ranked 108th in the USA). They rank 26th in NCAA football for rushing defense, having allowed 104.6 rushing yards.
Utah Preview
The Utah Utes, who are 6-2, are still above.500 after losing to Oregon 35–6 in their most recent game. They will now play Arizona State. Utah has an ATS record of 4-3 based on an average score differential of +3.8 for the season. Three games have seen the Utes as the underdog and four times as the favorites. Utah's games have an average over/under line of 46.5 points over the past eight games. These games have had an average total score of 38.8 points, giving OU a 2-5 record.
The Utes amassed 241 yards of offense and 13 first downs in the offensive department. They gained 142 yards through the air after airing the ball out 30 times. On 36 carries, their running assault gained 99 yards. Quarterback Bryson Barnes attempted 29 passes against Oregon in their most recent game. With 136 passing yards and a 51.7% completion percentage, he concluded the game. He also threw two interceptions throughout the defeat.
Utah's defense gave up 390 yards in total versus Oregon by the end of the game. Against Utah, Oregon passed the ball 31 times for 248 yards. The Utes gave up 142 running yards while on the ground. The Utes defense leads the nation in quarterback rushes and has 25 sacks going into the game. They allow 17.5 points per game (61st) in terms of points allowed. They are rated 83rd in the NCAA for pass defense, giving up 221.2 passing yards per game on average. Furthermore, Utah's run defense surrenders 86 running yards per game.
Arizona State vs Utah Betting  Analysis and Trends
In the most recent match between the two teams, Utah defeated Arizona State 34–13. Utah's passing yardage during the game was 260 yards with an average of 13.7 yards per completion. Arizona State scored 6 runs while Utah scored 205.
With 11 points, Utah leads the way as the current road favorite. The point spread has stayed very consistent, adhering to the initial lines. Utah's expected win probability has dropped to 81% on the moneyline from their opening position of -549. Arizona State is presently priced at +329 by the oddsmakers, with an estimated win probability of 23. Arizona State's moneyline opened at +350.
Key Betting Trends
In their last ten games against the spread, Arizona State has a 5-5 record.
Utah's home record against the spread in the last 10 games is 4-6.
Utah has a 6-4 ATS record in the 10 most recent instances in which they were the underdog.
Arizona State has a 0-3 record when playing as the favorite against the spread in their last three games.
YouWager.lv you can wager on the different betting types, such as moneyline, spread, and total, and you can bet either on your favorite team or an undervalued underdog, always with the best and latest wagering lines. Open your account now and receive a 100% bonus on your first cryptocurrency deposit, just click below:

Arizona State vs Utah Betting Odds, Predictions, Week 10 2023 by YouWager.lv.