Texas A&M vs Ole Miss Betting Odds, Predictions, Week 10 2023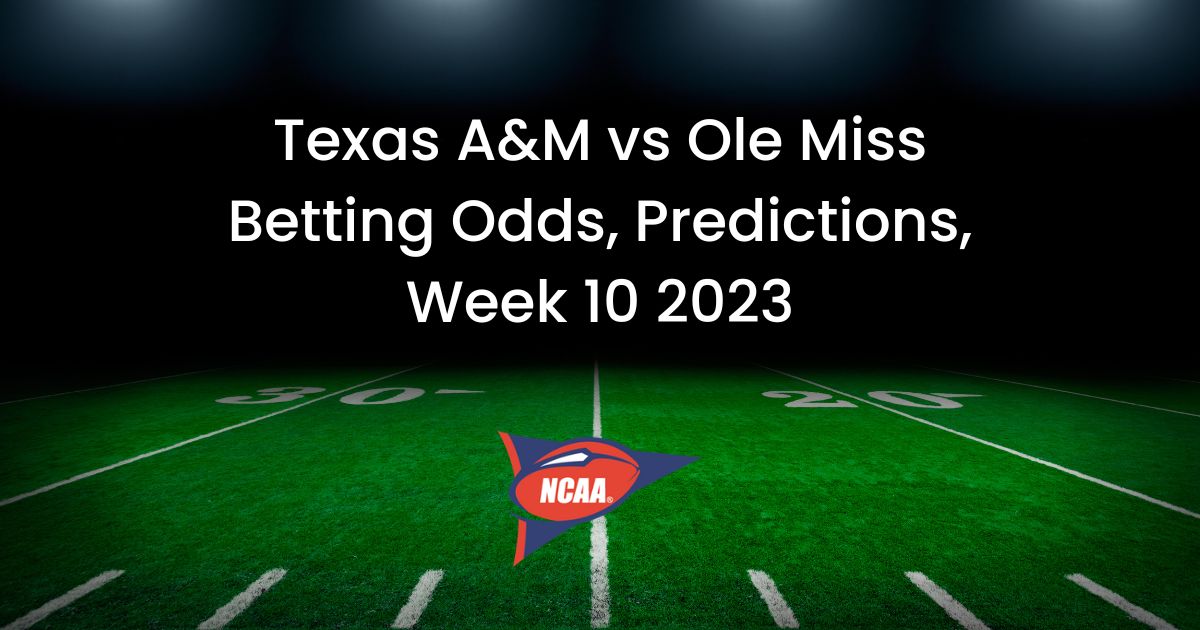 View our free Texas A&M vs Ole Miss Betting preview for this week's 10 college football matchup in Oxford.
The average passing yardage for Texas A&M is 265.8 per game.
Ole Miss's defense allows 81st few points per game.
The Aggies and Rebels play this week's 10th CFB game on ESPN at 12:00 (11/4/23). Oxford, Mississippi's Vaught-Hemingway Stadium will host the game.In this SEC matchup, the Rebels are listed as 3 point favorites at home. Will they be able to cover the spread and win at home?
Texas A&M vs Ole Miss Betting Odds
Here are the Texas A&M vs Ole Miss Betting odds:
| TEAM | SPREAD | MONEYLINE | TOTAL |
| --- | --- | --- | --- |
| Texas A&M | +3 | -+130 | Over 54 |
| Ole Miss | -3 | -150 | Under 54 |
Texas A&M vs Ole Miss Betting Preview
Here is the Texas A&M vs Ole Miss Betting preview.
Texas A&M Preview
The Texas A&M Aggies, who are 5-3 and have an above.500 record, are coming off a 30-17 victory against the South Carolina Gamecocks before their game against Ole Miss. This season, Texas A&M had a 4-4 record against the spread. Six times the Aggies have been favored compared to two games when they were the underdog. Texas A&M has a 4-4 over/under record thus far this season. Their meetings have produced a cumulative average score of 51.5 points, with 51.1 points as the usual over/under.
In their final 30 pass attempts against South Carolina, the Aggies gained 249 yards and one touchdown. They scored two rushing touchdowns and averaged 2.6 yards per carry in the rushing game. QB Max Johnson completed 20 of 30 throws for 249 yards and a QB rating of 103.33 in the victory over South Carolina. He also had one touchdown to the game's total.
Texas A&M gave up 209 yards versus South Carolina on defense. This entails surrendering 176 passing yards and 33 yards permitted on the ground. In terms of points allowed entering this week's match, Texas A&M's defense is ranked 69th, giving up 19.5 points per contest on average. As of right now, their opponents have only managed 173.1 passing yards per game (ranked 28th). They rank 19th in college football due to their 96.8 running yards allowed on the ground.
Ole Preview
As Ole Miss gets ready for this week's matchup with Texas A&M, their record has jumped to 7-1 thanks to their 33-7 victory over Vanderbilt. Ole Miss has an ATS record of 5-2 based on their season average score differential of +17.5. Five times, the Rebels have been the favorite, and twice, they have been the underdog. The average over/under line for Ole Miss games has been set at 61.1 points after eight games played. With an average cumulative score of 60.2 points from these games, OU has a 2–5 record.
The Rebels ran for 177 rushing yards and scored three touchdowns on the ground against Vanderbilt. Ole Miss scored once and passed the ball 29 times for 254 yards in the passing offense. Jaxson Dart rushed for a score and passed for one in Ole Miss's most recent victory. He completed 67.9% of his throws for 240 yards through the air throughout the contest.
The Rebels' defense played a great game against Vanderbilt, allowing only 229 yards and 7 points. The final throwing yardage for Vanderbilt was sixty. Ole Miss surrendered 3.8 yards per attempt up front. The Ole Miss defense ranked 81st in the nation in points allowed per game going into this week's contest (21.4 points per game). Teams have surpassed the unit with an average of 218.9 passing yards per game thus far (80th). 68th in college football, they are giving up 135.4 running yards on the ground.
Texas A&M vs Ole Miss Betting Analysis and Trends
Here is the Texas A&M vs Ole Miss Betting analysis and trends.
Ole Miss hopes to maintain its winning streak against Texas A&M, which ended last year with a 31-28 victory. Ole Miss will look to run the ball effectively once more after scoring 390 yards on the ground in their previous meeting with the opposition. Texas A&M finished with 480 total offensive yards, while Ole Miss had 530.
Ole Miss has moved from being -4.5 point favorites when the lines were first released to their current line of -3 (-112). On the other hand, Texas A&M is currently the road underdog by +3 (-109) points. The starting odds for the Rebels were -188, but as of right now, their moneyline payout is -159. At present, Ole Miss has an implied win probability of 61%, while Texas A&M has an implied win probability of 43%.
Key Betting Trends
When examining Texas A&M's last five away games, they have a 1-4 record against the spread.
Ole Miss has a 2-1 ATS record in their previous three home games.
Ole Miss has a 2-1 ATS record as an underdog in their last three games.
When Texas A&M was favored the last three games, their ATS record was 2-1.
At YouWager.lv you can wager on the different betting types, such as moneyline, spread, and total, and you can bet either on your favorite team or an undervalued underdog, always with the best and latest wagering lines. Open your account now and receive a 100% bonus on your first cryptocurrency deposit, just click below:

Texas A&M vs Ole Miss Betting Odds, Predictions, Week 10 2023 by YouWager.lv.