Army vs Air Force Betting Odds, Predictions, Week 10 2023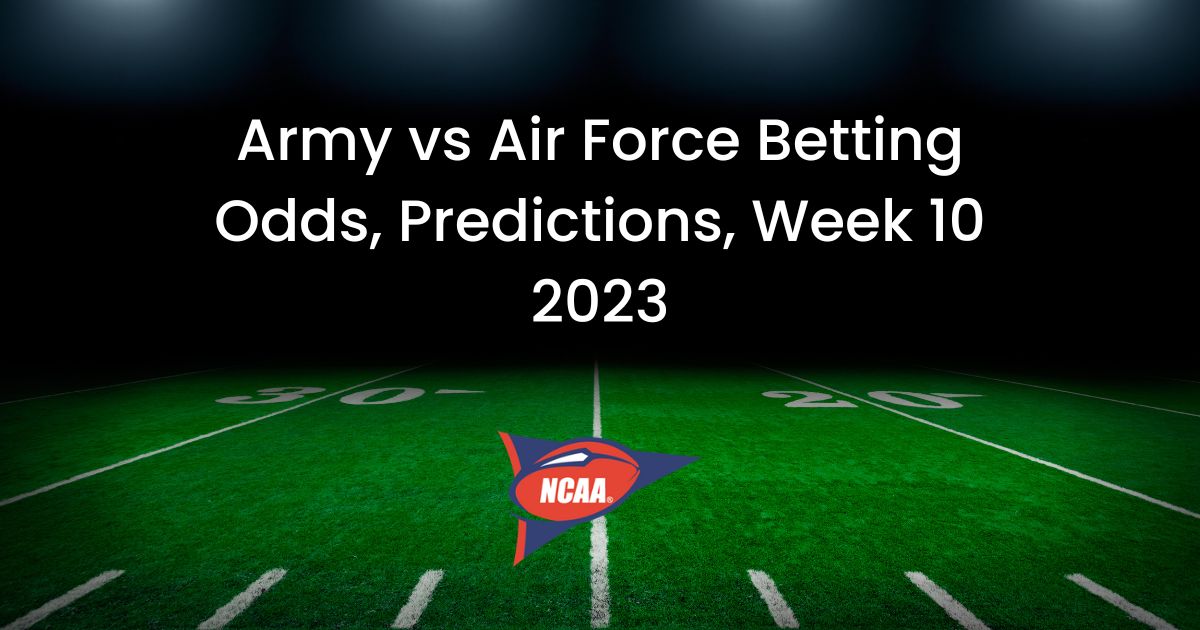 Check out our free Army vs Air Force Betting preview for this college football week 10 game in Denver. Place an NCAA bet with the latest and best odds only at YouWager.lv.
Against Army, opposing quarterbacks have an 88.2 passing rating.
The Air Force ranks 17th with a passing completion percentage of 70.0%.
The Black Knights and Falcons play an NCAAF week 10 matchup at Empower Field at Mile High at 2:30 ET. The game is on Saturday, November 4th, and CBSS will be providing TV coverage.In this nonconference game, Air Force is expected to play the Black Knights, and they are home favorites by 18.5 points. Continue reading for my analysis and suggested bets.
Army vs Air Force Betting Odds
Here are the Army vs Air Force Betting odds:
| TEAM | SPREAD | MONEYLINE | TOTAL |
| --- | --- | --- | --- |
| Army | +18.5 | -+745 | Over 31.5 |
| Aikr Force | -18.5 | -1045 | Under 31.5 |
Place a bet on this college football game with the best odds at YouWager.lv:

Army vs Air Force Betting Preview
Here is the Army vs Air Force Betting preview.
Army Preview
Army, that has a 2–6 overall record, is ready for this match. Regretfully, they were defeated 21–14 by UMass in their most recent game. Army has started four games as the favorite and four as the underdog thus far. An average scoring difference of -5.4 and an ATS record of 3-5 have resulted from this. Army's over/under record for this season is 4-4. The total number of points scored in their games has averaged 45.6, with an over/under of 47.6 points.
With 204 rushing yards on 42 tries and two rushing scores against UMass, the Black Knights' offense concluded the game on a high note. Despite throwing the ball 20 times, the team's passing offense managed to end with 120 without scoring any points. In the team's defeat versus UMass, quarterback Champ Harris only managed one score on the ground but no passing touchdowns. 92 throwing yards and a completion percentage of 71.4% were highlights of his total performance.
Against UMass, Army's defense allowed 352 yards of offense. They gave up 231 yards on the ground and 121 yards in the passing game. The Black Knights' defense has allowed 185.9 running yards per game against the run so far this season, ranking 66th. Against Army, opponents are averaging 192.2 passing yards, and their quarterbacks have an 88.2 passer rating. They rank 48th in the NCAA for the fewest points permitted.
Air Force Preview
With their 30–13 victory over Colorado State, Air Force is now 8–0 and remaining unbeaten. Air Force is 4-1-1 against the spread this season despite being favored in every game they have played. The squad had a +20.2 average scoring margin going into the match. Air Force has a 4-2 over/under record this season. Their combined games have resulted in 47 points on average, with an over/under line of 42.8 points on average.
Against Colorado State, the Falcons' passing game featured seven passes for 32 yards and one touchdown. They scored three rushing touchdowns and averaged 4.9 yards per carry in the running game. Quarterback Zac Larrier scored one touchdown on the ground and one through the air in Air Force's victory over Colorado State. He completed 57.1 percent of his passes for 32 yards during the course of the game.
By the end of the game, Colorado State had gained 339 yards in total from the Falcons defense. Compared to 297 yards in the passing game, the team's run defense gave up 42 yards of rush yardage. The Air Force defense, which is ranked 178th in terms of passing yards allowed per game, is set to face Army. When playing the Falcons, opponents attempt 29 passes on average each game. They rank 45th in college football due to their opponents' 13.4 points allowed per game. In the NCAA, their run defense is ranked seventh.
Army vs Air Force Betting Analysis and Trends
In the most recent match between the two teams, Air Force defeated Army 13–7. Air Force averaged 16.3 yards per completion while throwing for 98 yards during the contest. Air Force ran for 226 while the Army raced for 78.
Air Force saw movement from -19 point favorites to their current line of -18.5 (-110) since the lines were first released. On the other hand, Army is currently a +18.5 (-112) point road underdog. Army's moneyline payout of +800 upon launch has been reduced to +683. The odds-based implied win probabilities for the Air Force are 92%, while the Army's are 13%.
Key Betting Trends
When examining Army's last 10 away games, they have a 6-4 record against the spread.
In their last three home games, Air Force has a 2-0-1 record against the spread.
In their past three games as underdogs, the Falcons have a 2-1 record.
In their last three games as favorites, Army is 1-2.
YouWager.lv you can wager on the different betting types, such as moneyline, spread, and total, and you can bet either on your favorite team or an undervalued underdog, always with the best and latest wagering lines. Open your account now and receive a 100% bonus on your first cryptocurrency deposit, just click below:

Army vs Air Force Betting Odds, Predictions, Week 10 2023 by YouWager.lv.