Oklahoma vs Kansas Predictions, Odds Week 9 2023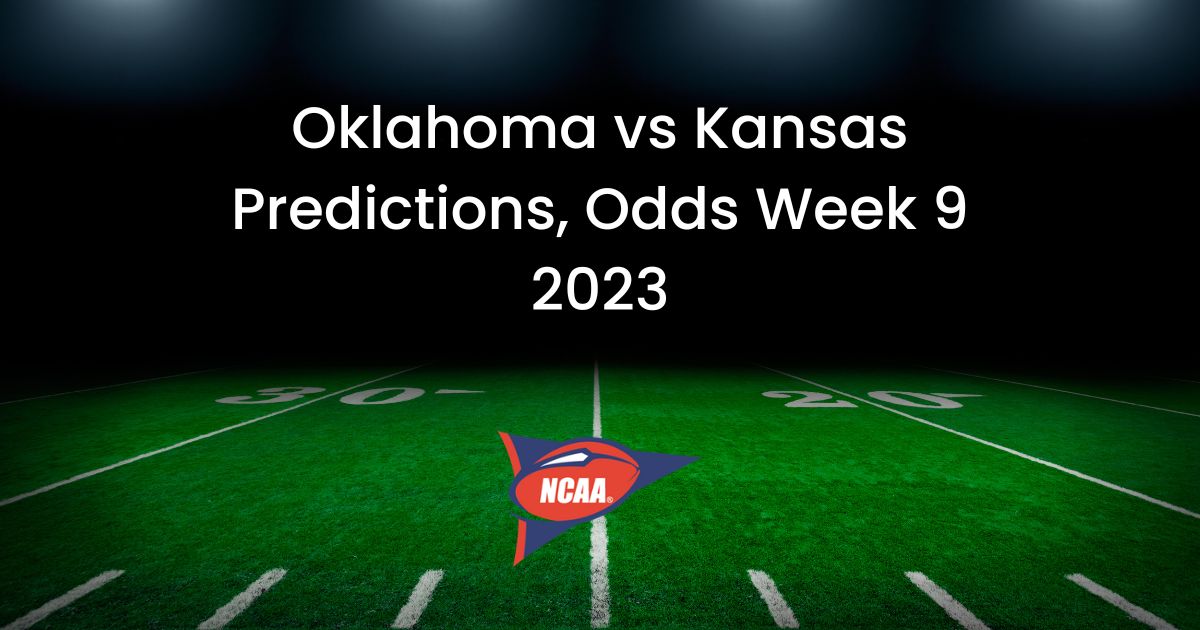 View our free Oklahoma vs Kansas preview for this week 9 game in Lawrence. Place a college football bet now with the best and latest odds at YouWager.lv.
The defense of Oklahoma is giving up 11.9 yards per completion.
In passing yards, the Kansas Jayhawks are ranked 70th.
Oklahoma vs Kansas Betting Odds
These are the Oklahoma vs Kansas betting odds:
| TEAM | SPREAD | MONEYLINE | TOTAL |
| --- | --- | --- | --- |
| Oklahoma | -8.5 | -350 | Over 66.5 |
| Kansas | +8.5 | +270 | Under 66.5 |
Place a college football bet on this game now:

Oklahoma vs Kansas Betting Preview
Here is our Oklahoma vs Kansas betting preview.
The Kansas Jayhawks will host the Oklahoma Sooners at David Booth Kansas Memorial Stadium in Lawrence, Kansas, on their travels. This week's game, which will air on Fox, will kick off at 12:00 PM ET.The Sooners are the 9.5-point away favorites in their Big 12 conference matchup. Can they cover the spread and secure a victory on the road?
Oklahoma Preview
Prior to their next game against Kansas, the Oklahoma Sooners had an undefeated 7-0 record. In the last game they played, they defeated UCF 31–29. This season, Oklahoma has started six games as the favorite and one as the underdog. As of right now, their ATS record is 6-1. Throughout the season, Oklahoma has compiled a 4-3 over/under record. Their games have yielded an average aggregate score of 59.3 points, with a usual over/under line of 60 points.
The Sooners tried 38 passes over the air versus UCF, accumulating 253 yards and scoring three touchdowns. They ran for one score on the ground while maintaining an average of 4.5 yards per carry. QB Dillon Gabriel completed 25 of 38 passes for 253 yards and a QB rating of 100.0 in the victory over UCF. He also brought three touchdowns into the contest.
Oklahoma's defense gave up 397 yards in total versus UCF by the end of the game. Against Oklahoma, UCF passed the ball 30 times for 248 yards. The Sooners allowed 149 running yards while they were on the ground.
This season, the Sooners' defense has allowed 163rd-most rushing yards per game with 119.4 against. When playing against Oklahoma, opponents are averaging 240.4 passing yards, and their quarterbacks have a passer rating of 74.5. As of right now, they are 88th in the NCAA for points allowed.
Kansas Preview
Even though the Kansas Jayhawks lost their most recent game to Oklahoma State 39-32, they still have a 5-2 record that is above.500 as they prepare to play Oklahoma. Kansas has an ATS record of 3-3 based on their season average scoring differential of +8.
Four times, the Jayhawks have been the favorite, and twice, they have been the underdog. The average over/under line for Kansas' games has been set at 58.2 points after seven games have been played. With an average cumulative score of 62.9 points in these games, OU has a 3-2-1 record.
The Jayhawks' offense totaled 502 yards of offense in the game against Oklahoma State, with 92 of those yards coming from rushing plays and 410 from passing plays. They completed seven of their thirteen third-down attempts and tossed five touchdowns in all.
QB Jason Bean completed 34 passes against Oklahoma State in their most recent game. He finished with 410 passing yards and a 67.6% completion percentage for the game. In addition, he had two interceptions during the defeat.
Oklahoma State was able to gain 495 yards against Kansas on defense. This entails surrendering 210 passing yards and 285 permitted yards on the ground. As they get ready for this game, Kansas' defense is rated 100th in the nation for passing yards allowed per game.
Against the Jayhawks, opponents have attempted 31.6 passes on average. They are ranked 97th in college football after giving up 27.4 points per game thus far. They rank 109th in the NCAA in the rush defense category.
Oklahoma vs Kansas Betting Analysis and Trends
The last time Oklahoma and Kansas played, Oklahoma prevailed 52–42. That was last year. Oklahoma scored 403 passing yards and 298 rushing yards in the victory. The Sooners went 16/21 on third down. Conversely, Kansas rushed for 165 yards and completed 16 of their 27 throws for 265 yards.
The lines have moved to -9.5, but Oklahoma is still the favorite despite opening as the 10-point road favorite. According to the moneyline odds as of right now, Oklahoma has a 79% chance of winning and an ML payout of -385. Conversely, with a moneyline of +293, the Jayhawks' implied win percentage is 25%.
Key Betting Trends
When examining Oklahoma's last 10 road games, they have a 6-4 record against the spread.
When examining Kansas' last 10 home games, they have a 3-7 record against the spread.
Kansas has a 1-2 record against the spread in their last three games as the underdog.
Oklahoma has an ATS record of 4-1 in their previous five games as the favorite.
At YouWager.lv you can wager on the different betting types, such as moneyline, spread, and total, and you can bet either on your favorite team or an undervalued underdog, always with the best and latest wagering lines. Open your account now and receive a 100% bonus on your first cryptocurrency deposit, just click below:

Oklahoma vs Kansas betting predictions, odds week 9 2023 by YouWager.lv.