Georgia vs Florida Predictions, Odds Week 9 2023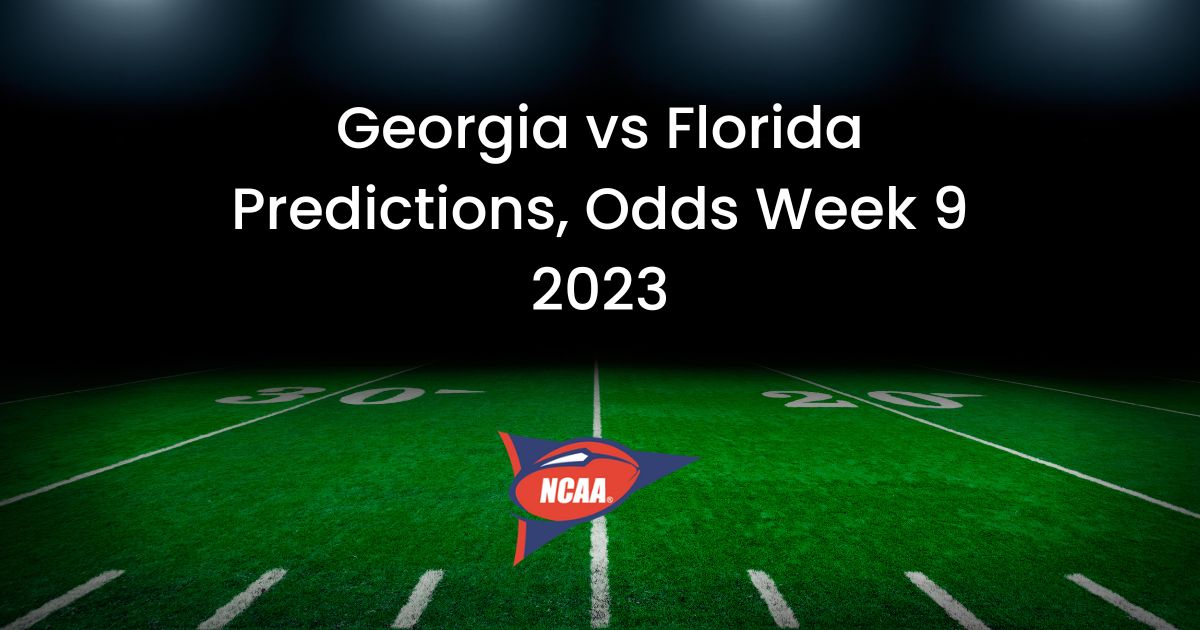 See our analysis for Georgia vs Florida in week nine to find out who we think will prevail and cover in Jacksonville.
Georgia's defense allows 45th most points.
Regarding throwing yards, the Florida Gators rank 39th.
Georgia vs Florida Betting Odds
Here are the Georgia vs Florida betting odds:
| TEAM | SPREAD | MONEYLINE | TOTAL |
| --- | --- | --- | --- |
| Georgia | -14 | -525 | Over 49 |
| Florida | +14 | +415 | Under 49 |
Place a college football bet now with the best odds at YouWager.lv:

Georgia vs Florida Betting Preview
Kickoff between the Bulldogs and Gators is set for 3:30 PM ET at EverBank Stadium in Jacksonville, Florida. CBS will broadcast the game.The Bulldogs are the road favored by 14.5 points in this meeting between two SEC rivals. Is it possible for Georgia to win away from home and cover the spread?
Georgia Preview
The Georgia Bulldogs are still unbeaten with a 7-0 record as they prepare for this week's matchup with Florida. In their most recent game, they triumphed 37-20 over Vanderbilt. Georgia's record when playing against the spread is 1-4-1.
Being the favorite in every game has helped this mark to emerge. Georgia has a 4-2 over/under record thus far this season. Their matches have yielded a cumulative average score of 54.1 points, with an average over/under line of 51.5 points.
In terms of offense, the Bulldogs amassed 286 rushing yards and three touchdowns on the ground versus Vanderbilt. Georgia scored once and threw the ball 39 times for 261 yards in the passing offense. Quarterback Carson Beck scored one touchdown on the ground in addition to one through the air in the team's most recent victory. Regarding passing, he gained 261 yards with a 74.4% completion percentage.
Georgia's defense gave up 221 yards to Vanderbilt in all. This entails surrendering 201 throwing yards and 20 permitted yards on the ground. The Bulldogs lead the league in quarterback rushes and have 12 sacks going into the contest.
This season, they have surrendered 14 points per game on average (45th). They are 23rd in the NCAA in pass defense, allowing 171.1 passing yards per contest. Georgia has given up 91.7 rushing yards per game against the run so far.
Florida Preview
With their 41-39 victory over South Carolina, Florida's record has improved to 5-2 as they get ready to play Georgia this week. Florida has been the underdog in four games thus far and has been favored in two of them. This has resulted in an average score difference of +9.1 and an ATS record of 3-3.
The average over/under line for Florida's games has been set at 49 points after seven games have been played. With an average cumulative score of 49.1 points from these games, OU has a 3-3 record.
Against South Carolina, the Gators' passing offense consisted of 48 completion attempts for 423 yards and three touchdowns. They scored one rushing touchdown and averaged 3.5 yards per carry in the running game. Quarterback Graham Mertz finished with a QB rating of 111.72 in the victory over South Carolina, completing 30 of 48 passes for 423 yards. In addition, he scored three touchdowns during the contest.
Ultimately, the Gators' defense allowed South Carolina 286 yards in total during the game. 69 yards were gained through the run defense, compared to 217 in the passing game. Florida is 166th in the nation in terms of passing yards allowed per game by the defense. When facing the Gators, opponents attempt 25.6 passes on average. They rank 67th in college football due to their 20 PPG allowed. In the NCAA, their run defense is ranked 56th.
Georgia vs Florida Betting Analysis and Trends
Georgia hopes to maintain their winning streak against Florida, which ended last year with a 42–20 victory. Georgia outplayed Florida in the passing game, amassing 555 yards of total offense, including 316 yards through the air. Florida threw for 271 and ran for 100.
Georgia, who was once the 20.5-point road favorite, is still the favorite, but the lines have moved to -14.5. The Bulldogs' initial odds were -1430, but as of right now, their moneyline payout is -634. Right now, Georgia has an 86% indicated win probability while Florida has an 18% implied win probability for both teams.
Key Betting Trends
Georgia is 1-4 against the spread in their last five games played against the spread.
Florida has a 2-3 record against the spread in their last five home games.
In their last three games as underdogs, Florida had a 2-1 record.
In their last ten games as the favorite, Georgia is 3-6-1.
At YouWager.lv you can wager on the different betting types, such as moneyline, spread, and total, and you can bet either on your favorite team or an undervalued underdog, always with the best and latest wagering lines. Open your account now and receive a 100% bonus on your first cryptocurrency deposit, just click below:

Georgia vs Florida Predictions, Odds Week 9 2023 by YouWager.lv.