Pittsburgh vs Notre Dame Predictions, Odds Week 9 2023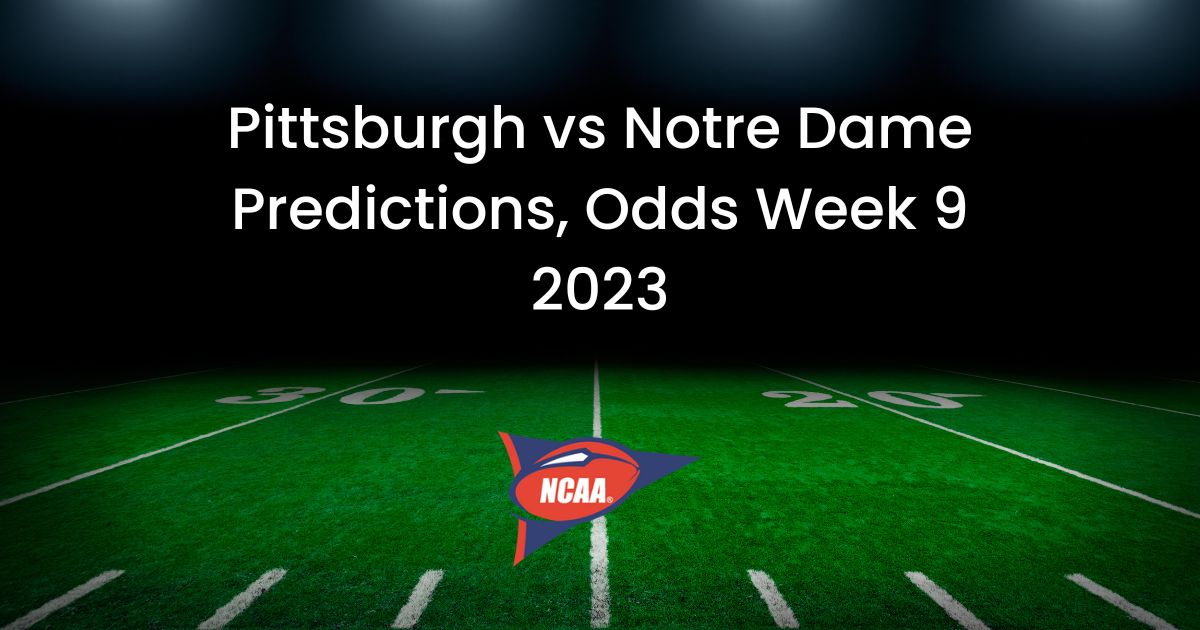 Find out who we think will win and cover the spread in this week 9 NCAAF preview for Pittsburgh vs Notre Dame.
Pittsburgh's defense allows 24.6 points per game on the road.
In passing yards, the Notre Dame Fighting Irish rank thirty-first.
Pittsburgh vs Notre Dame Betting Odds
Here are the Pittsburgh vs Notre Dame odds:
| TEAM | SPREAD | MONEYLINE | TOTAL |
| --- | --- | --- | --- |
| Pittsburgh | +20.5 | +800 | Over 45 |
| Notre Dame | -20.5 | -1200 | Under 45 |
Pittsburgh vs Notre Dame Betting Preview
Here is our Pittsburgh vs Notre Dame betting preview.
The Fighting Irish and Panthers play college football in week nine on Saturday, October 28 at 3:30 ET. The Panthers will visit the Fighting Irish at Notre Dame Stadium, and NBC will broadcast the game.The Fighting Irish are favored by 20.5 points to win this non-conference game. Is it wise to back them to cover the spread, or would it make more sense to go with the Panthers? Learn more by continuing to read.
Pittsburgh Preview
Pittsburgh, who has a 2-5 record overall, is ready for this match. Unfortunately, Wake Forest defeated them with a score of 21–17 in their most recent game. Pittsburgh has started as the underdog in three games and as the favorite in three others thus far.
This has resulted in an average score differential of 0 and an ATS record of 1–5. Through seven games this season, Pittsburgh's over/under record stands at 4-2. Their combined total points from games has been 49.1 on average.
Against Wake Forest, the Panthers' offense amassed 414 yards of total offense, consisting of 302 yards via the air and 112 yards on the ground. They made nine of twenty third-down conversions and two passing scores. Against Wake Forest, Christian Veilleux completed with a passer rating of 96.71 after throwing for 302 yards. With 45 passing attempts at the end of the game, he completed 62.2% of them.
Ultimately, Wake Forest gained 323 yards in total against the Panthers defense. 172 yards were given up on the ground by the team's run defense, compared to 151 in the passing game. With an average of 24.6 points per game, the Pittsburgh defense is ranked 83rd in terms of points allowed going into this week's matchup.
They rank 44th nationally in passing yards allowed per game, with teams gaining 195.3 against them. With 129.7 running yards allowed against the run, they rank 63rd in college football.
Notre Dame Preview
In preparation for this week's game against Pittsburgh, Notre Dame's record now stands at 6-2 after their 48-20 triumph against USC. The Fighting Irish were the underdog in one game going into this week's meeting with Pittsburgh and the favorite in six prior.
Their ATS record is 4-2-1 going into this match. The average over/under line for Notre Dame's games through eight games is 53.4 points. Their combined game average of 52.2 points has resulted in an OU record of 3-4.
In terms of offense, the Fighting Irish amassed 129 rushing yards and two touchdowns on the ground versus USC. Notre Dame scored twice and passed for 126 yards on 20 passes during their passing assault. Sam Hartman, the quarterback, completed 13 of 20 passes for 126 yards and ended with a quarterback rating of 115.83 in the victory over USC. He also had two touchdowns at the end of the game.
Against USC, Notre Dame's defense allowed 401 yards of offense. They gave up 145 yards on the ground and 256 yards in the passing game. Notre Dame's defense surrenders 16.4 points per game, which puts them 60th in terms of points allowed. Teams have been allowing 153.1 passing yards per game on average (ranked 14th in the USA). Having given up 129.6 rushing yards on the ground, they rank 62nd in college football.
Pittsburgh vs Notre Dame Analysis and Trends
Pittsburgh has had a 3-2 record versus Notre Dame in their past five games.
With an ATS record of 6-3-1, Pittsburgh has the advantage over Notre Dame in their previous ten games in head-to-head play.
Notre Dame has moved from being a -17 point favorite to their current line of -20.5 (-109) since the odds were first published. In contrast, Pittsburgh is currently a +20.5 (-113) point underdog traveling. Pittsburgh's moneyline payout at opening was +650; it is currently +755. The odds-based implied win probabilities for Notre Dame are 93%, while Pittsburgh's are 12%.
Key Betting Trends
Pittsburgh's away record against the spread is 0-3 when they play.
ATS in the last three home games for Notre Dame is 2-1.
Notre Dame has an ATS record of 1-1-1 in their last three appearances as the underdog.
Pittsburgh has an ATS record of 0-3, having been the betting favorite in their last three games.
At YouWager.lv you can wager on the different betting types, such as moneyline, spread, and total, and you can bet either on your favorite team or an undervalued underdog, always with the best and latest wagering lines. Open your account now and receive a 100% bonus on your first cryptocurrency deposit, just click below:

Pittsburgh vs Notre Dame Predictions, Odds Week 9 2023 by YouWager.lv.