Vanderbilt vs Ole Miss Predictions, Odds Week 9 2023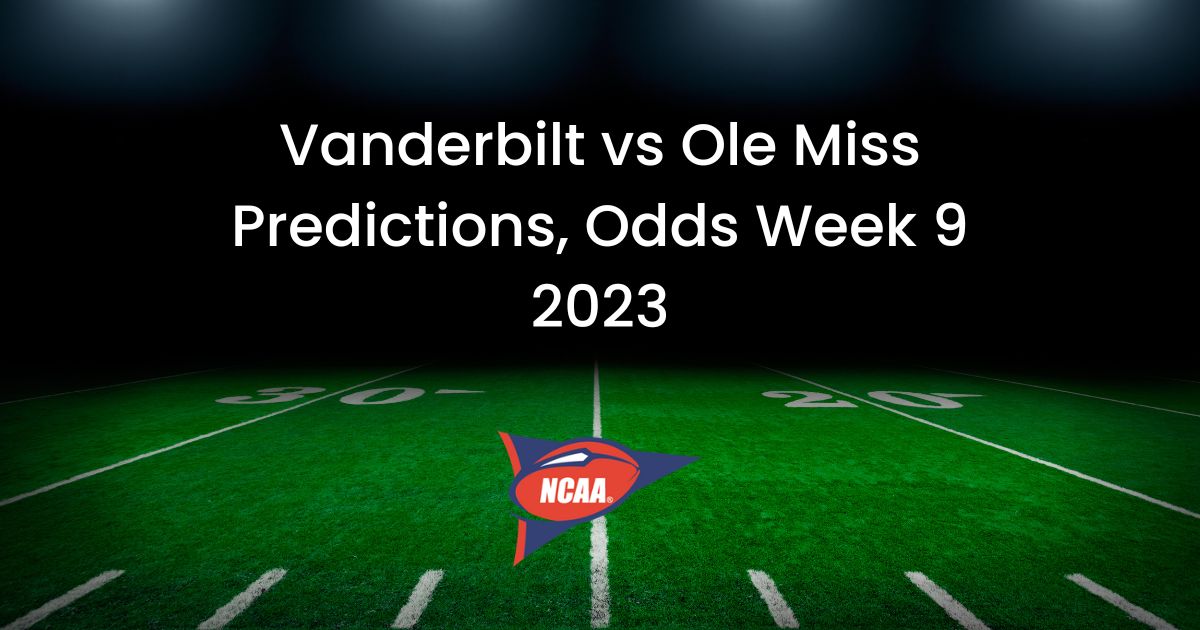 Check out our preview and prediction for the Vanderbilt vs Ole Miss college football game in Oxford for week nine.
The defense of Vanderbilt allows 134th few points per game.
Ole Miss ranks 45th with a passing completion rate of 63.1%.
Vanderbilt vs Ole Miss Betting Odds
Here are the Vanderbilt vs Ole Miss betting odds:
| TEAM | SPREAD | MONEYLINE | TOTAL |
| --- | --- | --- | --- |
| Vanderbilt | +25 | N/A | Over 63 |
| Ole Miss | -25 |  N/A | Under 63 |
Place a bet on this college football game with the latest odds at YouWager.lv:

Vanderbilt vs Ole Miss Preview
This is our Vanderbilt vs Ole Miss preview.
This week's CFB matchup between the Commodores and the Rebels will kick off at 7:30 on SECN on October 28th, 23. The game will take place in Oxford, Mississippi, at Vaught-Hemingway Stadium.The Rebels are the home team favorites by 25.5 points in their week 9 SEC game, according to the odds. Will the Rebels succeed in this one? Find out on Saturday how I envision this game going.
Vanderbilt Preview: Can They Grab Another Victory?
With their most recent game ending in a loss to Georgia, the Vanderbilt Commodores dropped to 2-6 on the season. Vanderbilt has been the underdog in five games thus far and has been favored twice. As a result, there has been an average scoring differential of -6.6 and an ATS record of 1-6. Vanderbilt has a 7-0 over/under record this season. The total number of points scored in their games has averaged 62.1, with an over/under of 54 points.
The Commodores' offensive output versus Georgia included 20 rushing yards and one touchdown on the ground. Vanderbilt scored twice with its passing attack, completing 29 passes for 201 yards. Quarterback Ken Seals completed 19 of 29 passes for 201 yards and finished with a QB rating of 94.18 in the Georgia game. He also had two touchdowns at the end of the game.
By the end of the game, Georgia had gained 547 total yards against the Commodores defense. Compared to 261 yards during the passing game, the team's run defense gave up 286 yards of rush yardage. In terms of passing yards per game, Vanderbilt is rated 55th going into this matchup on defense.
When playing the Commodores, opponents toss the ball an average of 35.2 times per game. They rank 134th in college football when it comes to points allowed per game, giving up 34.4 overall. They yield 128th-most running yards in the NCAA when it comes to stopping the run.
Ole Miss Preview: Can Ole Miss Rise From A Setback?
As Ole Miss prepares to play Vanderbilt this week, their record stands at 6-1 following their 28-21 victory against Auburn. This season, Ole Miss has a 4-2 record against the spread. In contrast to two games where they were the underdog, the Rebels have been favored four times. The average over/under for Ole Miss's games through seven games is 60.7 points. With an average score of 63.1 points over their games, OU has a 2-4 record.
In terms of offense, the Rebels amassed 225 rushing yards versus Auburn and scored three touchdowns on the ground. Ole Miss scored once and passed the ball eighteen times for 202 yards in the passing attack. Quarterback Jaxson Dart ran for 44 yards and scored two rushing touchdowns against Auburn. He completed 58.8% of his throws for 202 yards and a passer rating of 95.71 in the passing game.
Ole Miss's defense gave up 275 yards to Auburn in all. This entails surrendering 122 throwing yards and the 153 permitted on-the-ground yards. The Ole Miss defense ranks 78th in terms of points allowed per game coming into this week's matchup, giving up 23.4 points. Teams have compared to the unit (116th) with an average of 241.6 passing yards per game thus far. They are ranked 65th in college football by giving up 130.6 rushing yards on the ground.
Vanderbilt vs Ole Miss Analysis and Trends
Ole Miss will try to maintain its winning streak against Vanderbilt, which ended 52-28 last year. Ole Miss averaged 17.9 yards per completion while throwing for 448 yards during the contest. Ole Miss ran for 143 while Vanderbilt ran for 122.
Up until now, the point spreads have been quite stable. Vanderbilt is presently at +25.5 (-111), while Ole Miss is currently favored by 25.5 with a payout of -111. Ole Miss is currently given a 98% chance of winning and a moneyline payout of -4400 according to the moneyline odds. On a moneyline of +1350, the Commodores' implied win percentage is 7%.
Key Betting Trends
After their last three away games, Vanderbilt is 0-3 ATS.
Over the last five home games, Ole Miss's ATS record is 2-2-1.
Ole Miss has an ATS record of 3-2 in their last five appearances as the underdog.
In their last ten games as the favorite, Vanderbilt is 1-9.
At YouWager.lv you can wager on the different betting types, such as moneyline, spread, and total, and you can bet either on your favorite team or an undervalued underdog, always with the best and latest wagering lines. Open your account now and receive a 100% bonus on your first cryptocurrency deposit, just click below:

Vanderbilt vs Ole Miss Predictions, Odds Week 9 2023