Purdue vs Nebraska Predictions, Odds Week 9 2023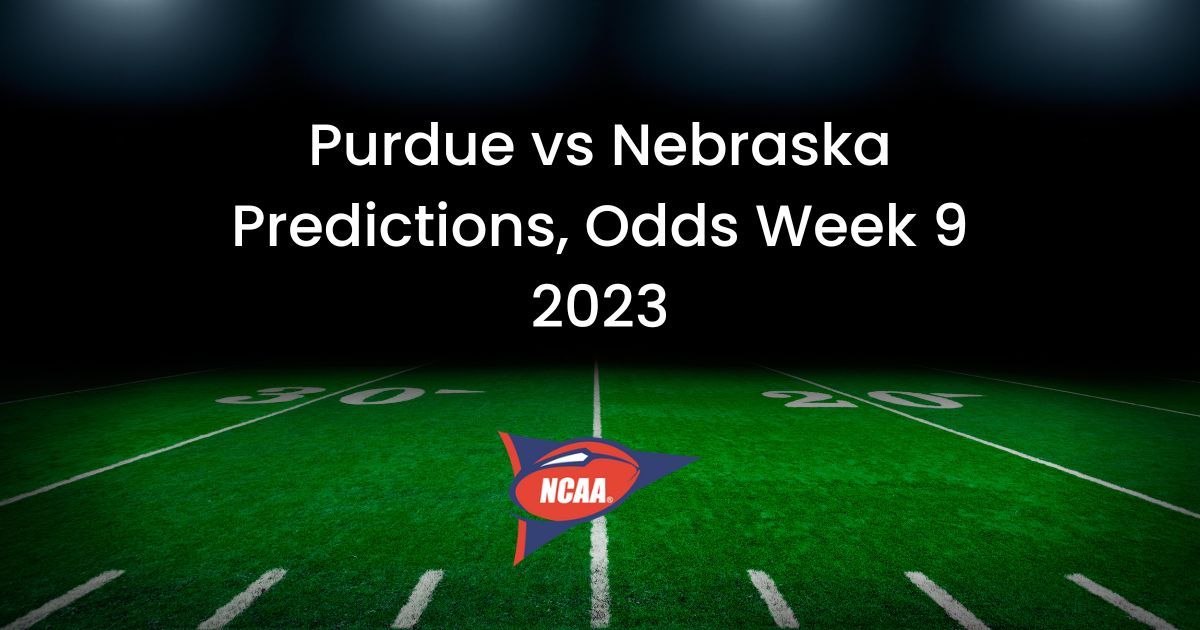 Check out our preview for Purdue vs Nebraska, a college football game taking place in Lincoln on Week 9. Check out our review for this NCAA showdown to win and cover the spread.
Every game, Purdue's defense allows 29.9 points to be scored.
Nebraska ranks 115th with a passing completion rate of 52.3%.
Purdue vs Nebraska Betting Odds
Here are the Purdue vs Nebraska betting odds:
| TEAM | SPREAD | MONEYLINE | TOTAL |
| --- | --- | --- | --- |
| Purdue | +2.5 | +115 | Over 39.5 |
| Nebraska | -2.5 | -135 | Under 39.5 |
Place a bet on this game with the latest odds at YouWager.lv:

Purdue vs Nebraska Preview
Here is our Purdue vs Nebraska preview.
On Saturday, October 28th, the Purdue Boilermakers and Nebraska Cornhuskers will square off at 3:30. Memorial Stadium (Lincoln, NE) in Lincoln, NE will host this game. FS1 is carrying the game.When two Big Ten teams play each other, the Cornhuskers are 2.5 point favorites at home. Which wager on the spread is the best? See my analysis and breakdown of this clash below.
Purdue Preview: Can Purdue Score Again?
Purdue has a 2–5 overall record going into this matchup. The last game they played was difficult because they lost 41–7 to Ohio State and could not win. Purdue has been the underdog in four games thus far and has been favored only once. This has resulted in an average score difference of -6.9 and an ATS record of 2-5. Purdue's average over/under line through seven games is 50.3 points. Their combined game average of 52.9 points has resulted in an OU record of 3-4.
Against Ohio State, the Boilermakers' offense amassed 257 yards of total offense. Of these yards, 123 came from the ground and 134 from the air. They completed a 3/17 pass for one touchdown on third down. Purdue's loss to Ohio State included one touchdown pass from quarterback Hudson Card. With 40.6% of his throws completed for 126 yards, he finished with a passer rating of 62.76 overall.
Against Ohio State, Purdue's defense allowed 369 yards of offense. They gave up 83 yards on the ground and 286 yards in the passing game. The Boilermakers' defense ranks 108th in the league this season with 154.7 running yards allowed per game. When playing Purdue, opponents are averaging 241.9 passing yards, and their quarterbacks have an 82.1 passer rating. Right now, they are ranked 34th in terms of NCAA points permitted.
Nebraska Preview: Can They Get Back on Track?
With a 4-3 record, the Nebraska Cornhuskers are above.500 going into this week's game. They defeated Northwestern (17-9) in their most recent game to improve their record. Nebraska has started the season as the underdog in four games and as the favorite in three. An average scoring differential of -0.6 and an ATS record of 3–4 have resulted from this. The average over/under line for Nebraska's opponents over the course of seven games is 44 points. With an average total score of 38 points across these games, OU has a 2-5 record.
The Cornhuskers' offensive output versus Northwestern included 171 rushing yards and one touchdown on the ground. Nebraska's passing attack resulted in 17 completions for 85 yards and one touchdown. Heinrich Haarberg, the quarterback for Nebraska, scored a touchdown through passing and running in the most recent victory. He completed 47.1% of his passes for 85 yards during the course of the contest.
The Cornhuskers' defense played a great game against Northwestern, allowing just 257 yards and only 9 points. With 176 yards, Northwestern's passing game came to an end. Nebraska surrendered 2.1 yards per attempt up front. At 19.3 points per game going into this week's contest, Nebraska's defense ranks 63rd in terms of points allowed. Teams have surpassed the unit with an average of 237 passing yards per game thus far (107th). They are ranked ninth in college football by giving up 76.6 rushing yards on the ground.
Purdue vs Nebraska Analysis and Trends
In their five most recent home games against Purdue, they had a 3-2 record when playing on the road.
Nebraska has a 1-2 record while playing Purdue as the favorite.
Nebraska has moved from being -3 point favorites when the odds were first set to their current line of -2.5 (-111). Purdue, however, is currently a +2.5 (-110) point away underdog. In contrast to their starting odds of -141, the Cornhuskers currently have a moneyline payout of -132. At this moment, Purdue has an implied win probability of 48% and Nebraska has an expected win probability of 57%.
Key Betting Trends
Purdue has a 6-4 record against the spread after ten of their most recent road games.
Nebraska has a 3-2 record (last five games) against the spread at home.
Nebraska's overall record (ATS) was 5-5 when they were the underdog in the previous ten games.
In their last three games as the favorite, Purdue's record against the spread is 1-2.
At YouWager.lv you can wager on the different betting types, such as moneyline, spread, and total, and you can bet either on your favorite team or an undervalued underdog, always with the best and latest wagering lines. Open your account now and receive a 100% bonus on your first cryptocurrency deposit, just click below:

Purdue vs Nebraska Predictions, Odds Week 9 2023 by YouWager.lv.