Michigan State vs Minnesota Predictions, Odds Week 9 2023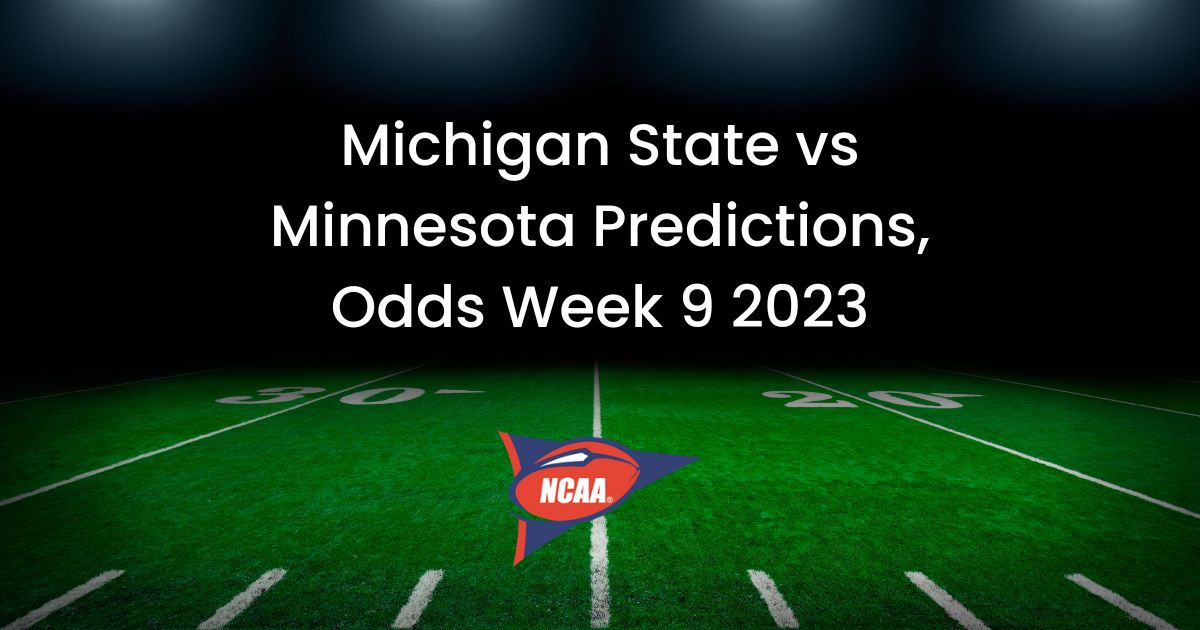 Check out our preview and pick for Michigan State vs Minnesota, which takes place in Minneapolis on Week 9 of college football.
The defense of Michigan State allows 99th-most points.
The passing completion percentage for Minnesota is 53.1%, ranking 110th.
Michigan State vs Minnesota Betting Odds
Here are the Michigan State vs Minnesota betting odds:
| TEAM | SPREAD | MONEYLINE | TOTAL |
| --- | --- | --- | --- |
| Michigan State | +7 | +220 | Over 40.5 |
| Minnesota | -7 |  -260 | Under 40.5 |
Michigan State vs Minnesota Preview
Here is the Michigan State vs Minnesota preview.
The Minnesota Golden Gophers will host the Michigan State Spartans on Saturday, October 28th at 3:30 ET. BTN will provide television coverage of this week 9 CFB game at Huntington Bank Stadium.The Golden Gophers are the 7-point home favorites in this Big Ten showdown for week nine. Will this be a victory for the Golden Gophers? Find out on Saturday how I envision this game going.
Michigan State Preview: Will the Spartans Add Another Win?
Michigan State has a 2–5 overall record going into this game. They encountered difficulties in their most recent game, losing to Michigan 49-0, as they attempted to win. The Spartans have been the underdog in five games and the favorite in one going into this week's game against Minnesota.
They have a 2-3-1 ATS record going into the match. The average over/under line for Michigan State's games has been 45.8 points through seven games played. With an average total score of 46.7 points from these games, OU has a 3-3 record.
The Spartans' offense finished with 182 yards of total offense in their most recent game despite being held scoreless. Michigan State averaged 1.7 yards per carry on the ground for 49 rushing yards, and finished with 133 passing yards on 29 attempts. Katin Houser completed 12 of 22 passes for 101 yards passing in the Michigan loss. He did neither rush or throw for a touchdown, and his overall passer rating was 47.73.
In the end, Michigan State's defense gave up 477 yards in total against Michigan. Against Michigan State, Michigan passed the ball 35 times for 357 yards. The Spartans surrendered 120 running yards while they were on the ground.
The Spartans are ranked 162nd in the league because their defense has allowed an average of 119.9 running yards this season. When facing Michigan State, opponents average 238.9 passing yards, and their quarterbacks have a passer rating of 91.4. As of right now, they are 40th in the NCAA in terms of points allowed.
Minnesota Preview: Can The Rebound After A Loss?
Minnesota is now 4-3 as they get ready for this week's matchup with Michigan State after defeating Iowa 12-10. Minnesota has been the underdog in three games thus far and the favorite in three. As a result, the average score differential is -4 and the ATS record is 2-4. Throughout the season, Minnesota has compiled an over/under record of 2-4. Their games have had an average aggregate score of 44.6 points, with 44 points serving as the normal over/under.
The Golden Gophers' offensive output included 245 yards of total offense and 12 first downs. They throw the ball 25 times for 126 yards via the air. On 43 carries, their running game yielded 119 yards. Athan Kaliakmanis completed 10 of 25 passes for 126 yards in the victory over Iowa. It was his 56.42 passer rating overall, and he did neither rush or pass for a touchdown.
The Golden Gophers' defense played a great game against Iowa, allowing just 127 yards and 10 points. With 116 yards, Iowa's passing game came to an end. Minnesota surrendered 0.4 yards per attempt up front. Minnesota is 122nd in the nation in terms of throwing yards allowed per game by their defense. When facing the Golden Gophers, opponents attempt 29.4 passes on average. They rank 82nd in college football due to their 24.3 PPG allowed. In the NCAA, their run defense is ranked 46th.
Michigan State vs Minnesota Analysis and Trends
Minnesota defeated the squad from last year 34-7 in their most recent head-to-head encounter. In the victory, the Golden Gophers executed a strong running game, amassing 240 yards on 48 tries. Conversely, the Spartans gained 38 yards from running and 202 yards from throwing.
The movement of the point spread line has not seen much action. Minnesota was the 7-point favorite at the outset. Right now, here is where the lines are. The Spartans' payout on the moneyline has moved from +210 to +220, where it is right now. Minnesota, on the other hand, has an expected win percentage of 74% and is at -282.
Key Betting Trends
When examining Michigan State's last five away games, they have a 3-0-2 record against the spread.
In their previous ten home games, Minnesota is 4-6.
In their last five games as an underdog, Minnesota's overall record against the spread is 2-3.
In their last three games as the underdog, Michigan State has a 2-1 record against the spread.
At YouWager.lv you can wager on the different betting types, such as moneyline, spread, and total, and you can bet either on your favorite team or an undervalued underdog, always with the best and latest wagering lines. Open your account now and receive a 100% bonus on your first cryptocurrency deposit, just click below:

Michigan State vs Minnesota Predictions, Odds Week 9 2023