Florida Atlantic vs Charlotte Predictions, Odds Week 9 2023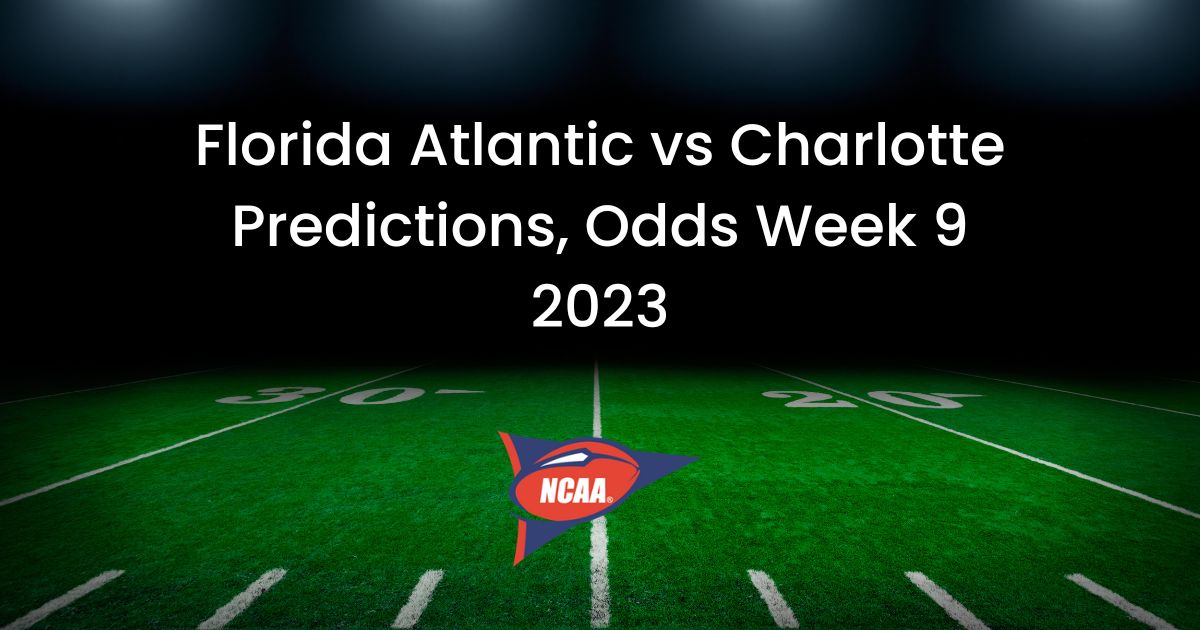 See our preview for Florida Atlantic vs Charlotte in NCAA Week 9 by continuing to read. We will cover the game in this post.
Points allowed by Florida Atlantic's defense rank 85th.
In a game, Charlotte is averaging 166.4 passing yards.
Florida Atlantic vs Charlotte Betting Odds
Here are the Florida Atlantic vs Charlotte betting odds:
| TEAM | SPREAD | MONEYLINE | TOTAL |
| --- | --- | --- | --- |
| Florida Atlantic | -3.5 | -170 | Over 44 |
| Charlotte | +3.5 | +150 | Under 44 |
Florida Atlantic vs Charlotte Preview
This week 9 game between the 49ers and Owls kicks off at Jerry Richardson Stadium at 7:30 ET. The televised broadcast of this FLATL vs. CHARLT brawl will air on ESN2. Here in an American Athletic Conference game, the Owls are the 3.5-point away favorites. Will they be able to cover and win on the road?
Florida Atlantic Preview: Are They Ready For Another Win?
Florida Atlantic, with a 3–4 overall record, is prepared for this match. But they were defeated 36–10 by UTSA in their most recent game, which left them disappointed. This season, Florida Atlantic has a 2-4-1 record against the spread. In contrast to four games where they were the underdog, the Owls have been favored three times. Florida Atlantic has a 3–4 over/under record this season. The total number of points scored in their games has averaged 49.1, with an over/under of 55.6 points.
The Owls' offensive total was 162 yards, with 12 first downs. They threw the ball 34 times for 142 yards through the air. On 28 carries, their running game yielded 20 yards. Quarterback Daniel Richardson completed 34 pass attempts against UTSA in their last game. At the end of the game, he completed 55.9% of his throws for 142 passing yards. He also threw two interceptions throughout the defeat.
Florida Atlantic gave up 437 yards to UTSA overall on defense. This entails surrendering 261 passing yards and 176 permitted running yards. Florida Atlantic's defense is ranked 99th in terms of throwing yards allowed per game. When facing the Owls, opponents attempt 34.6 passes on average. They rank 85th in college football because they are giving up 25 points per game. In the NCAA, their run defense is ranked 114th.
Charlotte Preview: Can Thet Recover From A Setback?
Charlotte hopes to continue its winning streak against East Carolina (10-7) as they prepare to play Florida Atlantic this week. Charlotte is still only 2–5 this season, though. Looking at Charlotte's spread betting lines, it can be seen that they have an ATS record of 4-2 and have been the underdog in all of their games. Charlotte has a 2-4 over/under record this season. Their games have yielded a total of 37.3 points on average, with 48 points being the median over/under line.
In 46 tries, the 49ers' offense gained 186 running yards and one touchdown on the ground against East Carolina. Sadly, their passing game ended with 144 yards on 18 pass attempts as they were unable to find the end zone. QB Jalon Jones managed to dash for one score in the team's victory over East Carolina, while failing to complete a touchdown pass. 144 passing yards and a 61.1% completion percentage were among his total stats.
The 49ers defense performed admirably against East Carolina, allowing just 7 points on 127 yards allowed. With 88 yards, East Carolina's passing game came to an end. Charlotte surrendered 2.1 yards per attempt up front. Entering this game, Charlotte's defense ranks 155th in terms of passing yards allowed per game. Against the 49ers, opponents have attempted 25.6 passes on average. They rank 75th in college football due to their 22.7 points per game against the opposition. They are ranked 87th in the NCAA for rush defense.
Florida Atlantic vs Charlotte Betting Analysis and Trends
When Florida Atlantic and Charlotte last faced off, Florida Atlantic prevailed 43–13. In terms of offensive yardage, Florida Atlantic outscored Charlotte by 482 yards to 279 yards. In the end, Florida Atlantic's offense amassed 218 rushing yards and 264 passing yards.
Florida Atlantic, who was once the 6.5-point road favorite, is still the favorite, but the lines have moved to -4.5. With a moneyline payout of -196, Florida Atlantic currently has a 66% chance of winning according to the moneyline odds. Meanwhile, with a moneyline of +156, the 49ers' implied win probability is 39%.
Key Betting Trends
Florida Atlantic has an ATS record of 2-1 against the spread when playing away from home.
Over the past three home games, Charlotte's ATS record is 3-0.
Charlotte has amassed an ATS record of 7-3 in their last ten games as the underdog.
Florida Atlantic has an ATS record of 1-3-1 throughout their previous five games as the favorite.
At YouWager.lv you can wager on the different betting types, such as moneyline, spread, and total, and you can bet either on your favorite team or an undervalued underdog, always with the best and latest wagering lines. Open your account now and receive a 100% bonus on your first cryptocurrency deposit, just click below: