Oregon vs Utah Predictions, Odds Week 9 2023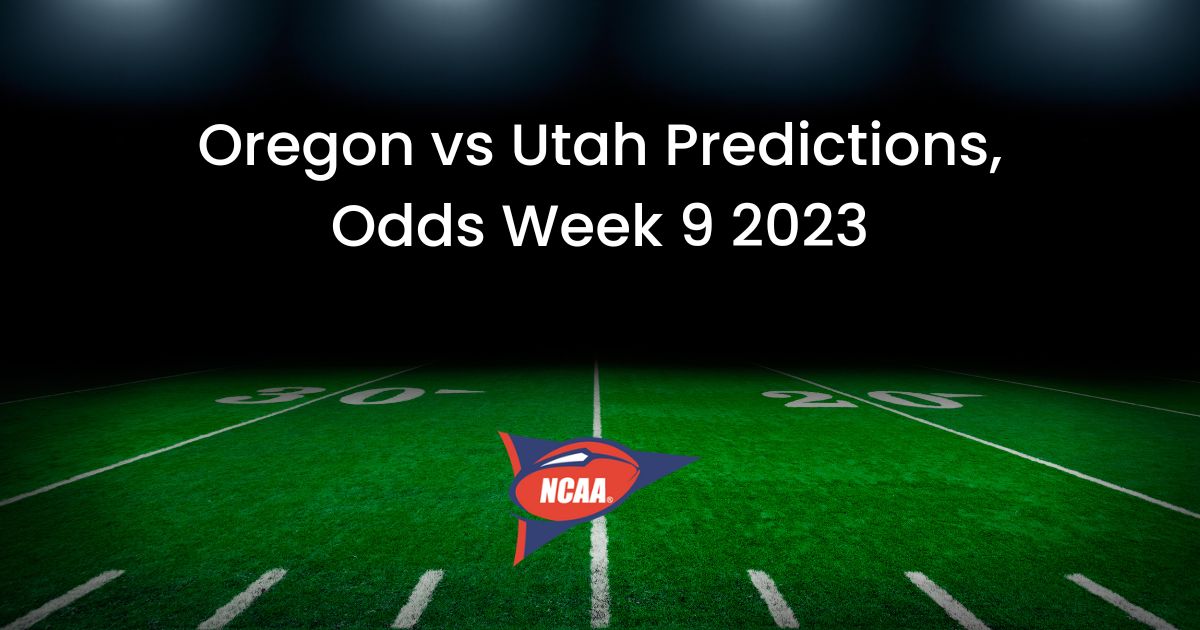 Check out our Oregon vs Utah betting preview for this week 9 college football match in Salt Lake City.
Oregon's defense allows the 54th fewest points.
The throwing yards of the Utah Utes rank 116th.
Oregon vs Utah Betting Odds
Here are the Oregon vs Utah betting odds:
| TEAM | SPREAD | MONEYLINE | TOTAL |
| --- | --- | --- | --- |
| Oregon | -6 | -240 | Over 47.5 |
| Utah | +6 | +200 | Under 47.5 |
Oregon vs Utah Betting Preview
On Saturday, October 28th, at 3:30, the Oregon Ducks and Utah Utes will square off. Salt Lake City, Utah's Rice-Eccles Stadium will host this game. Fox is leading the game.The Ducks are the away favored by 7 points in this matchup between two Pac-12 teams. Is it possible for Oregon to win away from home and cover the spread?
Oregon Preview
The Oregon Ducks, who are 6-1 and above.500 overall, are coming off a 38-24 victory against the Washington State Cougars heading into their match against Utah. This season, Oregon has started five games as the favorite and one as the underdog. Right now, their ATS record stands at 4-1-1. Across seven games, the average over/under line in Oregon's matchups is 65.8 points. With an average total score of 64 points across these games, OU has a 2-4 record.
The Ducks tried 25 passes over the air versus Washington State, gaining 293 yards and scoring two touchdowns. They ran for three touchdowns on the ground while maintaining an average of 8.1 yards per carry. Against Washington State, Bo Nix found the end zone in a number of ways. He ran for one touchdown and threw for 293 yards and two touchdowns.
Oregon's defense gave up 495 yards versus Washington State in all. This entails surrendering 438 passing yards and 57 yards of permitted ground play. In terms of points allowed entering this week's match, the Oregon defense is ranked 54th, giving up 17 points per contest on average.
As of right now, opponents have only averaged 217.4 passing yards per game against them, which ranks 78th. They rank 17th in college football by giving up 95.1 rushing yards on the ground.
Utah Preview
Utah is now 6-1 going into this week's game against Oregon after defeating USC 34-32. This season, Utah has started four games as the favorite and two as the underdog. As of right now, their ATS record is 4-2. Utah's games have an average over/under line of 46.4 points over the past seven games. In these games, the aggregate score has averaged 38.4 points, giving OU a 2-4 record.
The Utes tried 23 passes over the air versus USC, gaining 235 yards and scoring three touchdowns. They ran for one score on the ground while maintaining an average of 5.4 yards per carry. Bryson Barnes ran for one touchdown and passed for three in Utah's most recent victory. He completed 60.9% of his throws for 235 yards via the air throughout the contest.
Utah's defense gave up 401 yards in total versus USC by the end of the game. Against Utah, USC passed the ball 34 times for 256 yards. The Utes gave up 145 running yards while on the ground. The Utes' defense has allowed 78 running yards per game against the run so far this season, ranking them 197th. Averaging 217.4 passing yards, opponents' quarterbacks have a 68.8 passer rating when against Utah. Their point allowance ranks them 91st in the NCAA.
Oregon vs Utah Betting Analysis and Trends
The last time Oregon and Utah played, Oregon prevailed 20–17. That was last year. Oregon gained 287 passing yards and 59 running yards in the victory. For the Ducks, it was 7/15 on third down. Utah, on the other hand, rushed for 156 yards and completed 21 of their 38 throws for 170 yards.
Oregon has moved from being -5.5 point favorites to their current line of -7 (-112) since the odds were first released. In contrast, Utah is currently a +7 (-110) point underdog at home. Oregon's expected win percentage has increased to 70% from their opening moneyline of -200 to -238. Utah now has a moneyline of +189 and indicated odds of 35%. At +163, the Utes moneyline first opened.
Key Betting Trends
Oregon has a 5-4-1 overall record against the spread when playing on the road.
Utah's past five home games have seen them go 3-2 against the spread.
In their last 10 games as the underdog, Utah has a 6-4 ATS record.
In their past three games as favorites, Oregon is 2-1.
At YouWager.lv you can wager on the different betting types, such as moneyline, spread, and total, and you can bet either on your favorite team or an undervalued underdog, always with the best and latest wagering lines. Open your account now and receive a 100% bonus on your first cryptocurrency deposit, just click below:

Oregon vs Utah Predictions, Odds Week 9 2023 by YouWager.lv.