USC vs California Predictions, Odds Week 9 2023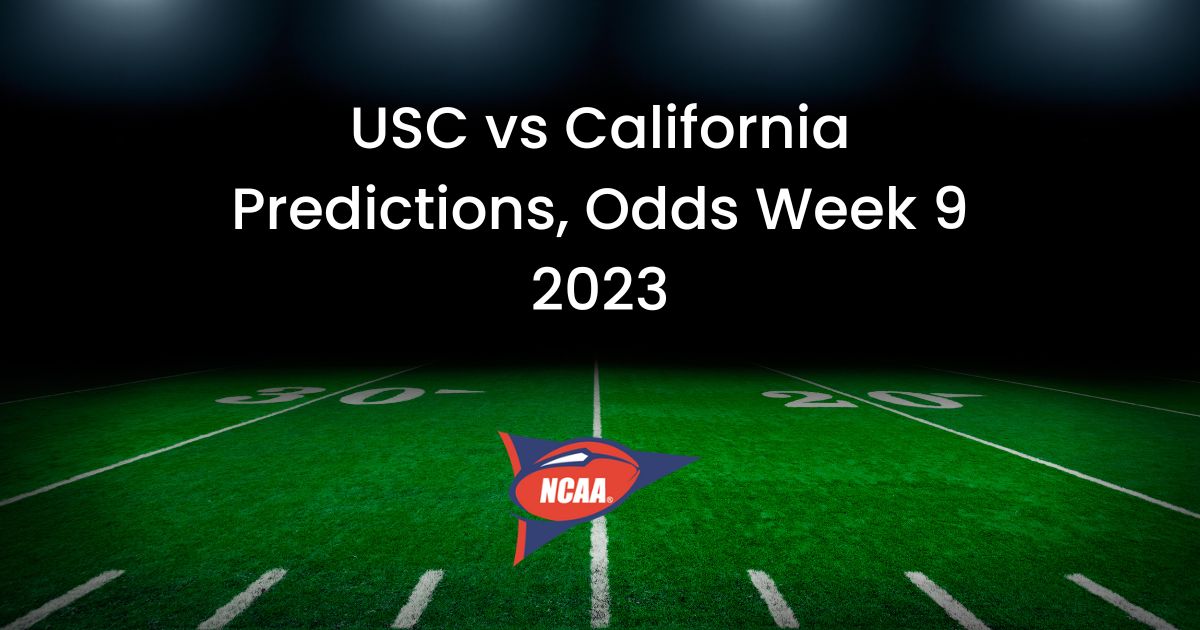 See our NCAA week 9 pick and preview for USC vs California by continuing to read this college football betting post.
The defense for USC allows 123rd fewest points.
In terms of throwing yards, the California Golden Bears rank 90th.
USC vs California Betting Odds
Here are the USC vs California betting odds:
| TEAM | SPREAD | MONEYLINE | TOTAL |
| --- | --- | --- | --- |
| USC | -10.5 | -420 | Over 66.5 |
| California | +10.5 | +320 | Under 66.5 |
Place a college football bet with the latest and best odds only at YouWager.lv:

USC vs California Betting Preview
Here is our USC vs California preview.
The Trojans and Golden Bears square off in an NCAAF week nine matchup at California Memorial Stadium at 4:00 ET. The game is slated to air on PACN on Saturday, October 28.The Trojans are the 11-point road favorites in this Pac-12 rivalry game. Are they capable of winning on the road and covering?
USC Preview
With this most recent defeat to Utah, USC is at 6-2 overall. With a final score of 34–32, the Trojans were unable to claim victory in the match. USC has been the underdog in one game and the favorite in six others thus far. An average scoring differential of +14.9 and an ATS record of 2-5 have resulted from this. The average over/under for USC's games over the last eight contests has been 64.6 points. These games have had an average total score of 75.9 points, giving OU a 6-1 record.
The Trojans' offense amassed 145 running yards on 23 attempts against Utah, including three touchdowns on the ground. Sadly, their passing game ended with 256 yards on 34 pass attempts since they were unable to find the end zone. Caleb Williams found the endzone with his legs even though he did throw a touchdown against Utah. In all, he completed 70.6% of his passes while throwing for 256 yards.
Against Utah, USC's defense allowed 484 yards of offense. They gave up 249 yards on the ground and allowed 235 yards in the passing game. With 23 sacks and a top ranking in quarterback rushes going into this week's game, the Trojans defense is formidable.
They have allowed 30.5 points per game (123rd) thus far. They rank 121st in the country in terms of pass defense, allowing 243.4 passing yards per contest. In addition, USC's defense gives up 165 running yards per game when it comes to stopping the run.
California Preview
California has a 3–4 overall record going into this match. They met a formidable battle in their most recent game, losing to Utah 34–14 in the end. This season, California has a 2-4 record against the spread. In contrast to four games where they were the underdog, the Golden Bears have been favored twice. The average over/under line in California's confrontations over the last seven games has been 50.8 points. With an average total score of 61 points across these games, OU has a 4-2 record.
Against Utah, the Golden Bears' offense amassed 254 yards of total offense, with 66 coming from the ground and 188 via the air. They made 4 of 12 attempts on third down and scored 2 throwing touchdowns. In California's defeat over Utah, quarterback Fernando Mendoza completed two touchdown passes. In all, he completed 58.8% of his passes for 149 yards and had a passer rating of 102.33.
In terms of defense, California gave up 484 yards to Utah. This entails surrendering 235 passing yards and 249 permitted yards on the ground. With 31.1 points allowed per game, the California defense is ranked 111th in terms of points allowed. The average passing yardage allowed by opponents to them is 247.4 (ranked 126th nationally). They rank 84th in college football for rushing defense, having surrendered 145 rushing yards.
USC vs California Betting Analysis and Trends
As of right now, USC can brag that it defeated California 41–35 in their most recent head-to-head battle. With 41 attempts, the Trojans' passing attack yielded 360 yards, setting a new record. USC's defense allowed 406 passing yards and 63 yards of running play.
Right now, USC is the 11-point favorite on the road. The lines don't really stray from the starting values, and the point spread has been relatively constant. California is now assigned a 23% chance of winning and a moneyline payout of +332, according to the moneyline odds. On the other hand, the Trojans have an expected win percentage of 82% at a moneyline of -454.
Key Betting Trends
When examining USC's last ten away games, they have a record of 3-7 against the spread.
California's record in their last five home games against the spread is 2-3.
When California entered a game as the underdog the previous three times, their ATS record was 0-3.
In their past three games as favorites, USC had a 0-3 record.
At YouWager.lv you can wager on the different betting types, such as moneyline, spread, and total, and you can bet either on your favorite team or an undervalued underdog, always with the best and latest wagering lines. Open your account now and receive a 100% bonus on your first cryptocurrency deposit, just click below:

USC vs California Predictions, Odds Week 9 2023 by YouWager.lv.