Liberty vs Western Kentucky Predictions, Odds Week 9 2023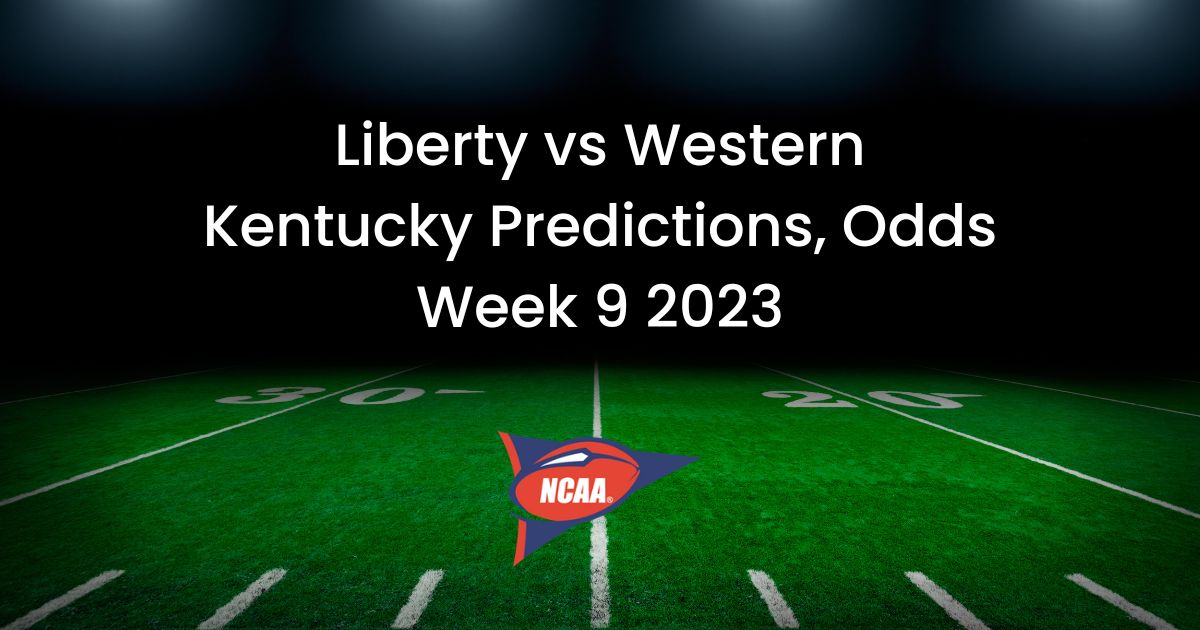 Find out who we think will win and cover the spread in this week 9 NCAAF preview of Liberty vs Western Kentucky.
Liberty's passing attempt offense ranks 85th.
The defense of Western Kentucky allows 98th-most points.
Liberty vs Western Kentucky Preview
Here is our Liberty vs Western Kentucky preview.
The Flames and Hilltoppers play their NCAAF Week 9 game at Houchens Industries–L.T. Smith Stadium at 7:30 ET. The game is scheduled for Tuesday, October 24th, and ESNU will be the source of TV coverage.Liberty is the 5.5-point road favorite going into this Conference USA game. Check out who I predicted to win and cover the spread on Tuesday.
Liberty Preview
As of this week's matchup with Western Kentucky, the Liberty Flames are undefeated at 7-0. They recently won 42–35 versus Middle Tennessee in their most recent game. The Flames are 4-1 against the spread after being the underdog in each of their previous three games.
For the season, Liberty has a scoring margin of +16.6 points per game on average. Liberty has played seven games this season and has a 3-2 over/under record. Their combined games have yielded 56 points on average.
Against Middle Tennessee, the Flames' passing offense had 20 pass attempts for 140 yards and two touchdowns. They scored four rushing touchdowns and averaged 7.1 yards per carry in the running game. Kaidon Salter, the quarterback, completed 12 of 20 passes for 140 yards and finished with a quarterback rating of 93.75 in the victory over Middle Tennessee. He also had two touchdowns at the end of the game.
Middle Tennessee was able to gain 428 yards against Liberty on defense. This entails surrendering 332 passing yards and 96 permitted running yards. Liberty's defense gives up 19.7 points per game, which puts them 65th in terms of points allowed. The average passing yardage allowed by opponents to them is 214.3, ranking 72nd nationally. They rank 42nd in college football for the amount of rushing yards they have given up on the ground (117.4).
Western Kentucky Preview
Western Kentucky's most recent defeat by Jacksonville State caused their overall record to fall to 4-3. The final result of the game was 20-17 for the Hilltoppers. With an ATS record of 4-1, Western Kentucky has an average score differential of +2.3 for the season.
Three times, the Hilltoppers have been the favorite, and twice, they have been the underdog. The average over/under for Western Kentucky's games through seven games is 62.6 points. With an average score of 57.7 points over their games, OU has a 2-3 record.
The Hilltoppers' offense amassed 339 yards of total offense against Jacksonville State, with 250 coming via the air and 89 coming on the ground. They had a 7/18 third-down efficiency and two passing touchdowns. Western Kentucky's defeat at the hands of Jacksonville State featured two touchdown passes from quarterback Austin Reed. In all, he completed 50.0% of his passes for 250 yards and had a passer rating of 70.66.
In the defensive half of the game, Western Kentucky allowed 486 yards to Jacksonville State. Against Western Kentucky, Jacksonville State threw the ball 40 times for 222 yards. The Hilltoppers surrendered 264 rushing yards while they were on the ground.
Against Liberty, the Hilltoppers defense leads the league in quarterback rushes and has 18 sacks. They are 98th in the country in terms of points allowed, giving up 27.7 points per game. They rank 144th in the NCAA against the pass, giving up 259.9 passing yards per contest. The run defense of Western Kentucky allows 206.1 running yards per game.
Liberty vs Western Kentucky Betting Analysis and Trends
Liberty has defeated Western Kentucky three times in their previous three meetings.
In addition to having a 2-1 record against the spread in their previous three meetings with Western Kentucky, Liberty has also had a 2-1 record when playing Western Kentucky away from home.
On the road, Liberty was originally favored by three points. Now at -5.5, the lines have moved in their favor. Liberty presently has a 70% chance of winning and a moneyline payout of -233 according to the moneyline odds. In contrast, with a moneyline of +178, the Hilltoppers' projected win percentage is 36%.
Key Betting Trends
Liberty has gone 7-3 against the spread in their last ten games played against the spread.
Western Kentucky is 6-4 against the spread in their last ten home games.
In their last ten games as the underdog, Western Kentucky's overall record (ATS) is 7-3.
Looking back, Liberty's ATS record was 1-2 during the last three occasions they were favored.
At YouWager.lv you can wager on the different betting types, such as moneyline, spread, and total, and you can bet either on your favorite team or an undervalued underdog, always with the best and latest wagering lines. Open your account now and receive a 100% bonus on your first cryptocurrency deposit, just click below:

Liberty vs Western Kentucky Predictions, Odds Week 9 2023 by YouWager.lv.