UConn vs Boston College Predictions, Odds Week 9 2023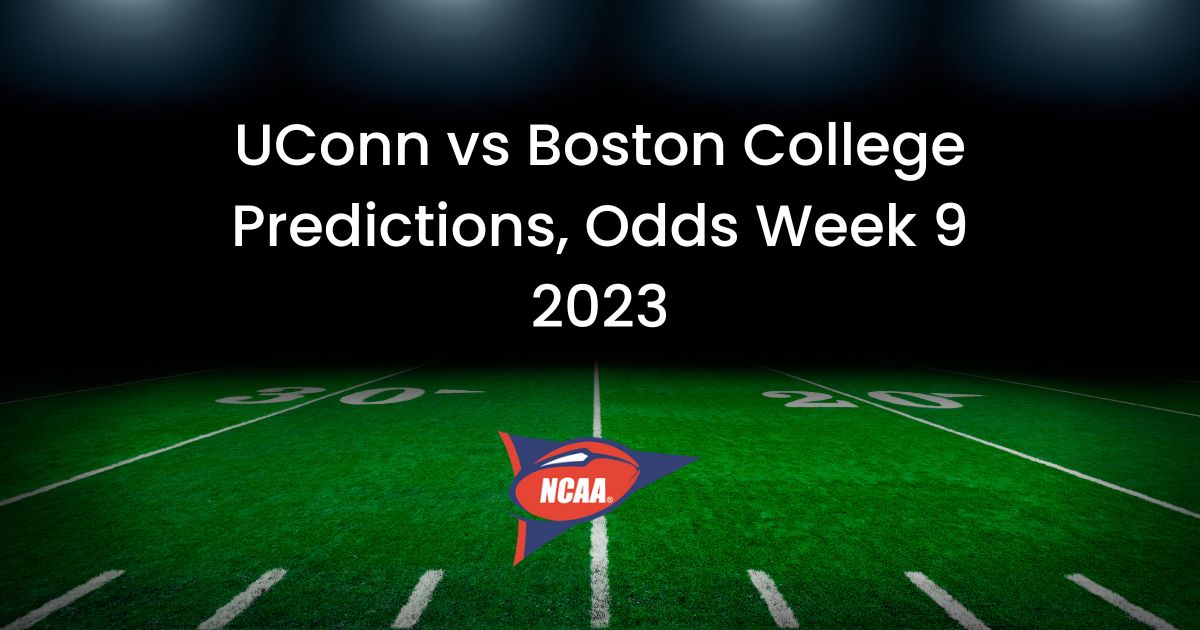 See who we predict to win and cover in Chestnut Hill in our week 9 college football preview for UConn vs Boston College.
The average throwing yardage for UConn is 188.3 per game.
30.4 points are surrendered by the Boston College defense each contest.
UConn vs Boston College Betting Odds
Here are the UConn vs Boston College betting odds:
| TEAM | SPREAD | MONEYLINE | TOTAL |
| --- | --- | --- | --- |
| Uconn | +14 | +435 | Over 50 |
| Boston College | -14 |  -585 | Under 50 |
Place a bet on this game with the latest odds at YouWager.lv:

UConn vs Boston College Preview
The Huskies vs. Eagles 9 CFB game this week will air on ACCN @ 12:00 (10/28/23). Alumni Stadium (MA) in Chestnut Hill (MA) will host the game.The Eagles are favored by 13 to win this non-conference encounter. Is it wise to back them to cover the spread, or would it make more sense to go with the Huskies? Learn more by continuing to read.
Uconn Preview: Are They Going To Win Again?
UConn, who has a 1-6 overall record, is ready for this match. Regretfully, they were defeated 24-21 by South Florida in their most recent matchup. The Huskies have been the underdog in five games going into this week's game against Boston College, and they have been favorites in two of them. They had a 3–4 ATS record going into the match. The average over/under for UConn's games this season has been 49.2 points. The Huskies enter this week's game with an over/under record of 3–4.
Against South Florida, the Huskies' passing game consisted of 34 completion attempts for 175 yards and one touchdown. They scored two rushing scores and averaged 6.0 yards per carry in the running game. Ta'Quan Roberson scored a touchdown running and passing in UConn's most recent defeat. He completed 55.9% of his passes for 175 yards of total passing for the game.
Against South Florida, UConn's defense allowed 463 yards of offense. They gave up 260 yards on the ground and allowed 203 yards in the passing game. The Huskies' defense ranks 107th in the league this season after allowing 155.1 running yards per game. When playing UConn, opponents are averaging 244.4 passing yards, and their quarterbacks have a passer rating of 95.1. Right now, they are ranked 30th in terms of NCAA points permitted.
Boston College Preview: Can They Rebound After A Loss?
Boston College's record is now 4-3 going into this week's game against UConn after their 38-23 victory over Georgia Tech. This season, Boston College has a 3-2 record against the spread. In four games as the underdog, the Eagles have only been favored once. The average over/under line for Boston College's seven games is 51.2 points. With an average total score of 59.6 points across these games, OU has a 4-1 record.
Against Georgia Tech, Boston College's offense ran for four touchdowns but failed to throw for a touchdown. They ended up with 565 total yards, averaging 7.4 yards per rush attempt, and 255 total passing yards. Against Georgia Tech, Thomas Castellanos did find the end zone with his legs even though he did throw a touchdown. In all, he completed 58.6% of his passes while throwing for 255 yards.
Georgia Tech was given a total of 452 yards by Boston College's defense. This entails surrendering 204 passing yards and the 248 permitted yards on the ground. With 30.4 points allowed per game, the Boston College defense is ranked 109th in terms of points allowed. Teams are allowing opponents to average 209.7 passing yards per game (ranking 67th nationally). Their rushing defense has allowed 174.3 rushing yards, which ranks them 129th in NCAA football.
UConn vs Boston College Betting Analysis And Trends
Last year, UConn defeated the team in their most recent head-to-head encounter, winning 13-3. With 107 rushing yards in the end, UConn's running assault averaged 2.7 yards per carry. They conceded 335 offensive yards to Boston College on defense.
The lines had shifted in favor of Boston College, who were 12 point favorites at home, to -13. Boston College is now assigned an 86% chance of winning and a moneyline payout of -590 according to the moneyline odds. Conversely, the Huskies have a moneyline of +411 and an assumed win percentage of 20%.
Key Betting Trends
When examining UConn's last five away games, they have a 3-2 record against the spread.
When playing at home, Boston College is 2-1 against the spread.
In their past three games as underdogs, Boston College has a 2-1 record.
UConn has a 1-2 ATS record in their previous three games as the betting favorite.
At YouWager.lv you can wager on the different betting types, such as moneyline, spread, and total, and you can bet either on your favorite team or an undervalued underdog, always with the best and latest wagering lines. Open your account now and receive a 100% bonus on your first cryptocurrency deposit, just click below:

UConn vs Boston College Predictions, Odds Week 9 2023