Maryland vs Northwestern Predictions, Odds Week 9 2023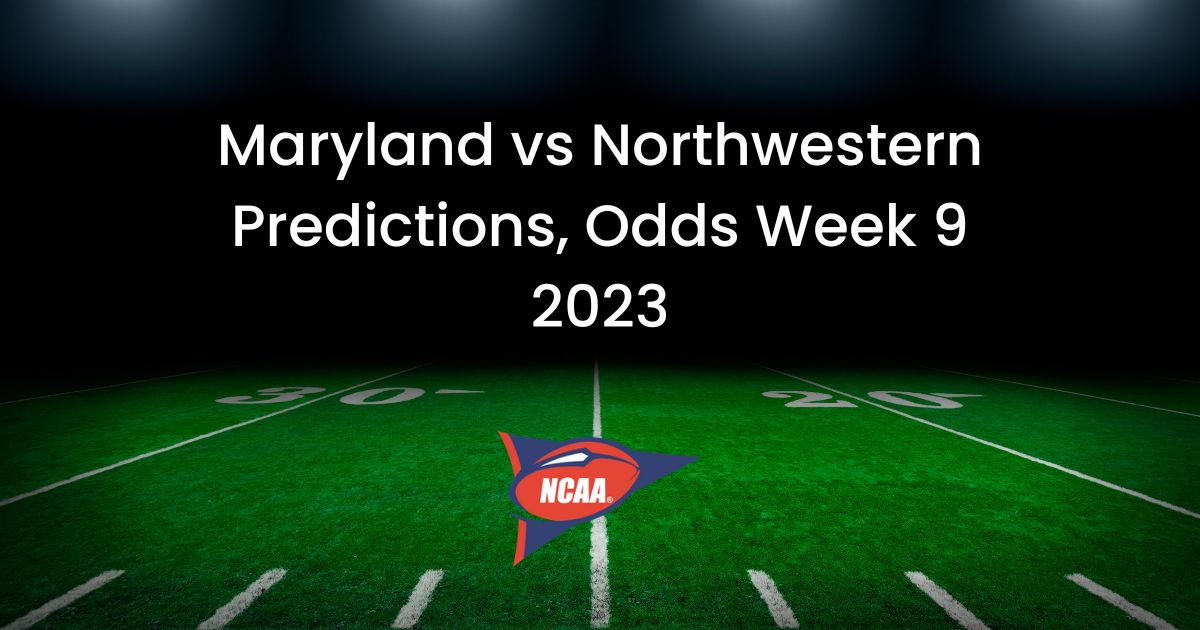 Find out who we think will win in Maryland vs Northwestern in this week 9 NCAAF preview.
Against Maryland, opposing quarterbacks had a passing rating of 80.1.
In passing attempts, Northwestern's offense is ranked 48th.
Maryland vs Northwestern Betting Odds
Here are the Maryland vs Northwestern betting odds:
| TEAM | SPREAD | MONEYLINE | TOTAL |
| --- | --- | --- | --- |
| Maryland | -14 | -555 | Over 48.5 |
| Northwestern | +14 | +405 | Under 48.5 |
Place a bet on this game with the latest odds at YouWager.lv:

Maryland vs Northwestern Preview
Here is the Maryland vs Northwestern preview.
On Saturday, October 28th, the Terrapins will travel to play the Wildcats at 12:00 ET. This Week 9 CFB game will be played at Evanston's Ryan Field, and BTN will provide the broadcast coverage.The Terrapins are the 13.5-point favorite on the spread in this Big Ten showdown for week nine. To find out how I envision this one going, continue reading.
Maryland Preview
Maryland's most recent defeat by Illinois caused their overall record to fall to 5-2. The Terrapins fell short of their opponent, 27–24. This season, Maryland has started five games as the favorite and one as the underdog. As of right now, their ATS record is 3-3. The average over/under line for Maryland's matches after seven games is 51.5 points. OU has a 3-3 record as a result of their games' average collective score of 52 points.
In terms of offense, the Terrapins amassed 94 rushing yards against Illinois but only managed one touchdown on the ground. Maryland scored twice and passed the ball 40 times for 287 yards in the passing attack. Taulia Tagovailoa, the quarterback, completed the game with a quarterback rating of 105.29 after completing 27 of 39 passes for 266 yards in the defeat to Illinois. In addition, he scored two touchdowns during the contest.
Illinois was given a total of 323 yards by Maryland's defense. This entails surrendering 100 passing yards and the 223 permitted yards on the ground. In terms of points allowed entering this week's match, the Maryland defense is ranked 59th, giving up 18.6 points per contest on average. As of right now, their opponents have only managed 226.4 passing yards per game (ranked 93rd). They rank 35th in college football due to their 111 running yards allowed on the ground.
Northwestern Preview
Northwestern, with a 3–4 overall record, is ready for this match. Regretfully, they were defeated by Nebraska 17–9 in their most recent game. This season, Northwestern has started four games as the underdog and one as the favorite. As of right now, their ATS record is 2-3. Northwestern has a 3-2 over/under record so far this season. Their games have yielded a total of 46 points on average, with an over/under line of 42.1 points often set.
The Wildcats offense amassed 257 yards of total offensive yardage and scored 12 first downs. They tried 23 passes in the air for a total of 176 yards. 39 rushing attempts for 81 yards were the product of their running offense. Brendan Sullivan completed 12 of 23 passes for 176 yards in the defeat against Nebraska. With a 59.33 passer rating overall, he did neither rush or throw for a touchdown.
By the end of the game, Nebraska had gained 256 yards in total from the Wildcats' defense. In the passing game, the team's run defense gave up 85 yards of rushing, while only allowing 171 yards. With 25.9 points per game allowed, Northwestern's defense is ranked 90th going into this week's matchup.
Teams have surpassed the unit with an average of 174.7 passing yards per game thus far (27th). Their run defense allows 172.3 rushing yards per game, which ranks them 125th in NCAA football.
Maryland vs Northwestern Analysis and Trends
Maryland hopes to maintain their winning streak against Northwestern, which ended last year with a 31–24 victory. Maryland completed 9.2 yards per pass attempt for 166 yards through the air throughout the contest. Maryland ran for 257, while Northwestern scored 215 runs.
On the road, Maryland is 13.5 points ahead. There hasn't been any change in the point spread thus far, according to the initial lines. In terms of moneyline odds, Maryland now has a moneyline payout of -567 and an 85% chance of winning. On a moneyline of +405, the projected victory percentage for the Wildcats is 20%.
Key Betting Trends
Maryland has a 6-4 road record against the spread.
Northwestern's home record against the spread in the last three games is 1-2.
In their last five games as an underdog, Northwestern's overall track record is 2-3.
Maryland has a 3-2 record when playing as the favorite against the spread in their last five games.
At YouWager.lv you can wager on the different betting types, such as moneyline, spread, and total, and you can bet either on your favorite team or an undervalued underdog, always with the best and latest wagering lines. Open your account now and receive a 100% bonus on your first cryptocurrency deposit, just click below:

Maryland vs Northwestern Predictions, Odds Week 9 2023 by YouWager.lv.