Indiana vs Penn State Predictions, Odds Week 9 2023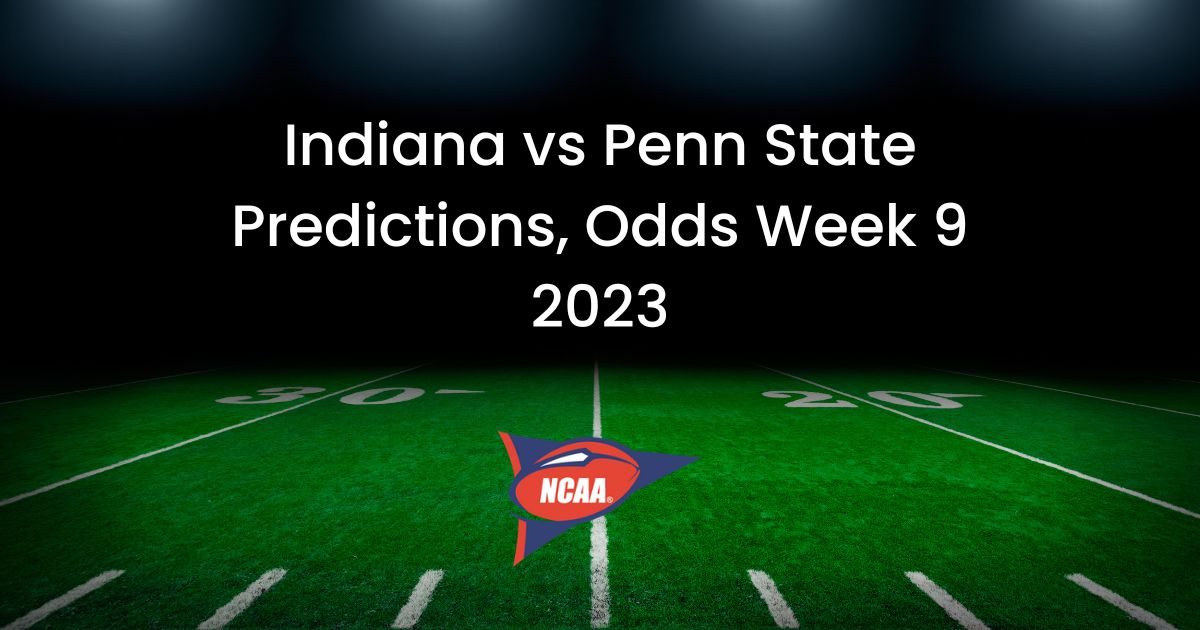 View our complimentary preview for Indiana vs Penn State, which takes place in University Park on Week 9 of college football.
In terms of passing attempts, Indiana's offense ranks 52nd.
The defense of Penn State is giving up 9.5 yards per completion.
Indiana vs Penn State Betting Odds
Here are the Indiana vs Penn State Betting Odds
| TEAM | SPREAD | MONEYLINE | TOTAL |
| --- | --- | --- | --- |
| UMass | +32 | N/A | Over 46 |
| Army | -32 | N/A | Under 46 |
Place a bet on this college football game with the latest odds at YouWager.lv:

The Hoosiers and Nittany Lions square off in an NCAAF week nine game at Beaver Stadium at 12:00 ET. Watch the action live on CBS; the game is scheduled for this Saturday, October 28.As the 32-point favorite to win this Big Ten contest, Penn State is in the game. Does this imply that their victory is certain? See what we think about this showdown by reading on.
Indiana Preview
Indiana is coming into this game with a 2–5 overall record. They lost 31-14 to the Scarlet Knights in their most recent encounter against Rutgers because they were unable to clinch a victory. Indiana has an ATS record of 2-3 and has been the underdog in all of their games when examining their betting lines against the spread. This season, Indiana has amassed an over/under record of 3-2. Their games have averaged 47.1 points overall, with 48.2 points serving as the normal over/under.
The Hoosiers' offensive output versus Rutgers included 153 rushing yards and one touchdown on the ground. Indiana's passing attack resulted in 31 passes for 126 yards and one touchdown. In addition to running for a score versus Rutgers, Brendan Sorsby found the end zone in a number of ways, passing for 126 yards and one touchdown.
By the end of the game, Rutgers had gained 325 yards in total thanks to the Hoosiers' defense. In the passing game, the team's run defense gave up 39 yards of rushing, while allowing 286 yards. The Hoosiers lead the nation in quarterback rushes and have 13 sacks going into the contest. This season, they have allowed 29.3 points per game (104th) thus far. They allow 191.7 passing yards per game, ranking 39th in the NCAA in terms of pass defense. Indiana has so far given up 176 rushing yards per game against the run.
Penn State Preview
Penn State's most recent defeat by Ohio State caused their overall record to fall to 6-1. The final result of the game was 20-12 for the Nittany Lions. With an average scoring differential of +30 for the season, Penn State has a 5-1 overall record against the spread.
Five times the Nittany Lions have been the favorite and one time they have been the underdog. The average over/under line for Penn State's matches after seven games is 47.3 points. With an average score of 49.4 points across all of their games, OU has a 3-3 record.
Against Ohio State, the Nittany Lions' offense managed 240 yards of total offense despite going 1/16 on third down. They gained 191 yards and one touchdown in the passing game. The Nittany Lions finished with 49 running yards despite failing to score on any of their 26 rushing attempts. Quarterback Drew Allar completed 18 of 42 passes for 191 yards and had a QB rating of 64.68 in the defeat to Ohio State. He also scored one touchdown to close off the game.
In the end, Penn State's defense gave up 369 yards in total versus Ohio State. Against Penn State, Ohio State passed the ball 35 times for 286 yards. The Nittany Lions gave up 83 running yards while on the ground. With 29 sacks and first-quarter quarterback rushes, the Nittany Lions defense will be in the game. They rank 32nd in terms of points allowed per game, at 9.7 points. With 144.7 passing yards allowed per game, the club ranks 11th in the NCAA against the pass. Penn State's run defense also allows 74 running yards per game.
Indiana vs Penn State Betting Analysis and Trends
As of right now, Penn State has the upper hand over Indiana because they defeated them 45–14 in their most recent head-to-head battle. In the victory, the Nittany Lions ran the ball effectively, scoring 179 points on 49 attempts. Conversely, the Hoosiers gained 65 yards with runs and 131 yards through passes.
Penn State has moved from being -31 point favorites since the lines opened to their current line of -32 (-110). Indiana, meanwhile, is currently a +32 (-110) point road underdog. Nittany Lions had moneyline odds of -9000 when they first opened, but they are now -10000. Indiana has a 4% chance of winning, while Penn State's chances are 99%, according to the odds.
Key Betting Trends
Indiana's road record against the spread is 2-8 while playing.
Penn State's record in their previous five home games against the spread is 4-1.
The Nittany Lions are 1-4 as underdogs in their previous five contests.
In their last five games as the favorite, Indiana's record against the spread is 1-4.
At YouWager.lv you can wager on the different betting types, such as moneyline, spread, and total, and you can bet either on your favorite team or an undervalued underdog, always with the best and latest wagering lines. Open your account now and receive a 100% bonus on your first cryptocurrency deposit, just click below:

Indiana vs Penn State Predictions, Odds Week 9 2023 by YouWager.lv.