South Carolina vs Texas A&M Predictions, Odds Week 9 2023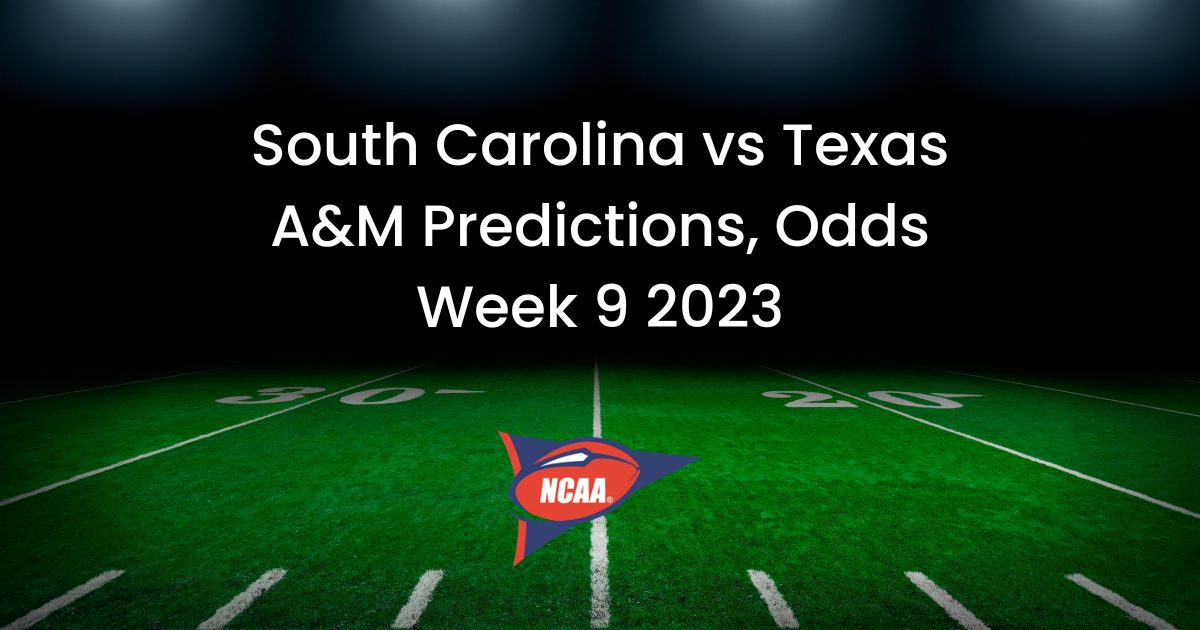 Find out who is the favorite to win and cover the spread in this week 9 NCAAF preview of South Carolina vs Texas A&M.
With 33 passing attempts, South Carolina's offense is ranked 33rd.
The defense of Texas A&M allows 66th few points per game.
South Carolina vs Texas A&M Betting Odds
Here are the South Carolina vs Texas A&M betting odds:
| TEAM | SPREAD | MONEYLINE | TOTAL |
| --- | --- | --- | --- |
| South Carolina | +16 | +500 | Over 52.5 |
| Texas A&M | -16 | -700 | Under 52.5 |
Place a college football bet with the latest and best odds only at YouWager.lv:

South Carolina vs Texas A&M Preview
Here is our South Carolina vs Texas A&M preview.
On Saturday, October 28th at 12:00 ET, the Texas A&M Aggies and South Carolina Gamecocks will play a game. This NCAAF match between the Gamecocks and Aggies is being broadcast on ESPN during week nine.The Aggies are the 14-point home favorites in this SEC matchup. Will they win at home and manage to cover the spread?
South Carolina Preview
The Gamecocks are just 2-5 on the season after losing their most recent game to Missouri 34-12. With an ATS record of 2-4, South Carolina has an average scoring difference of -5.1 for the season. Four times, the Gamecocks have been the underdog and favored twice. South Carolina has a 3-3 over/under record this season. With an average over/under line of 54.8 points, their games have yielded a cumulative total of 58.3 points.
The Gamecocks scored 286 yards of total offense and had 20 first downs. They tossed the ball 40 times for 217 yards in the passing game. On 29 attempts, their rushing assault gained 69 yards. Against Missouri, Spencer Rattler completed 23 of 40 passes for 217 yards and a 57.5% completion percentage. There was not a single passing or rushing score by the end of the game.
South Carolina gave up 420 yards to Missouri on defense. This entails surrendering 205 passing yards and the 215 permitted yards on the ground. Coming into this matchup, South Carolina's defense ranks 28th in terms of passing yards allowed per game. Against the Gamecocks, opponents have attempted 36.3 passes on average. They rank 114th in college football because they allow 31.7 points per game. They are ranked 85th in the NCAA for rush defense.
Texas A&M Preview
After their most recent game versus Tennessee, Texas A&M's record is at 4-3 overall. The Aggies lost 20–13 because they were unable to win. This season, Texas A&M had a 4-3 record against the spread. Five times the Aggies have been favored compared to two games when they have been the underdog. Texas A&M has a 4-3 over/under record thus far this season. Their matches have produced a total score of 52.1 points on average, with 51.1 points being the median over/under line.
The Aggies' offense amassed 56 running yards on 27 attempts against Tennessee, including one rushing touchdown. Sadly, they were unable to hit the end zone in their passing game, finishing with 223 yards from 34 pass attempts. Quarterback Max Johnson attempted 34 passes against Tennessee in their most recent game. With 223 passing yards and a 47.1% completion percentage, he concluded the game. He also threw two interceptions throughout the defeat.
In the end, Texas A&M's defense conceded 404 yards in total against Tennessee in their game. Against Texas A&M, Tennessee threw the ball 41 times for 271 points. During their time on the field, the Aggies allowed 133 rushing yards. This season, the Aggies' defense has surrendered 105.9 running yards per game, which ranks 178th. Against Texas A&M, opponents are averaging 172.7 passing yards, and their quarterbacks have a passer rating of 79.2. They are presently ranked 73rd in the NCAA for points allowed.
South Carolina vs Texas A&M Analysis and Trends
Texas A&M will be seeking retribution in this week's game as South Carolina prevailed 30–24 in their most recent meeting. With 118 rushing yards in the end, South Carolina's running assault averaged 3.4 yards per carry. Texas A&M scored 398 yards of offense against them on defense.
Texas A&M was originally favored by 14.5 points at home, but the lines have since moved to -14. Texas A&M now has an 85% implied win probability and a moneyline payout of -589 when looking at the moneyline odds. Conversely, the Gamecocks have a moneyline of +411 and an implied win probability of 20%.
Key Betting Trends
When examining South Carolina's last 10 road games, they have a 4-6 record against the spread.
Texas A&M is 1-2 against the spread in its previous three home games.
In their last ten games as the underdog, Texas A&M has a 4-5-1 ATS record.
South Carolina is 5-5 against the spread in its last 10 games as a favorite.
At YouWager.lv you can wager on the different betting types, such as moneyline, spread, and total, and you can bet either on your favorite team or an undervalued underdog, always with the best and latest wagering lines. Open your account now and receive a 100% bonus on your first cryptocurrency deposit, just click below:

South Carolina vs Texas A&M Predictions, Odds Week 9 2023 by YouWager.lv.