Kings vs Warriors NBA Playoffs Game 6 Betting Odds, Trends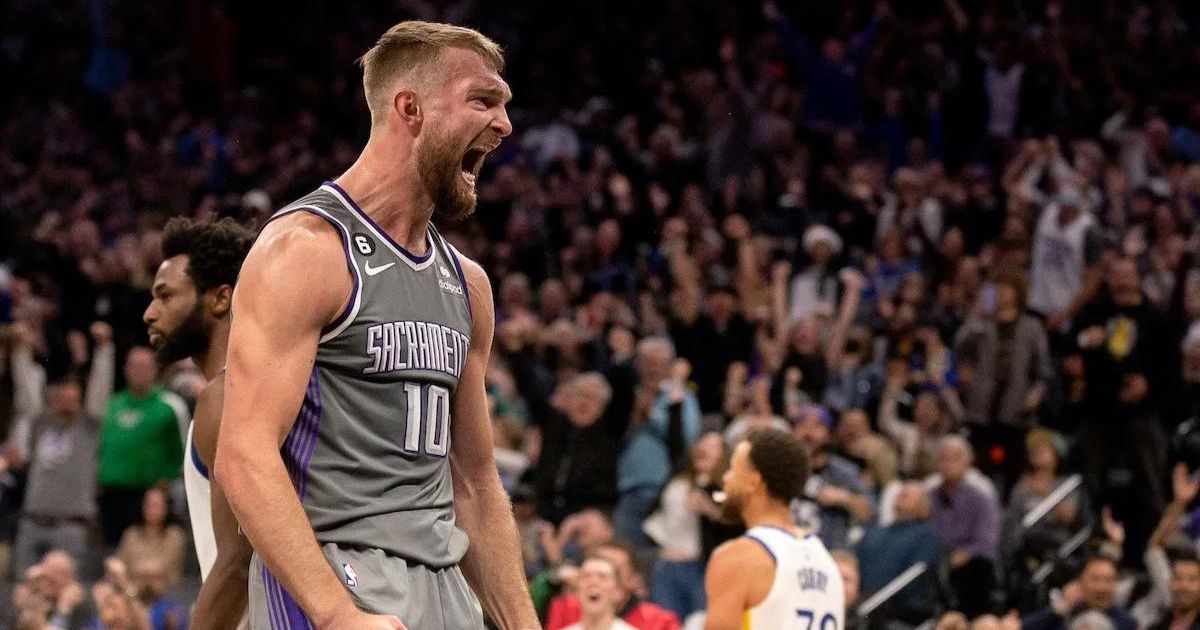 Here are the Kings vs Warriors Betting Odds, trends, and a preview of this NBA Playoffs Game 6.
In this series against the Sacramento Kings, who had the best attack in the NBA before the playoffs, the Golden State Warriors defense has stepped up. The key has been to stop Domantas Sabonis from scoring, and our betting picks say he will struggle again.
The Sacramento Kings are 7.5-point losers against the Golden State Warriors in Game 6 of the first round of the NBA Playoffs, which starts at Chase Center at 8:00 PM ET on Friday and could be the deciding game. The Warriors are ahead in the series by a score of 3-2. The over/under for the game is 234.5 points.
Kings vs Warriors NBA Playoffs Game 6 Betting Odds
Here are the Kings vs Warriors NBA Playoffs Game 6 Betting Odds, brought to you by YouWager.lv:
| Favorite | Spread | Over/Under |
| --- | --- | --- |
| Warriors | -7.5 | 234.5 |
Kings vs Warriors Betting Splits
Warriors and Kings Betting Information

| | ATS Record | ATS Record Against 7.5+ Point Spread | Over/Under Record (O-U-P) |
| --- | --- | --- | --- |
| Warriors | 39-43 | 14-11 | 45-37 |
| Kings | 45-37 | 2-2 | 40-42 |
Kings vs Warriors Point Insights
| Warriors | | Kings |
| --- | --- | --- |
| 118.9 | Points Scored (PG) | 120.7 |
| 2 | NBA Rank (PPG) | 1 |
| 29-17 | ATS Record Scoring AVG+ | 34-15 |
| 34-12 | Overall Record Scoring AVG+ | 40-9 |
| 117.1 | Points Allowed (PG) | 118.1 |
| 21 | NBA Rank (PAPG) | 25 |
| 34-18 | ATS Record Allowing < AVG | 33-11 |
| 39-13 | Overall Record Allowing < AVG | 32-12 |

Kings vs Warriors NBA Playoffs Game 6 Predictions
Stephen Curry and Klay Thompson, known as the "Splash Brothers," are the faces of the Golden State Warriors' dynasty. However, it's no secret that the Warriors have always been a better defensive team than an offensive one. So when they played the Sacramento Kings in the first round, the team with the best offense in the league, it was the ultimate test to see if this group of Golden State players still had it or if the dynasty had finally died.
Even though the whole story hasn't been told yet, it's clear after five games that the Warriors' defense can still reach a level that no other NBA team can match. Even though Draymond Green and Kevon Looney are both very good players, Golden State has mostly won because of how well they stick to their game plan as a whole.
Domantas Sabonis
The Warriors' plan was easy, but it worked. They tried to stop Domantas Sabonis from making plays, but for the most part, they just played man-to-man defense against everyone else. Sabonis is the center of the Kings' attack, and his ability to pass the ball while dribbling is the key to their 3-point shooting. During the regular season, Sabonis used his ability to score from inside to put pressure on opposing defenses. The Warriors chose to let him score however he wanted to in order to stop his DHO game from working.
Golden State has been tough on Sabonis from the start, locking and following the shooters who take his passes but dare him to take open jump shots from the free-throw line. The Warriors are dropping so deep to cover Sabonis that they can block any possible passing routes. Then, Green and/or Looney are in a position to get the ball back and keep it from going in.
The Kings never found a way to deal with this coverage, so in Game 5, they tried to make the Warriors pay for it by having Sabonis strongly step into his jump shot. Sabonis ended up making 4 of 7 shots from outside the restricted area. This isn't terrible, but it's a fair trade-off for Golden State because it lets them stop the Kings' main attacking sets. In fact, for parts of Game 5, the Kings used Sabonis as a finisher in a pick-and-roll instead of a starter at the top of the key, which made it even harder for him to get assists.
Even when Andrew Wiggins is smaller than Sabonis in the post, the Warriors would rather let him pound the ball and shoot a jumper than send help. Sabonis scored pretty easily on these plays, but since the Warriors didn't help him, he didn't get any helpers.
During the regular season, Sabonis had an average of 7.3 assists per game. Against the Warriors, that number has dropped to 4.4. He hasn't had more than four helpers in any game this series except for one. I think this trend will continue in Game 6 because the Warriors' defense is so good and the Kings' response force them to look elsewhere for playmakers.