San Diego State vs. UConn Betting Odds, Prediction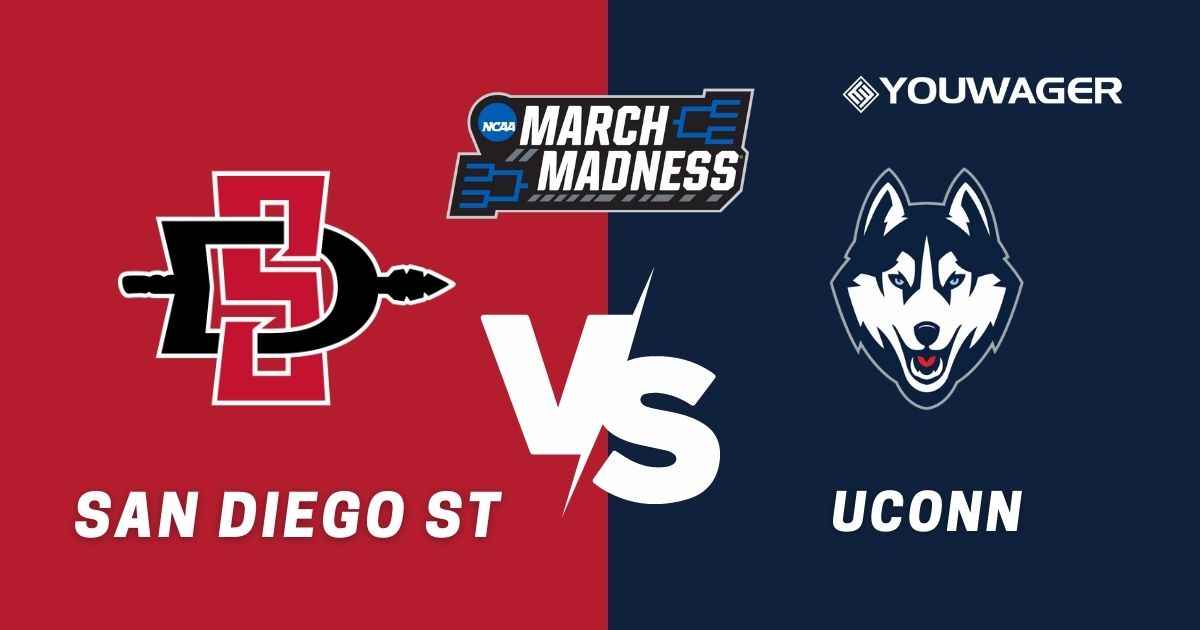 Here are the San Diego State vs. UConn Betting odds and the game prediction for this March Madness championship game.
Now that the dust has settled and the chaos has died down, there are only two teams left in the 2023 Men's NCAA Tournament. After their thrilling semifinal wins on Saturday, the only teams still in the running are the Connecticut Huskies and the San Diego State Aztecs. On Monday night at NRG Stadium in Houston, Texas, the winner will be announced.
San Diego State vs. UConn Betting Odds
These are the San Diego State vs. UConn Betting Odds, brought to you by YouWager.lv:
San Diego State: Point Spread +7.5, Moneline +295
UConn: Point Spread -7.5, Moneline -370
Total:  132 -110 Over/Under
YouWager.lv Sportsbook says that the Huskies are a -7.5-point favorite over the +7.5 underdog Aztecs at the start of the game. With a bet on the moneyline for SDSU,, you can earn $295 per each $100 you risk, while a bet on UConn will get you $100 per each $370 you get to risk. The total number of points is set at 132.

San Diego State vs. UConn: How did we get here?
Almost the whole game against Florida Atlantic, the Aztecs (-2.5) were behind, until it was time to win. SDSU won 72-71 over the Owls after hitting the first buzzer of the tournament. At the same time, the Huskies (-5.5) got ahead of Miami early and never looked back. UConn won easily by a score of 72–59, putting them in the championship game on Monday.
A match between a 4-seed and a 5-seed might be the best way to end a 2023 tournament that was full of chaos.
Fans will now see what happens when a force that can't be stopped meets an object that can't be moved. It's a fight between two strong teams for a national title. KenPom says that the Aztecs' defense is the fourth best in the country after it has been changed. Using the same measure, the Huskies have the No. 3 adjusted offense in the country.
Oddsmakers clearly like the fact that UConn can score so well and that Dan Hurley's team is doing so well in this tournament. During this tournament, the Huskies have won by an average of 20.6% points per game. This is why Las Vegas saw them as the clear favorite from the Final Four on.