College Football 2023 Championship Favorites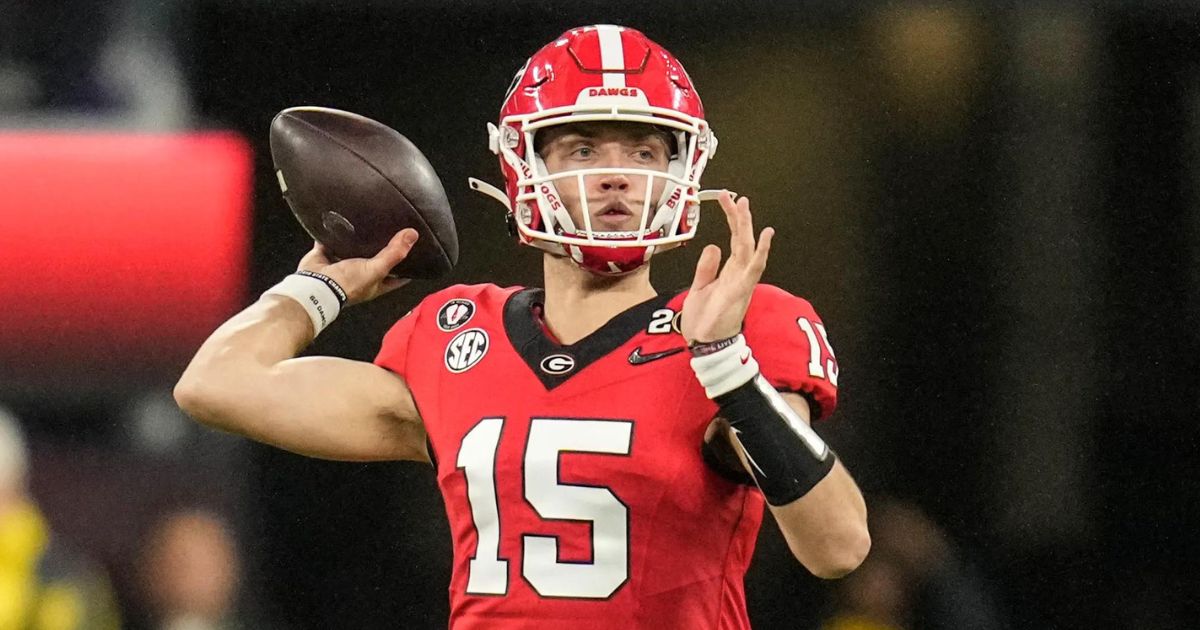 College Football 2023 Championship Favorites: GEORGIA BULLDOGS
College Football 2023 Championship Favorites: GEORGIA BULLDOGS
Georgia must find a new reason to win in 2023, just like Alabama has to do every season after winning six national titles under Nick Saban. The team's roster will be very different from its two previous title runs. As college football's likely preseason No. 1 team, the Bulldogs are starting over in a way, since quarterback Stetson Bennett has used up all of his eligibility and a number of high-profile players have left through the portal. Smart warned that this program might get too easy because of how well it has done on the field in recent years.
"It's human nature to relax and take the easy way out, and I'm just as guilty of that as anyone else," Smart said after winning the title in January. "But it wasn't in this team's nature to relax. This wasn't as hard a job as people made it seem because of the people we recruited, not because of their talent, but because of who they were, like their DNA. These guys, this team was different. This team was just different. And every time they were pushed against a wall, they came out scratching and clawing. If we had a bad practice, we'd have a good practice.
"They answered to all of it. So, the people on the team — I didn't talk enough about this last night. Our team's GPA was the best it's been at Georgia in like 15 years. Georgia is a hard place. Georgia is hard in school. So, if you have people who do well in school and care about each other—I mean, school isn't getting easier in Georgia—you have a chance of being successful. And these guys went along with it."
Learn about the best NCAA football running backs for the upcoming season.
College Football 2023 Championship Favorites: ALABAMA CRIMSON TIDE
College Football 2023 Championship Favorites: ALABAMA CRIMSON TIDE
With two new coordinators, no Bryce Young or Will Anderson Jr., and a tough schedule, some national analysts worry that Alabama may not be seen as the preseason favorite it has been for most years under Nick Saban. After all, Alabama is coming off only its second two-loss regular season in the last decade. However, with the nation's best recruiting class for 2023, championships are on the way.
College Football 2023 Championship Favorites: OHIO STATE BUCKEYES
College Football 2023 Championship Favorites: OHIO STATE BUCKEYES
Ohio State hasn't lost back-to-back games to Michigan since 1999 and 2000, and the Buckeyes will start the 2023 season on a two-game losing streak for only the second time since 2011. How will the program respond to its close loss to Georgia in the playoff without C.J. Stroud at quarterback? Kyle McCord and Devin Brown will battle it out for first-team honors, leading a team that is the third-best in the country behind Alabama and Georgia.
College Football 2023 Championship Favorites: USC TROJANS
College Football 2023 Championship Favorites: USC TROJANS
The Trojans are the preseason favorite to win the Pac-12 and go to the playoffs. Heisman winner Caleb Williams and several other key starters are back from a team that finished one win short of the final four in 2022. Our question is, where are the other Pac-12 heavyweights in the top 10 title odds at different sportsbooks? Washington is just as talented and Oregon's roster is similar from top to bottom.
MICHIGAN WOLVERINES
College Football 2023 Championship Favorites: MICHIGAN WOLVERINES
The two-time defending Big Ten champions have lost in the semifinals of the College Football Playoff the last two years. This shows that there's still work to be done for a veteran-filled Wolverines team that brings back two of the nation's top five running backs, star quarterback J.J. McCarthy, and a lot of talent on defense. Michigan is one of three Big Ten teams that oddsmakers expect to be national championship contenders, along with Ohio State and Penn State.
CLEMSON TIGERS
College Football 2023 Championship Favorites: Clemson Tigers
Clemson is an intriguing preseason title contender for many reasons. For starter, you have to give Dabo Swinney a ton of credit for bucking tradition and going outside of the Clemson footprint for the nation's top assistant in college football. Garrett Riley's arrival in the ACC is fascinating. It takes guts after winning the ACC to fire your play-caller and Swinney made the decisive move to pass on Brandon Streeter for an opportunity at changing the Tigers' offense altogether. Riley transformed TCU's offense into one of the most productive units in the country in 2022 and now will develop Cade Klubnik. Clemson feels like a safer bet at +1600 than FSU does at +1800, no?
FLORIDA STATE SEMINOLES
College Football 2023 Championship Favorites: Florida State Seminoles
Not only are the Seminoles expected to compete for their first ACC title in a decade with quarterback Jordan Travis, future first-rounder Jared Verse, and other playmakers returning, but FSU also did well in the transfer portal. They signed two instant-impact starters from South Carolina and immediate help along the offensive front. With a schedule that looks manageable after the opener, the Seminoles should be able to keep their 10-win streak going.
TEXAS LONGHORNS
College Football 2023 Championship Favorites: Texas Longhorns
Do you find it surprising that Texas is again the preseason favorite to win the Big 12? At some point, the obvious talent advantage over the rest of the league has to lead to double-digit wins. Steve Sarkisian's third season with the Longhorns should be his best. They signed an elite class led by five-star quarterback Arch Manning and made key portal additions the past two years.
NOTRE DAME FIGHTING IRISH
College Football 2023 Championship Favorites: Notre Dame Fighting Irish
Notre Dame felt really good about its offseason roster revamps with the addition of Wake Forest quarterback Sam Hartman, but then lost offensive coordinator Tommy Rees to Alabama. Marcus Freeman's pending hire on his staff is vital to this team's momentum in 2023. The Fighting Irish seemed to figure things out last fall after the unexpected loss to Stanford and capped Freeman's first year by beating nationally-ranked South Carolina during bowl season. The schedule doesn't let up in 2023, so Notre Dame will need Hartman's best.
PENN STATE NITTANY LIONS
College Football 2023 Championship Favorites: Penn State Nittany Lions
This might be my favorite long-shot bet of the offseason. Penn State's offense, which has a lot of young players, is going to make a big splash in the Big Ten next fall. However, this team's overall worth will depend on how well its defense does. Several starters for the Penn State Nittany Lions were on the fence about leaving for the NFL but decided to stay because they believe in the program's rise after an 11-win season. For a team that will be able to do it, the top goal is still to beat Michigan and Ohio State. Predicting what will happen is a whole different story.
Thank you for reaching our article on the College Football 2023 Championship Favorites, we invite you to join YouWager.lv and get ready to bet on your favorite from the list!