Damian Lillard Scores Career-Best 71 Points, 13 3-pointers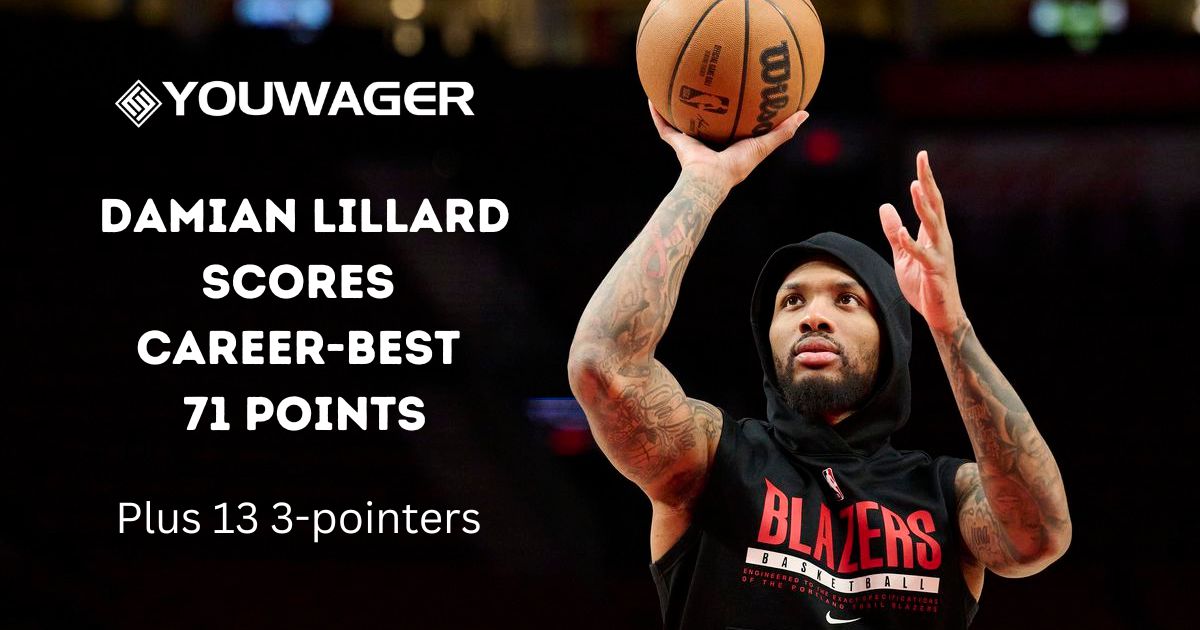 Damian Lillard scored 71 points and made 13 3-point shots, which were both franchise and career highs. The Portland Trail Blazers beat the Houston Rockets 131-114 on Sunday night to end a two-game losing streak.
Lillard became the eighth player in NBA history to score 70 points. He is the only player over the age of 30 to score 70 points in a game. He is also the oldest player in NBA history to do so, at age 32.
"When I'm in attack mode, I enjoy the parts of the game when I'm just going after people" Lillard said
Just Like Damian Lillard, Donovan Mitchell Also Scored 71
Donovan Mitchell of Cleveland also scored 71 points in a win over Chicago on January 2, so Lillard tied him for the most points scored in a game this season. Lillard broke his own franchise record of 61 points, which he had done twice, with a 3-pointer with 4:42 left. It was his 11th 3-pointer of the game, which was also his career record.
Klay Thompson of Golden State set the NBA record for most 3-pointers made in a season in 2018 with 14. Klay Thompson made 13 3-pointers in 22 attempts. Stephen Curry, who plays for the Warriors with Thompson, and Zach LaVine, who plays for Chicago, both made 13 3s in 2016 and 2019.
Overall, Damian Lillard made 22 of 38 shots from the field and all 14 free throws he tried. He got six boards and gave out six passes.
Chauncey Billups, the coach of the Blazers, said, "It was a masterful performance. It was a beautiful thing. That was really cool."
Donovan Mitchell watching Damian Lillard drop 71 in the same season as him pic.twitter.com/f2iGFqeZcR

— YouWager.lv (@YouWager_FF) February 27, 2023
MVP Chants for Damian Lillard
In the last few minutes, the home fans of the Trail Blazers at the Moda Center were on their feet and chanting "M-V-P!"
With 44 seconds left, Damian Lillard left the game. He was tied with Mitchell, Elgin Baylor (1960), and David Robinson (1994) for scoring the eighth-most points in an NBA game.
Wilt Chamberlain scored 100 points for Philadelphia against New York on March 2, 1962, in Hershey, Pennsylvania. This was the most points ever scored in a league game.
By halftime, Lillard had scored 41 points and made eight 3-point shots. It was the most points any player in the league has scored in a half this season. It was also the most points Lillard has ever scored in a half. At the start of the fourth quarter, he had 50.

Lillard's 5th Career 60-Point Game
Sunday was also Damian Lillard's fifth 60-point game in his career, which broke a tie for third-most in NBA history. Only Chamberlain (32) and Kobe Bryant (six) have more; Lillard is now tied for fifth.
Damian Lillard has scored 50 or more points in 15 games, which is the sixth most in NBA history.
Lillard said that the league tested him for drugs soon after his performance, which kind of ruined the moment for him because he is scared of needles.
"I know I have a lot of tattoos, but drawing blood is not the same as getting a tattoo. It brought me all the way down to the floor." Lillard said.
The Blazers led by as many as 23 points thanks to 13 points from Jerami Grant.
Damian Lillard started after getting some rest before the 133-116 loss to Sacramento on Thursday night. He was in the NBA All-Star Game and won the 3-point shooting contest the weekend before.
Mitchell noticed how well Lillard was playing.
"My mom calls me and says Damian Lillard tied your record, you need to get 72 now," Mitchell wrote on Twitter with some laughing emojis.
My mom calls me and says @Dame_Lillard tied your record… you gotta get 72 now😂😂😂

— Donovan Mitchell (@spidadmitchell) February 27, 2023