Anthony Richardson 2023 NFL Draft: Strengths, Flaws, Team Fits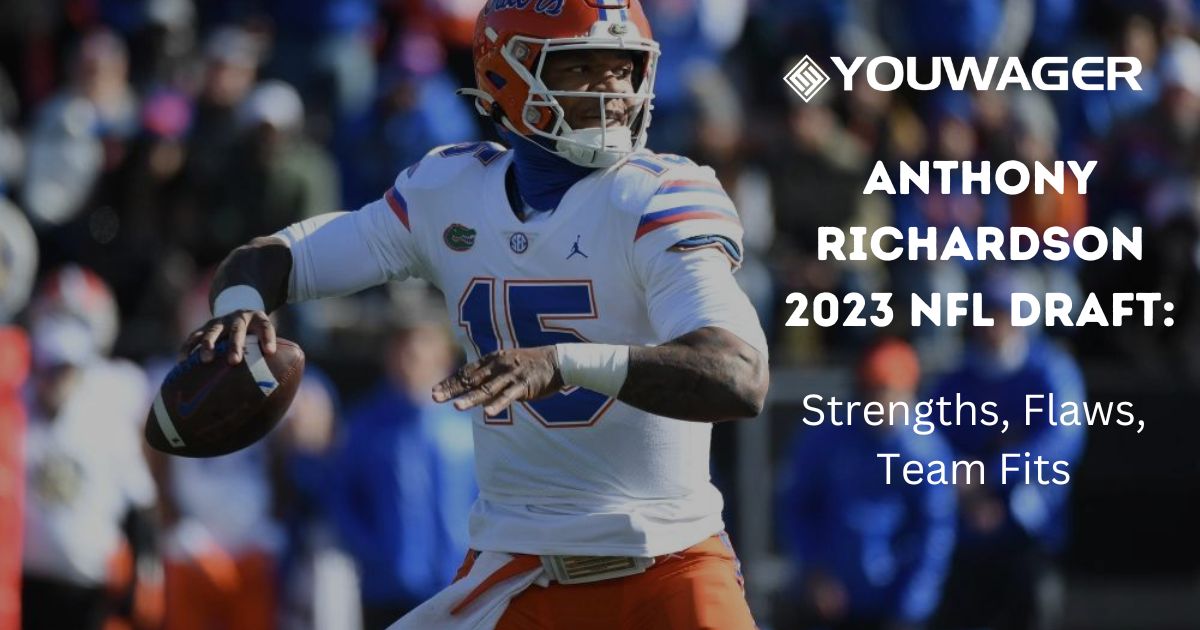 Anthony Richardson of Florida is one of the most divisive prospects in the whole 2023 NFL draft class.
The greatest arm in the draft class, his dual-threat skills, and his excellent stature at 6-foot-4 and 232 pounds have earned him high praise from evaluators. They'll also comment on his lofty potential and draw similarities to Cam Newton and Josh Allen. After declaring for the draft after his redshirt sophomore season, he may be the most talented athlete available this April from a physical attributes standpoint.
Richardson, though, is not expected to go first overall in the 2023 selection and may even go as the fourth quarterback selected. Why? Although many scouts see the potential, they are worried about his patchy performance in just one full season as a starter and his severe accuracy concerns. In his career, Anthony Richardson completed 54.7% of his throws while completing 15 interceptions and 24 touchdown passes.
That makes Anthony Richardson such a challenging pre-draft evaluation, as there is a lot of risk for a team trying to choose its potential franchise quarterback in Round 1. How do you balance the advantages and disadvantages? In preparation for the combine, we'll see why scouts find it so difficult to rank him in their draft boards, how he can succeed in the league, and what comes next for the incredibly intriguing prospect.
Why Are Scouts Fascinated with Anthony Richardson's Upside?
One scout openly gushed about all the things a team could accomplish with a dual-threat quarterback like Anthony Richardson. The team that selects the signal-caller could access new sections of the playbook.
For the best demonstration of this ability and promise, look no further than the 2022 season opener against Utah.
By the time the second quarter came to a close, the Gators were down 13-7. In his second career start, Richardson used a mesh concept while in a pistol formation with 11 personnel, establishing a run-pass option.
The ball might be given to the running back, tossed to a receiver in motion for a jet sweep, or held by Richardson for a pass or run. Anthony Richardson kept it and continued his progressions while scanning the field. Even as he moved up in the pocket to prevent a defensive end from entering the backfield party, his eyes remained open the entire time.
When he noticed a crease, he vanished without a trace. Richardson pulled the ball down, and raced for six points on 45 yards of ground, displaying great speed, agility, and balance. The rewind buttons on scouts' video controllers become worn out with this style of play.
Bo Nix was well behind Anthony Richardson, who finished the previous season with the second-best yards per carry (6.4), among all FBS quarterbacks. No two quarterbacks in the country forced more tackles as a ball carrier than his 43, and he rushed for 654 yards (ninth in the FBS) and scored nine touchdowns on the ground (tied for 13th). Scouts are interested in more than simply a player's rushing abilities, though.
For starters, Richardson possesses one of the strongest arms tested over the previous five years and is the strongest quarterback in the 2023 draft class. He boasts velocity that rivals the top NFL throwers, which enables him to drive the ball into windows in addition to being able to crank up deep-ball throws. There isn't a throw Anthony Richardson can't make from an arm talent standpoint, but understanding touch and how to layer the ball to different levels of the field will be a part of his development.
Also, eight of Anthony Richardson's 17 touchdown passes from the previous season were thrown to receivers who were 20 yards or more downfield, and three of them were thrown at least 40 yards. Richardson will enter the NFL as a rookie with an arm that ranks in the top 10.
Also, there is the matter of his build. Anthony Richardson is a powerful man at 6-foot-4 and over 230 pounds. Keep the Utah game on video, and you'll watch him use that strength to attempt a 2-point conversion early in the fourth quarter to give the Gators a three-point lead.
Once more out of the pistol, Richardson took the snap and faked a toss, but as he spun around, he was startled to see two Utah defenders charging down on him off the right edge. The majority of quarterbacks toss the ball into the 300 level and continue to play. But with one defender draped over him and the other poised to play the ball, Richardson took two steps back, leaped into the air, and faked a pass. He recovered to locate a wide-open receiver in the back of the end zone after using his muscle to fend off the tackle attempt.

So Why Are Teams Concerned About Anthony Richardson?
Many evaluators will be wary of quarterback prospects who have completion rates below 60%. Last season, Richardson started 53.8% of the games as a full-time starter.
Only 69.9% of Anthony Richardson's passes were deemed "catchable" past season, placing him 110th out of 124 eligible FBS quarterbacks. Furthermore, 13.2% of his incomplete passes were made to receivers who had no defenders in close proximity to them at the time the pass was delivered. In 2022, that rate ranked seventh highest overall.
Here, the Allen similarities start to surface because the bulky, physical signal-caller finished 56.2% of his passes while playing for Wyoming before being selected at pick number seven in 2018. Like Allen, scouts think Richardson has a lot of foot-related problems.
Richardson had a strong opening day of the 2022 season against Utah, hitting 70%, but the next week against Kentucky, he only hit 40%. Anthony Richardson completed at least 60% of his passes in six additional games, and he completed fewer than 60% of his passes in four of his games for the whole season. 10 of Florida's 12 games consist of those.
Richardson might join Daniel Jones (59.9%), Allen (56.2%), and Lamar Jackson (57.0%) as the only quarterbacks selected in the first round in the past ten classes with a career completion percentage under 60%. Moreover, he would be the lone quarterback selected in the first round during that time period with a career completion percentage below 55%.
Hence, even while it may be simple to say, "Well, just fix his accuracy," history has shown that it's possibly the most difficult quality for a quarterback to change. Moreover, Anthony Richardson's lack of experience is a hindrance. In his career, he has attempted fewer than 400 passes while making 13 starts.
In other words, there is no assurance that he is even prepared to take over an NFL offense because his game is still extremely young. Before taking over as the regular starter in 2022, he served as Emory Jones' backup quarterback in a platoon in 2021.
Keys to Maximizing Richardson's Potential
As we've seen with Mahomes, Allen, Hurts, and many other quarterbacks early in their careers, situation is frequently the biggest predictor of success. Nothing will change in Anthony Richardson. It's wonderful to see his extraordinary qualities, but to reach his full potential, he'll need to commit to working hard both inside and outside of the facility, just like other great quarterbacks.
His footwork needs to be improved. He needs to develop his timing for releasing pressure on passes and become a quarterback who can be caught. He also has to learn when to abandon a play.
Nevertheless, Richardson's best option right now is time. He requires to check out more defenses. He also needs to make more attempts to determine what works and what doesn't. His footwork, from his dropback to his steps when throwing, needs to be improved, of course. It would be extremely beneficial for his growth if he could shadow an experienced player and receive some coaching up in his first season.
Best Comparison for Richardson?
Fields, Hurts, and Allen have previously been named, but Cam Newton also comes to mind. Strangely, Newton spent time at Florida and only started one season of college football, despite the fact that he won a national championship at Auburn before being selected first overall in the 2011 draft.
Yet, both possess exceptional running and arm strength, stature, and power. Richardson can have a dual-threat impact on the game as a rookie while developing as a passer, just like Newton did.
Trey Lance is a more recent parallel that I personally like to make. Both were outstanding runners and exciting quarterback prospects based on traits, but neither had much collegiate experience or accurate throws. Although Anthony Richardson has a better arm, their stature is comparable; Lance is 6-foot-3 and weighs 224 pounds. Also, rather than entering the NFL right immediately, they both needed time to mature.
Draft Chances
Will a top-ten team take a chance on these qualities and potential?
Richardson's enormous draft range will be impacted by his performance in the combine interviews. And at YouWager.lv Sportsbook, his chances of being the first overall choice in the draft have increased significantly during the past week.
But his current range feels more comfortable between No. 7 (Las Vegas Raiders) and No. 20 (Seattle Seahawks), assuming no experienced quarterback is traded to a team like the No. 22 Baltimore Ravens or a team like the New Orleans Saints moves up in the draft to get the quarterback they need (No. 29).
Which Teams are Most appropriate for Him?
The front office and coaching staff of a team must think they have the framework in place to improve Anthony Richardson's game. The company will require both a strategy and some patience. With Frank Reich as their head coach, the Panthers might be that place.
The Detroit Lions and the Seahawks (numbers 5 and 20) are also present (Nos. 6 and 18). Both teams will have seasoned quarterbacks who can hold down the fort while Richardson develops, similar to Jordan Love in Green Bay, if Geno Smith re-signs in Seattle.