2023 NFL Draft Order: Top 18 Picks For The First Round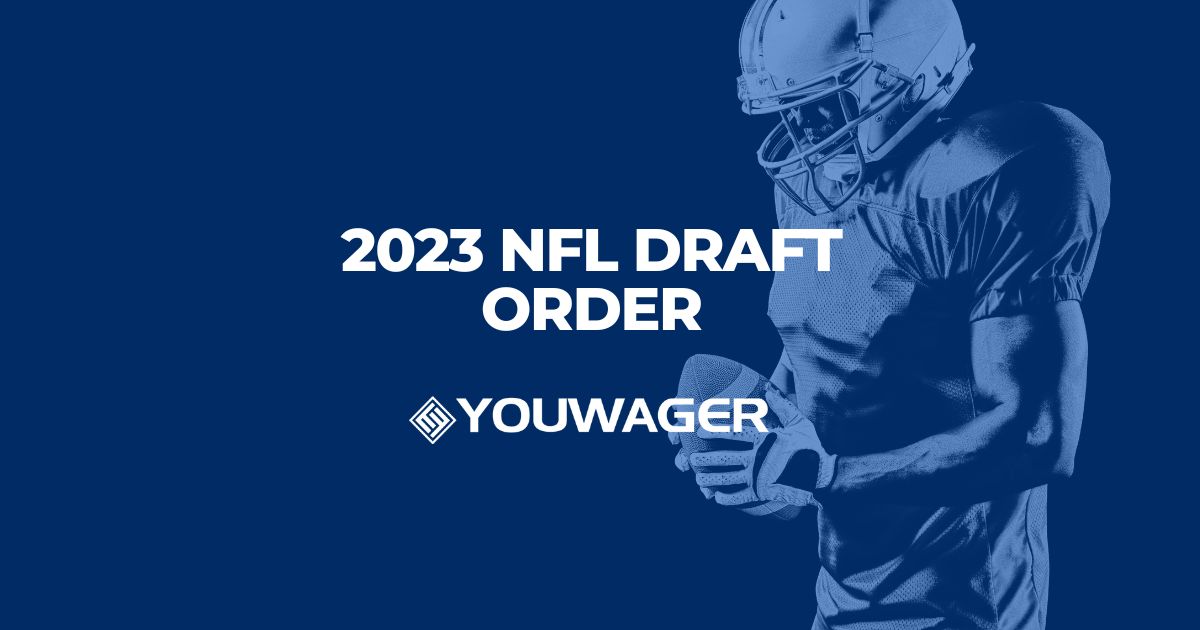 The Chicago Bears will select No. 1 and the Houston Texans will select No. 2 in the order for the top 18 picks in the first round of the 2023 NFL Draft. The Bears were able to squeak into first place thanks to the Texans' thrilling victory in Week 18.
Will Chicago trade back or keep this pick? Will the Texans' choices result in the selection of their future signal-caller? The Arizona Cardinals are ranked third, after the Bears and Texans.
Given that there have been six deals involving first-round picks, several teams have the chance to make significant changes.
The teams in line to receive two first-round picks are the Houston Texans, Seattle Seahawks, Detroit Lions, and Philadelphia Eagles. There will be 31 picks in this year's Round 1 because the Dolphins' selection was taken away for tampering offenses.
The San Francisco 49ers, Cleveland Browns, New Orleans Saints, Los Angeles Rams, and New Orleans Saints will also not receive a first-round pick.
In a trade that sent outside linebacker Bradley Chubb to the Dolphins in exchange for the 49ers' 2023 first-round pick, the Denver Broncos received a first-round pick.
The Kansas City Chiefs' home stadium, Union Station, will host the 2023 NFL Draft, with the first round scheduled for April 27. April 28 will see Rounds 2 and 3, while Rounds 4 through 7 will take place on April 29.
Learn everything about sports betting with this simple guide.

Projected Top 18 2023 NFL Draft Picks
These are the 18 projected 2023 NFL Draft Picks:
2023 NFL Draft: 1. Chicago Bears
2023 NFL Draft: 1. Chicago Bears 
There will be many clubs looking to trade up to the Bears' top spot since they need a quarterback. Chicago could get several first-round picks by trading down, allowing general manager Ryan Poles to address needs at defensive line, wide receiver, and offensive line, a year after going without a first-round pick. The Bears have the fewest pressures (20) and sacks (20) in the NFL (96). Priority 1 is to strengthen their pass rush, and if that can't be done through free agency signings, they might be able to locate that support at the top of the draft.
2023 NFL Draft: 2. Houston Texans
2023 NFL Draft: 2. Houston Texans 
The Texans' rebuilding effort is mired in muck. Why? because they are looking for their future quarterback and a new head coach after Lovie Smith was fired after Sunday's game. Davis Mills was benched after 10 starts despite preseason anticipation that he may be the long-term solution (and 11 interceptions). But in Week 14, Mills started again after backup Kyle Allen struggled through two games. To give its reconstruction any legitimacy, Houston must select a franchise quarterback in this draft.
2023 NFL Draft: 3. Arizona Cardinals
2023 NFL Draft: 3. Arizona Cardinals 
First, who makes the selection will depend on whether it is veteran general manager Steve Keim or someone else. GM Keim has held the position since 2013. Arizona will have a lot of needs in the first round, and the team hasn't always profited from its "best player available" guiding principle.
Making quarterback Kyler Murray happy and providing him with more alternatives in the draft—whether that be an offensive lineman or an offensive weapon is the main goal. If that doesn't happen, there will likely be more strife in the locker room, particularly as Murray prepares to undergo recovery and surgery for the season-ending knee injury he sustained in Week 14.
2023 NFL Draft: 4. Indianapolis Colts
2023 NFL Draft: 4. Indianapolis Colts 
Since 1998, Peyton Manning and Andrew Luck have been selected in the first round by the Colts as quarterbacks. Expect a greater emphasis on the passers in this class because of how urgently they are needed at the position. There is no denying that the Colts have a grave problem at quarterback given Matt Ryan's age (37) and performance, as well as the unproven condition of Sam Ehlinger. The Colts also have other challenges to resolve, such as determining who will serve as head coach moving forward.
2023 NFL Draft: 5. Seattle Seahawks
2023 NFL Draft: 5. Seattle Seahawks 
General manager John Schneider and the Seahawks are pleased with the Russell Wilson trade. The first-round pick that the Broncos owe Seattle is picked fifth, with the team at 5-12. By selecting that early, the Seahawks have an unique opportunity to add the impact defensive lineman they sorely lack up front. However, if they let Geno Smith leave in free agency, they would also be in need of a quarterback. Seattle likely will have three selections in the top 40 because it also owns Denver's second-round pick.
2023 NFL Draft: 6. Detroit Lions
2023 NFL Draft: 6. Detroit Lions
General manager Brad Holmes has often displayed a penchant for selecting gems in the draft, including fourth-round receiver Amon-Ra St. Brown, whose career is off to a record-breaking start. The Lions will probably need to address their quarterback and cornerback needs in 2017 draft, where difficult decisions will need to be made. Although Jared Goff is having a fantastic season, Detroit has to find fresh talent for that position, and its biggest defensive need is in the secondary.
2023 NFL Draft: 7. Las Vegas Raiders
2023 NFL Draft: 7. Las Vegas Raiders 
Las Vegas needs to acquire a variety of players once more, one year after waiting until the third round to make its first selection (general manager Dave Ziegler and coach Josh McDaniels traded first- and second-round picks to Green Bay for wideout Davante Adams).
Even with talents like Adams, running back Josh Jacobs, and defensive end Maxx Crosby on the roster, not much has changed. The quarterback, however, is the wild card. Because the Raiders have a three-day window after the season to deal Derek Carr for a rather low $5.6 million salary-cap charge, despite the fact that he signed a three-year, $121.5 million extension with a no-trade provision last offseason.
2023 NFL Draft: 8. Atlanta Falcons
2023 NFL Draft: 8. Atlanta Falcons 
The Falcons might be best served by concentrating on defensive linemen and edge rushers in the draft despite the fact that some of this will depend on how rookie quarterback Desmond Ridder performed in the final four regular-season games. The squad urgently needs to find players to surround standout tackle Grady Jarrett since they are once again towards the bottom of the league in terms of sacks and pressure %. It was Atlanta's most pressing need the previous year, and it still is this offseason, but this time there is cap space to work with.
2023 NFL Draft: 9. Carolina Panthers
2023 NFL Draft: 9. Carolina Panthers
Since selecting Cam Newton with the first overall pick in 2011, the Panthers have not selected a quarterback in the first round. It's time to put a stop to the quarterback tumult the team has been in since Cam Newton's shoulder injury midway through the 2018 season, especially with a high chance of a top-10 choice. General manager Scott Fitterer has positioned himself to have the picks to move up for a quarterback if necessary by trading running back Christian McCaffrey to the 49ers.
2023 NFL Draft: 10. Philadelphia Eagles
2023 NFL Draft: 10. Philadelphia Eagles 
The 14-3 Eagles actually have a good chance of going far in the playoffs while still receiving two first-round picks. Jalen Hurts securing the starting quarterback position allows Philadelphia to concentrate on the offensive line, defensive line, and secondary.
2023 NFL Draft: 11. Tennessee Titans
2023 NFL Draft: 11. Tennessee Titans 
For the first time since 2015, the Titans will conduct their draft without general manager Jon Robinson. This selection will be crucial for a squad that keeps losing in the first round of the playoffs. The defense has received significant investment from Tennessee, and the intended results have been achieved. However, aside of running back Derrick Henry, the offense lacks established dynamic playmakers, thus this draft must provide individuals who can score points.
2023 NFL Draft: 12. Houston Texans
2023 NFL Draft: 12. Houston Texans
The Texans acquired quarterback Deshaun Watson from the Cleveland Browns in exchange for this pick, which is their second overall pick. The Texans acquired first-round picks in the years 2022, 2023, and 2024 as well as third- and fourth-round picks in 2023 and 2024 from the transaction.
2023 NFL Draft: 13. New York Jets
The Jets draft should return to normal soon. They have a pick in each of the top rounds after accumulating picks in the previous two drafts—they have a total of six selections in the top 36. Because of this, it is more difficult to meet needs, though there are undoubtedly less than in prior years. Because of the narrower margin for error than during the high-volume years, this increases the pressure on general manager Joe Douglas and his scouting staff, but it also shows that their reconstruction is making progress.
2023 NFL Draft: 14. New England Patriots
The Patriots have an abundance of picks, including two additional sixth-round picks from trades involving Jarrett Stidham and Stephon Gilmore, an additional third-round pick from a 2022 draft-day deal with Carolina, an additional fourth-round pick from the trade of running back Sony Michel to the Rams, and an additional third-round pick from a deal with the Panthers. It would be a foregone conclusion if an offensive tackle was within striking distance early on. The offense is ranked 20th in the NFL in terms of sacks taken per pass play as a result of the position's shaky performance, which is partly the result of a string of injuries.
2023 NFL Draft: 15. Green Bay Packers
Still waiting on that receiver from the first round? Since the Packers appear to have hit on second-round pick Christian Watson and fourth-round pick Romeo Doubs this year, Year 21 will be without one. Nevertheless, the Packers still require assistance from their quarterback, whether it be Aaron Rodgers or Jordan Love. That needs to be in the shape of a tight end and a tackle. How long David Bakhtiari will be able to perform as left tackle is unknown. Yosh Nijman's status as a long-term starter is still debatable. Their lone playmaker at tight end, Robert Tonyan, has a contract that expires soon.
2023 NFL Draft: 16. Washington Commanders
Three of the eight picks the Commanders make in the draft come in the seventh round. Due to the Carson Wentz trade, they were left without a third-round pick, but they will most likely receive one in exchange for the guard Brandon Scherff they lost to free agency last summer. They are well-positioned to handle a few issues. Washington might use its first selection at the corner position because it needs more depth.
With Wentz having no guaranteed compensation and being able to be cut, Taylor Heinicke being a free agent, and Sam Howell being an unknown, quarterback could be an option, depending on how the position develops. The Commanders require speed everywhere and more capable interior offensive lineman.
2023 NFL Draft: 17. Pittsburgh Steelers
After addressing the quarterback position in 2022, the Steelers might fill a number of imminent positions of need. They should prioritize cornerback, offensive tackle, interior offensive line, and defensive tackle on their wish list. A genuine lockdown cornerback hasn't appeared since Pittsburgh let Joe Haden go following the 2017 season. Dan Moore Jr., a fourth-round pick for 2021, has been one of the offensive line's most penalized tackles and has surrendered eight sacks.
2023 NFL Draft: 18. Detroit Lions
The Lions' second selection in the first round is this one. In the 2021 deal with the Rams that sent quarterback Matthew Stafford to Los Angeles, Detroit received the sixth overall pick. In addition to first-round picks in 2022 and 2023, the Lions also acquired a third-round pick in 2021.