Packers at Eagles Betting Pick and Preview, NFL Week 12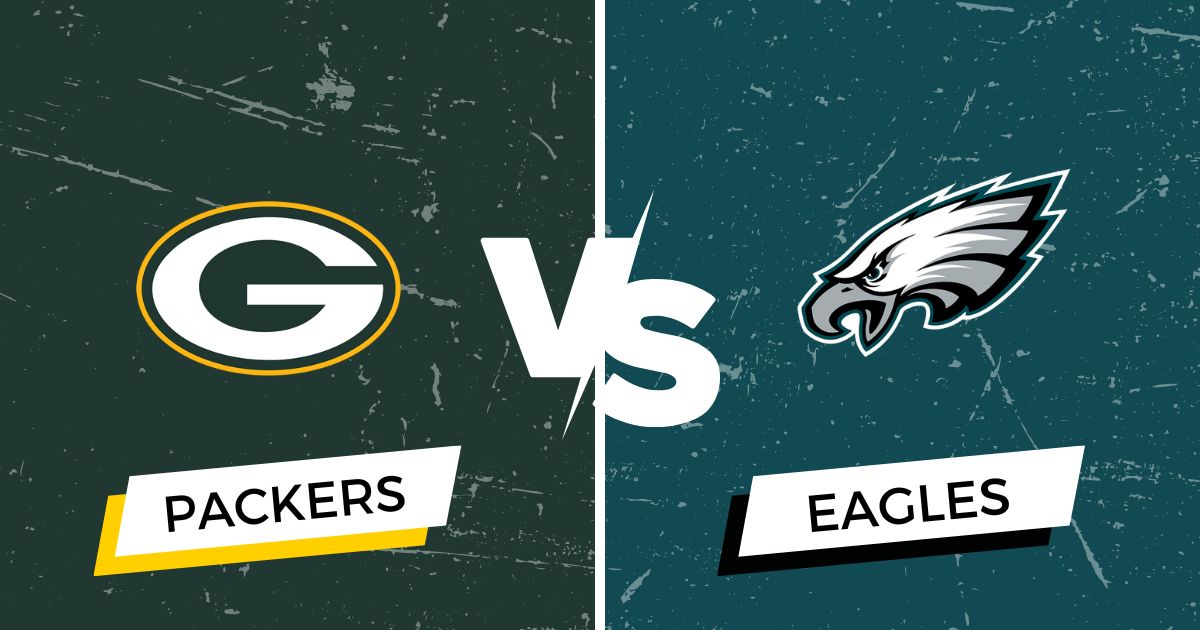 Here is our Packers at Eagles Betting preview, including our pick for this NFL week 12 matchup.
4-7 Green Bay was handed another loss in week 11 as they fell 27-17 to Tennessee. The 9-1 Eagles defeated the Colts 17-16 on Sunday.
The last time these two franchises met was back on December 6, 2020, with the Packers getting a victory by 30-16.
Packers at Eagles Betting Odds
Here are the Packers at Eagles Betting odds, brought to you by YouWager.lv:
Packers +6.5
Eagles -6.5
Total: 46.5 Over/Under
The Packers are +6.5 underdogs for this game, which means that they can even lose by less than 6.5 points and you can still cash in on this line.
The Eagles are -6.5 spread favorites for this game, which means that they need to win by more than 6.5 points for you to cash in on this particular line.
When it comes to the total, it has been set at 46.5, and this means that you can place a bet on the combined score of this game to be higher or lower than 46.5 total points.

Packers at Eagles Betting Preview
Here is our Packers at Eagles Betting preview, including an overview of both teams.
Packers at Eagles Betting: Green Bay Season Likely Over
Now in this Packers at Eagles Betting preview, let's talk about the Packers.
Green Bay was handed a new loss by the Titans on Thursday Night Football, and that dropped their record to 4-7 for the season.
The chances of this team making it to the playoffs is now just 6%.
Their defeats to Washington and the NY Giants are likely to be costly because those teams are also part of the Wild Card race.
Despite losing the game, quarterback Aaron Rodgers had a decent performance as he went 24 for 39 for 227 yards and two touchdowns.
This season for current MVP Rodgers has not been an easy one as he currently ranks in the bottom five in QBR.
And things are not getting easier in week 12, as he is playing against one of the toughest teams in the NFC East as they are taking on the 9-1 Eagles.
The defense by Green Bay was quite inefficient in the defeat versus the Titans.
They did manage to keep running back Derrick Henry to just 3.1 ypc, with just a nine-yard rush.
But they proved very deficient in defending versus the pass as quarterback Ryan Tannehill basically split them apart.
The Packers really need to improve on all fronts if they want to save their season from being over sooner than later.
NFC wild-card teams lose often, so they are not totally out of it, but with each loss, they take they are getting one step closer to getting eliminated mathematically.
Packers at Eagles Betting: Philly Cooling Off
Next in this Packers at Eagles Betting preview, let's talk about the Eagles.
Philly defeated Indy 17-16 and managed to keep their losing record for the season to just a single loss while accumulating an impressive nine victories.
That being said, the Eagles have been outscored 38-10 in six of their last seven quarters of play, and this has created some concerns about this team.
Philadelphia managed to go unbeaten for eight games in a row, but lately, it seems like they have been dormant, so they definitely need to get back on track quickly.
This matchup versus the struggling Green Bay is an excellent chance to do precisely that.
Despite these recent troubles, the Eagles currently hold more than a 99% chance of advancing to the postseason.
On the other hand, their chances of winning the NFC East have diminished to just 64% as the Cowboys are just 1.5 games away.
In the victory on Sunday, Jalen Hurts had another great performance as he went 18 for 25 for 190 yards and a single touchdown.
Hurts was also able to run the ball sixteen times for 86 yards and a rushing touchdown, managing to provide most of Philly's offense. Star wide receiver AJ Brown has not been the same as of late.
Packers at Eagles Betting Pick
Last but not least, we have our Packers at Eagles Betting pick:
The Eagles are playing at home versus a team that has been struggling all season long, so defeating the Packers shouldn't prove difficult for Philly.
That being said, Philadelphia has been experiencing some recent struggles, and that has diminished the overall confidence of this team.
Aaron Rodgers improved his level a little bit later and he managed to defeat Dallas just a couple of weeks ago.
This might end up being a close game, but it's clear that Philly is the better team, and they are likely to lock this victory, but they might not end up covering the spread.
Packers at Eagles Betting Pick: Packers +6.5