Texans at Dolphins Betting Pick and Preview, NFL Week 12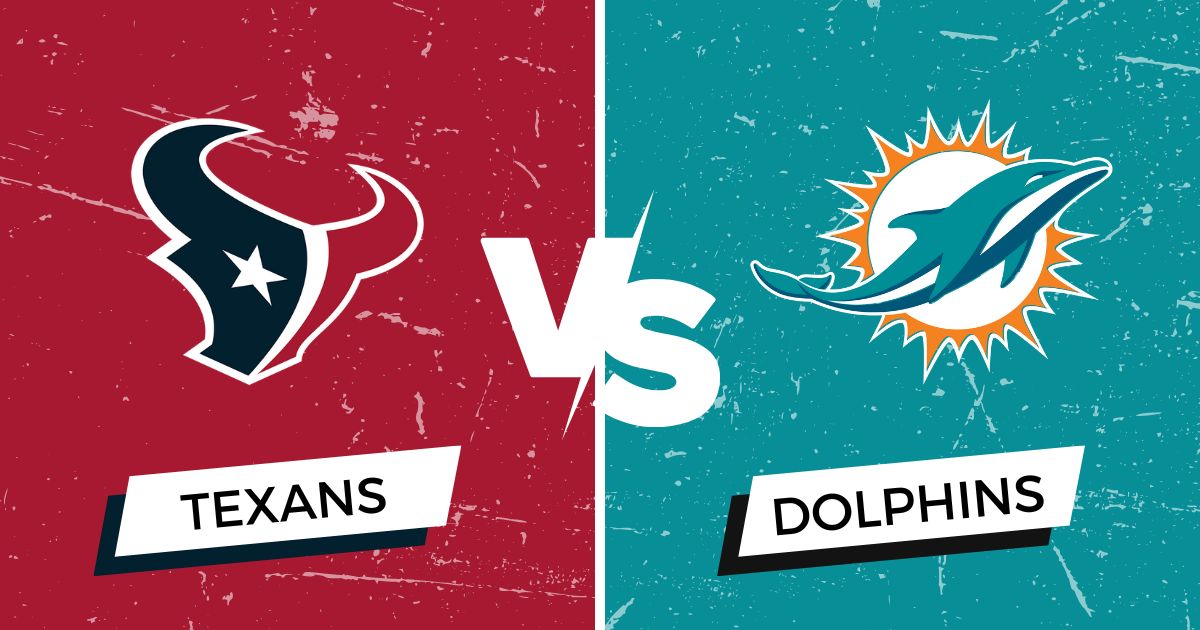 Here is our Texans at Dolphins Betting preview, including our pick for this NFL week 12 matchup.
1-8-1 Houston fell to the Commanders 23-10 in week 11.
The 7-3 Fins were on their bye during week 11 and they are still 7-3 for the season.
The last time these two met each other was back on November 7, 2021, in a game where Miami took the victory 17-9.
Texans at Dolphins Betting Odds
Here are the Texans at Dolphins Betting odds, brought to you by YouWager.lv:
Texans +14
Dolphins -14
Total 47 Over/Under
The Texans are huge underdogs of +14 for this matchup, and this means that they can even lose the game by no more than fourteen points, and you can still cash in on this line.
When it comes to the Fins, they are huge -14 spread favorites, and this means that they need to win the game by more than 14 points for you to cash in on this particular line.
The total for this game has been set at 47, which means that you can place a bet on the combined score of the game to be higher or lower than 47 total points.

Texans at Dolphins Betting Preview
Here is our Texans at Dolphins Betting preview, including an overview of both teams.
Texans at Dolphins Betting: Houston Still Tanking
Houston got defeated once again on Sunday 23-10, to Washington. This loss dropped their record for the year to 1-8-1, the worst in the league.
The Texans are likely thinking of a rebuild right now, and they are definitely on their way to getting the first overall draft pick at the upcoming 2023 NFL Draft.
In that Sunday loss, quarterback Davis Mills went 19 for 33 for 169 yards and two interceptions, for a 46.2 passer rating.
Mills currently holds the third-worst quarterback rating among starters, and it's likely that the Texans will use that top draft pick to select his replacement.
If the Texans lose this game, they will be likely eliminated from the postseason.
That being said, there are a few bright spots on this team, particularly runningback Dameon Pierce, but the player has not been himself lately as he rushed ten times for only eight yards on Sunday, which is less than a single yard per carry.
Overall, the offensive line for this team has been quite ineffective.
Texans at Dolphins Betting: Miami Unbeaten With Tua
Miami enjoyed their bye last week and they are still 7-3 on the year.
They observed how the Bills got a victory in week 11, and now both teams are tied for the divisional lead.
This is a tough division as all of these teams are tied within a single game of each other, so Miami will definitely need to continue winning if they want to take the division title.
What is great for this team is that Tua Tagovailoa recovered pretty well, and they are 7-0 with him as the starter.
In fact, the only games this team lose were those during his injury time.
And, many agree that the Fins with a healthy Tua are the best team in the entire NFL, this current season.
On offense, they are led by Tua and feature star names such as wide receivers Jaylen Waddle, Tyreek Hill, and runningback Raheem Mostert, all of whom have been quite exceptional.
Now, one of the keys for the Dolphins to go from Wild Card squad to Super Bowl contender is their tough D-line.
But lately, this defensive line has underperformed. So, if they can return to the level they managed in 2020, Miami will probably secure one of the two spots at the Super Bowl.
For now, their full focus should be to continue to play at a high-caliber level in order to avoid a surprise defeat by the abysmal Texans.
Texans at Dolphins Betting Pick
Last but not least in this Texans at Dolphins Betting preview, we have our pick for this game:
Well, there is really not much to say about our pick for this particular game.
Let's put it this way, we have the worst team in the NFL going on the road to play the best team in the league.
And, although some might argue if the Fins as the best team, or not, this is likely to be an easy victory for them.
Texans at Dolphins Betting Pick: Dolphins -14