Bears at Jets Betting Pick and Preview, NFL Week 12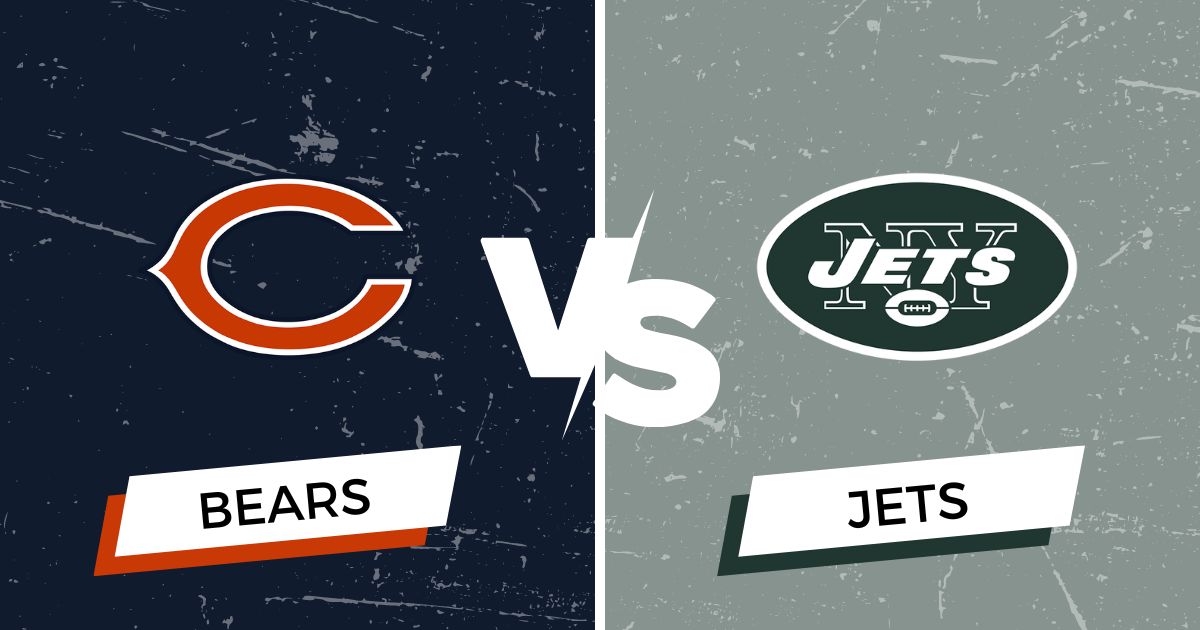 Here is our Bears at Jets Betting preview, including our pick for this NFL week 12 matchup.
The 3-8 Bears lost their week 12 matchup 27-24 to the Falcons.
6-4 New York fell to the Pats once again by 10-3.
The last time these two franchises met each other was back on October 28, 2018, with Chicago winning the game 24-10.
Bears at Jets Betting Odds
These are the Bears at Jets Betting odds, brought to you by YouWager.lv:
Bears +6
Jets -6
Total 38.5 Over/Under
The Bears are +6 underdogs for this matchup, and this means that they can even lose the game by less than six points and you can still cash in on this particular line.
When it comes to the Jets, they are the +6 spread favorites to get the victory, and this means that they need to win the game by more than six points for you to cash in on this line.
The total for this game has been set at 38.5, and this means that you can place a bet on the combined score for this game to be higher or lower than 38.5 total points.

Bears at Jets Betting Preview
Now we have our Bears at Jets Betting preview, including an overview of both teams.
Bears at Jets Betting: Chicago Making Some Progress
The Bears have lost four games in a row, including Sundays, and this has dropped their record to 3-8 for the year. Chicago is also 1-7 in the preview eight matchups.
Despite losing constantly, the Bears' outlook is not that negative as they lost their last 3 matchups by only seven points.
Also quarterback Justin Fields, in his second pro year has stepped forward and is proven he is definitely a franchise quarterback.
Now they have the Qb they required, and with each loss, their draft position continues to rise.
Their D-line, on the other hand, has been terrible and requires a lot of improvement.
This is particularly truer after the team traded linebacker Roquan Smith and DE Robert Quinn.
And, with the way their offensive line is performing, if they hadn't made those trades, chances are that they would have been on their way to the postseason.
That being said, those trades are probably not bad at all when we think long-term.
Right now, Fields is not at his best as he is dealing with a shoulder injury, and winning is getting tougher.
The best shot for this team is probably to focus on Fields' recovery and enter next season with a fully healthy starter who has also accumulated a ton of necessary experience.
Bears at Jets Betting: New York QB in Turmoil
Next in this Bears at Jets Betting preview, let's talk about the Jets.
NY seems to be doomed when they face the Patriots as last week's loss was their fourteenth in a row to New England.
Now the Jets have dropped to 6-4 on the year, and are also the last place in the AFC East.
That 10-3 defeat has raised a few questions about this team's offensive line as they have not been able to produce since Breece Hall got injured.
Runningbacks James Robinson and Michael Carter rushed fifteen times for a total of 29 yards, which is an average of less than two ypc.
Starter Zach Wilson went nine for 22 and 77 yards, finishing with a passer rating of 50.8.
Wilson's QBR now ranks 23rd in the league on the season.
The main concern for Wilson is not so much his terrible play, but more importantly his lack of accountability.
In fact, Wilson and the offense have definitely let down an impressive D-line, and head coach Robert Saleh is already taking some decisions, including handing the start versus the Bears to Mike White, and benching Wilson, and also Joe Flacco.
Bears at Jets Betting Pick
Last but not least, we have our Bears at Jets Betting pick:
NY has not defeated the Bears since 2000, so if they actually are able to accomplish this, it will be an incredible feat.
The Jets started their season on the right foot, but their performance has gradually deteriorated.
The offense is just bad without Breece Hall, and it's quite difficult to see this team scoring much without him, even versus the Bears' defense.
Now, Mike White playing in replacement of Zach Wilson definitely changes things a bit.
Sometimes a quarterback change is exactly what a team needs to start performing differently.
With Wilson as the starter, I had Chicago winning this game, but now I think White gets it done for NY.
Bears at Jets Betting Pick: Jets -6