Bengals at Titans Betting Pick and Preview, NFL Week 12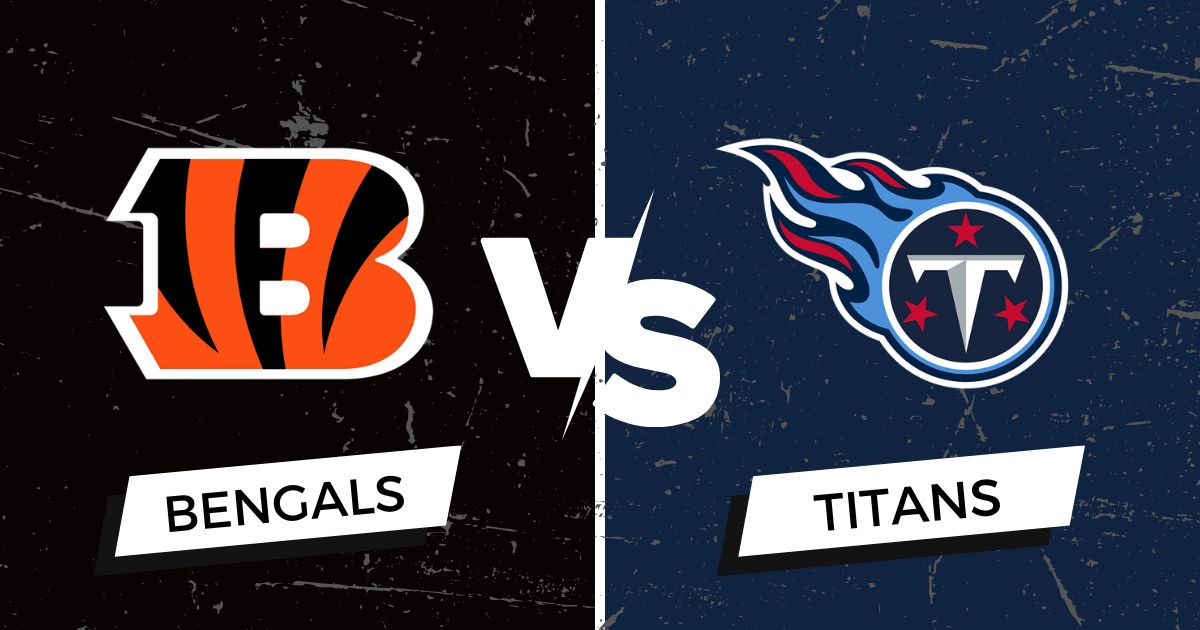 Here is our Bengals at Titans Betting preview and pick for this NFL week 12 clash.
6-4 Cincinnati managed to defeat the Steelers 37-30 on week 11.
The 7-3 Titans took down Green Bay 27-17 on Thursday Night Football.
These two franchises met for the last time back on January 22, with the Bengals scoring a 19-16 victory.
Bengals at Titans Betting Odds
These are the Bengals at Titans Betting odds, brought to you by YouWager.lv:
Bengals -2.5
Titans +2.5
Total 43.5
The Bengals are -2.5 road spread favorites, which means that they need to win by more than 2.5 points for you to cash in on this particular line.
When it comes to the Titans, they are +2.5 underdogs, and this means that they can even lose the game by less than 2.5 points, and you can still win your bet on this team.
The total has been set at 43.5, and this means that you can place a wager on the combined score of both teams at the end of the game to be superior or inferior to 43.5 total points.

Bengals at Titans Betting Preview
Here is our Bengals at Titans Betting preview, including an overview of both teams.
Bengals at Titans Betting: Cincinnati Heating Up
Cinci got their week 1 revenge game vs the Steelers on week 11 as they defeated Pittsburgh 37-30 and that allowed them to split their season series.
The Bengals are now 4-1 in their previous five matchups, with just a loss to the Browns to put a dark spot on that record.
They've been performing quite well, considering the loss of Ja'Marr Chase, who has not been able to play for the past three games as he is still recovering from a hip injury.
Chase is expected to make a return to action soon and he might even be available to play versus Tennessee.
Needless to say, having Chase available is crucial for the success of this team.
The schedule for the Bengals is brutal for what's left of the season.
They are now playing the 7-3 Titans, and then they will clash with the 8-2 Chiefs on week 13.
Then, they have a game against Cleveland, who already defeated them this season, but that was without Deshaun Watson as the starter.
Next to that, they will be playing Tom Brady and the Buccaneers.
After this game in Tampa, they will be playing the 6-4 Pats. The last game of the season for Cincy will be the 7-3 Bills and the 7-3 Baltimore.
If they manage to win just enough matchups to make the playoffs, it will definitely be well-deserved.
Bengals at Titans Betting: Tennessee Closing in on Division Title
Now in this Bengals at Titans Betting preview, let's talk about the Titans.
Tennessee won again on Thursday and now they are 7-1 in their previous 8 matchups.
They managed to defeat Green Bay 27-17 and that improved their record to 7-3 for the year.
With the Colts losing, they were able to increase their AFC South lead to three games.
Now this team has a 97% chance of winning their division, and this will mean their third division title in a row.
On the negative side, Tennessee has not been very lucky when it comes to the postseason as they lost the very first game of the playoffs after those divisional titles.
Back in 2020, they lost to Baltimore, and last season it was the Bengals that handed them a loss. Indeed this can be the revenge game they've been waiting for.
The team the Titans is performing with is quite similar to previous postseason squads.
The passing game is definitely elevated by the talents of Derrick Henry and a very proficient D-line complements it perfectly.
This has proved to be enough for the regular season, but not so much during the playoffs.
We can add to this the loss of wide receiver AJ Brown will definitely make things extra difficult.
Apart from Henry, the high point of this team is Ryan Tannehill, who has won six games in a row.
Tannehill went 22 for 27 for 333 yards, two touchdowns, and a single interception in Sunday's victory.
Bengals at Titans Betting Pick
Here is our Bengals at Titans Betting pick:
Last season, in the AFC Divisional round, we witnessed the very same game, with Cincinnati taking the trip to play the Titans on the road, and this week we will see a rematch of that exact game.
That being said, the Bengals are the team with the most talented roster, and this should definitely give them the edge.
Cincy will need to focus on trying to get Derrick Henry to underperform. If they are able to do this, they shouldn't have a problem getting the win, and this is especially true if Ja'Marr Chase is able to return for this game.
Bengals at Titans Betting Pick: Bengals -2.5