Eagles at Colts Betting Pick and Preview, NFL Week 11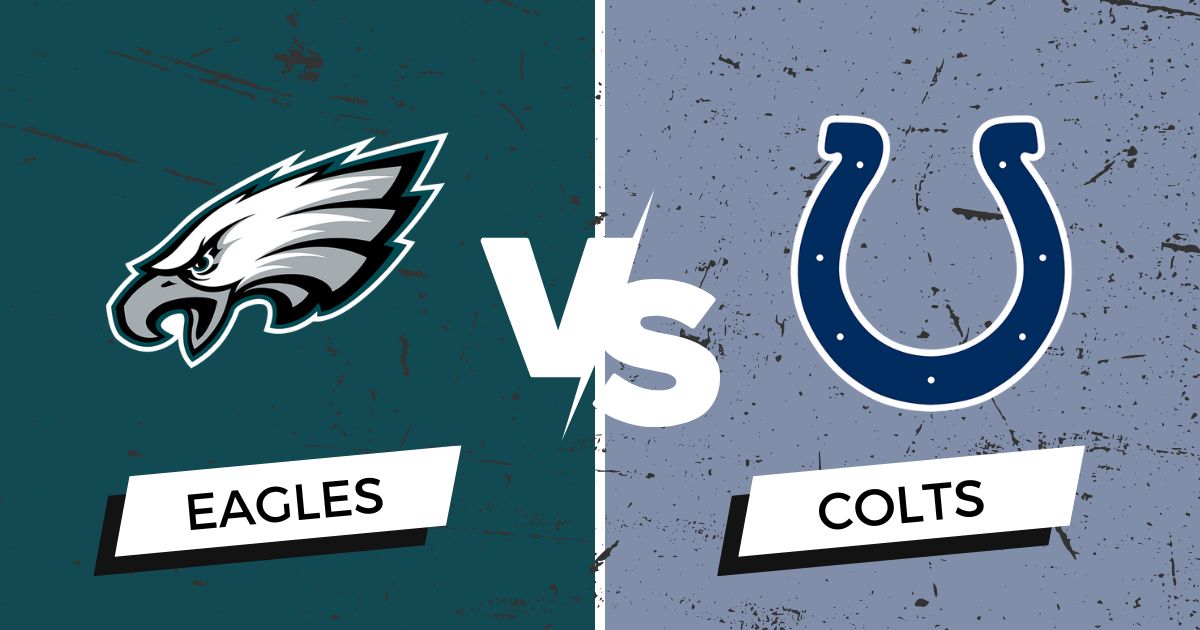 Here is our Eagles at Colts Betting preview, including our pick for this NFL week 11 matchup.
8-1 Philly lost 32-21 versus Washington on week 10.
The 4-5-1 Colts defeated Las Vegas 25-20 on week 10.
The very last time these two franchises played each other was back on September 23, 2018, with Philly taking the 20-16 victory.
Eagles at Colts Betting Odds
Here are our Eagles at Colts Betting odds, brought to you by YouWager.lv:
Eagles -7
Colts +7
Total 45.5
The Eagles are the spread favorites to win this game on the road at -7. This means that they need to win the game by more than seven points for you to cash in.
When it comes to the home team, the Colts, they are the underdogs for the game at +7, which means that they can even lose the game by less than seven points and you can still cash in.
When it comes to the total, it has been set at 45.5. This means that you can place a bet on the combined score of this game to be higher or lower than 45.5 total points.
Learn how to bet on sports with this simple guide.

Here's a very simple guide that will help you learn how to play poker the right way.
Eagles at Colts Betting Preview
Here is our Eagles at Colts Betting preview, including an overview of both teams.
Eagles at Colts Betting: Philly Lost First Game
Now in this Eagles at Colts Betting preview, let's talk about the Eagles.
The last undefeated team in the league finally lost its first game on week 10 as the Eagles got defeated by the Commanders at home by 32-21.
This was a very disappointing defeat for Philadelphia, but probably not very surprising, with the odds of getting handed a defeat continuously increasing each week.
With zero pressure of being the NFL's last undefeated team gone, Philly has a chance to return to their winning ways versus Indy.
They need to prevent themselves from entering an extended losing streak by losing another game that's considered winnable.
The D-line by Philly was destroyed in their loss versus the Commanders.
They were not able to stop wide receiver Terry McLaurin, who finished with 8 catches for 128 yards.
On the other hand, Philly's top wide receiver A.J. Brown was just not present, catching only a single pass for seven yards.
Philly's schedule, one of the easiest ones in the NFL when this season, is looking a lot less beatable.
Matchups versus Tennessee, the New York Giants, and Dallas are definitely tough tests.
It is interesting to see how Philadephia will respond to their first defeat of the season.
Now you can keep a simple record of your wagering action with this easy bet tracker spreadsheet.
Eagles at Colts Betting: Indy Still Fighting
Next in this Eagles at Colts Betting preview, let's talk about Indianapolis.
Indy got their 2nd road win of the season in week 10, beating Las Vegas 25-20.
It was a big win for Indy, who increased their postseason chances to 29%, while it would have dropped to 8% if they had lost this game.
Quarterback Matt Ryan was back from injury and had a great performance.
He finished the game 21 for 28 for 222 yards, a single passing touchdown, and a single rushing touchdown.
Runningback Jonathan Taylor had a big impact as he returned from injury. Taylor rushed 22 times for 147 yards and a 66-yard touchdown run.
The health of Ryan and Taylor could end up being a determining factor for this team.
Indy's D-line was impressive in the win. They did not force any turnovers, but they were able to sack Derek Carr two times, and also had big stops when they required them most.
Sadly, star linebacker Shaquille Leonard had surgery this week, and won't see action for the rest of the season.
This takes power away from what Indy is truly capable of on defense, but that doesn't mean that they are eliminated from postseason contention.
Week 11's game versus the Eagles will be a nice test to see if they are able to compete versus good teams.
Eagles at Colts Betting Pick
Here's our Eagles at Colts Betting pick.
The Colts have not defeated the Eagles since 2006. They have the chance to change that in week 11.
They are arriving at this game after a big win, and Philly just lost, plus they're playing at home.
That being said, I just don't think they are the team that will hand the Eagles their second loss of the season.
Matt Ryan had a good game in his return, but he has not been impressive this season.
Eagles at Colts Betting Pick: I'm taking the Eagles to get the win this one on the road.