Bears at Falcons Betting Pick and Preview, NFL Week 11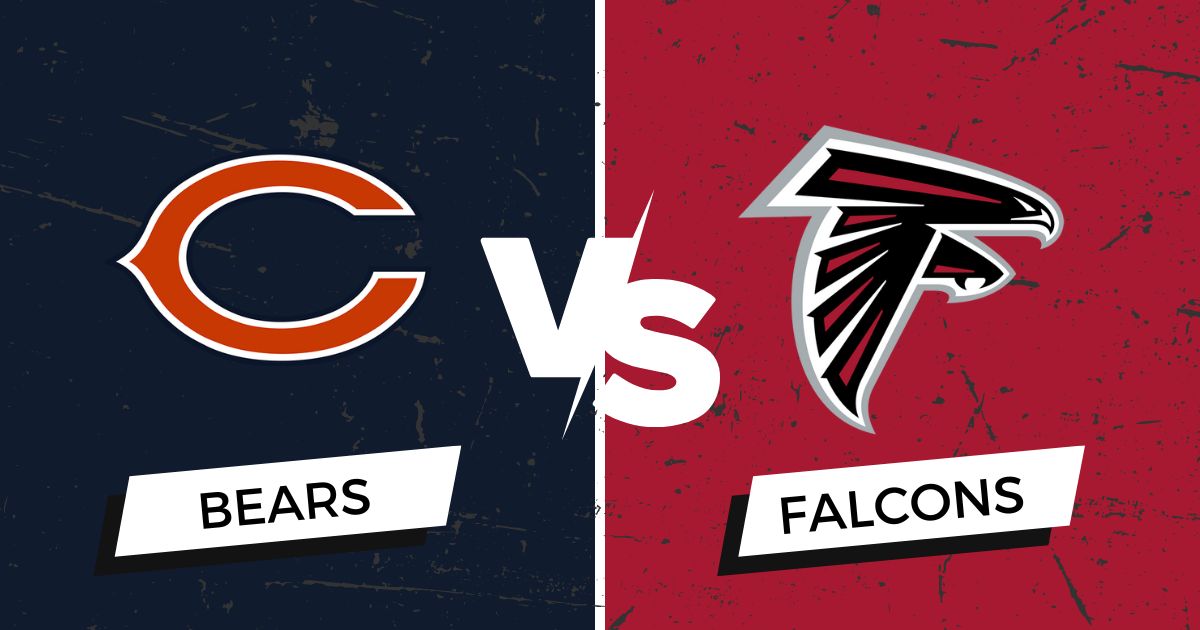 Here is our Bears at Falcons Betting pick and preview for this NFL week 11 matchup.
3-7 Chicago fell to the Lions 31-30 in week 10.
The 4-6 Falcons lost 25-15 to the Panthers in week 10.
The last time these two teams faced each other was back on September 27, 2020, with Chicago taking the W 30-26.
Bears at Falcons Betting Odds
Here are the Bears at Falcons Betting odds, brought to you by YouWager.lv:
Bears +3
Falcons -3
Total 49
The Bears are the underdogs for this game at +3. This means that Chicago can even lose the game by less than 3 points and you can still win this spread bet.
The Falcons are home favorites at -3. And this means that Atlanta must win the game by more than 3 points for you to cash in on this wager.
When it comes to the total, it has been set at 49. This means that you can place a wager on the combined score of both teams at the end of the game to be higher or lower than 49 total points.
Learn how to bet on sports with this easy guide.

Become an expert at playing poker with this simple guide.
Bears at Falcons Betting Preview
Here is our Bears at Falcons Betting preview, including an overview of both teams.
Bears at Falcons Betting: Chicago Defense Collapsing
Now in this Bears at Falcons Betting preview, let's talk about Chicago.
The Bears are arriving at this game after losing to Detroit 31-30 in game 10, which dropped their record to 3-7 for the year and left them at the bottom of the NFC North division.
That game versus the Lions marked the third game in a row where the Bears' offense was proficient, but their defensive line was not so much.
Chicago traded DE Robert Quinn and LB Roquan Smith to Philly and Baltimore respectively, and the team's D-line hasn't been the same since then.
And this defensive deficiency is coming just when second-year quarterback Justin Fields is finally becoming the franchise QB the team has been asking for for a while, posting the best stats of his pro career.
In their previous three matchups, Chicago managed to score 91 points, for an average of thirty PPG.
On the other hand, they have allowed 115 points during that same time span, which equals to 38 points per game.
Indeed, the Bears' D-line is one of the worst in the league right now.
The good thing for Chicago fans is that their offensive line is actually thriving, with TE Cole Kmet scoring two touchdowns for four catches and 74 yards.
The connection between Fields and Kmet is there and will continue to grow, that is a fact.
Keep a record of your wagering action with this bet tracker spreadsheet.
Bears at Falcons Betting: Atlanta Trying to Stay Afloat
Next in this Bears at Falcons Betting preview, let's talk about Atlanta.
The Falcons were handed a 25-15 loss by the Panthers in week 10, and that set their record to 4-6 for the year and removed them from first place in the NFC South division, which was taken by the 5-5 Bucs.
Atlanta's offense was clearly struggling versus the Panthers' superior defensive line.
As we mentioned before, Chicago's D-line is one of the worst in the league, and this means that the Falcons offense will have the chance to bounce back on week 11.
Second-year TE Kyle Pitts has been disappointing this current season, finishing with just two catches for 28 yards in the loss to Carolina.
The performance of quarterback Marcus Mariota was not that bad versus the Panthers as he finished 19 for 30 for 186 yards, two touchdowns, and a single interception.
Despite being accurate in passing, Mariota had a hard time finding completions deeper down the field.
The Falcons' conservative offense failed them often this year.
They attempted 4 different RB's in the defeat, but couldn't find a spark anywhere.
On the other hand, Atlanta's D-line was able to total a single sack and zero takeaways.
Needless to say, they've been mediocre as of late.
Bears at Falcons Betting Pick
Last but not least, we have our pick for the game:
None of these two franchises is really consistent or dangerous.
I'm not confident placing a bet on either of them on a regular basis.
For this particular game, the top factor is just how bad the Bears' defense has been lately.
Even when playing at home, it's difficult to imagine them winning if they can't stop giving up more than 38 PPG.
The Falcons' offense is mediocre, but this game can be a bounce-back chance versus the awful Chicago defense.
Bears at Falcons Betting Pick: I'll take the Falcons.