Steelers at Dolphins Betting Odds, Game Preview, NFL Week 7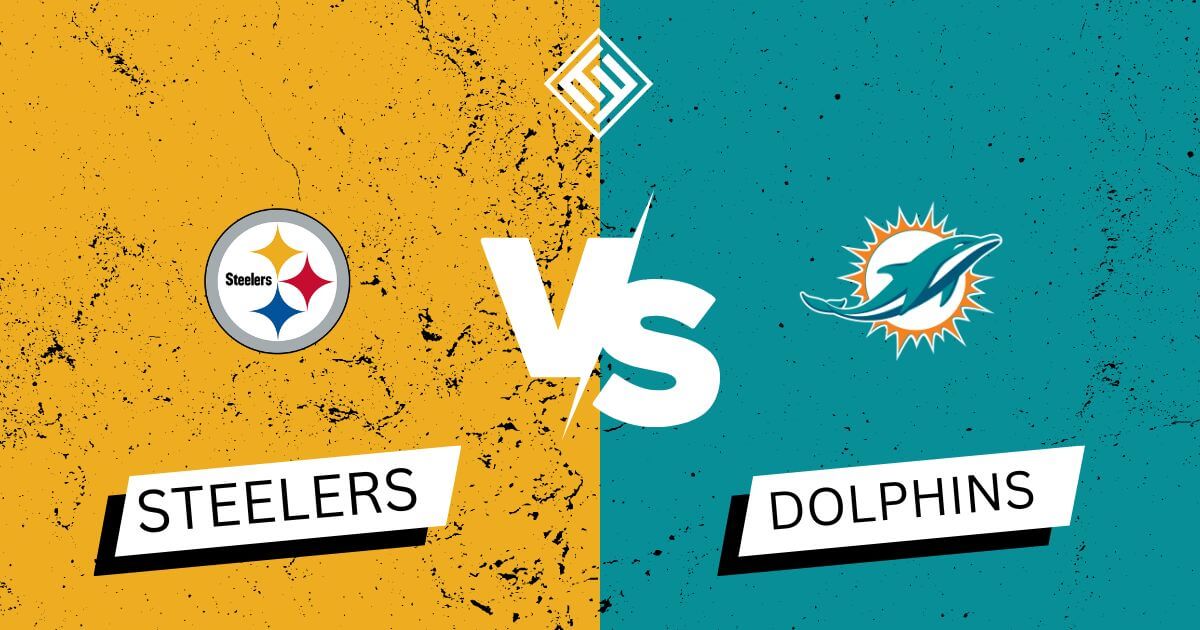 Here is our Steelers at Dolphins Betting preview, including the latest odds for this Week 7 clash.
We are entering week 7 and that means that half of the season is almost over.
There are a lot great games to consider when getting football wagering action on week 7, including this face-off between Pittsburgh and Miami.
Steelers at Dolphins Betting Odds
These are the Steelers at Dolphins Betting odds, brought to you by YouWager.lv:
Steelers +7
Dolphins -7
Total: 44.5
As you can see, the Dolphins are 7-point spread favorites to get the victory at home vs the Steelers.
This means that the Fins must win the game by more than 7 points for you to cash in on a wager on Miami.
If the Dolphins win, but by less than 7 points, you lose your bet.
The Steelers, on the other hand, are the underdogs.
If you make a bet on Pittsburgh, the team can even lose by less than seven points, and you can still collect your profits.
If the team loses by more than 7 points, you lose your wager.
When it comes to the total, it has been set at 44.5 for this game.
This means that you can bet on the combined score of both teams at the end of the game to be above or below 44.5 total points.
Read our preview of Saints at Cardinals week 7.

Learn How to Bet on Sports with this simple guide.
Steelers at Dolphins Betting Preview
Now we have the Steelers at the Dolphins Betting preview.
Miami Dolphins
The Dolphins suffered a third defeat in a row in week 5 as they fell 24-16 to the Vikings.
Despite Jaylen Waddle and Tyreek Hill finishing with 306 receiving yards on eighteen catches, the Fins just couldn't find a way to finish the job.
This is because the absence of Tua Tagovailoa has been a key factor in the decline of the team since their QB1 got injured.
The Fins handed these duties to Teddy Bridgewater and Skylar Thompson, but neither has been able to keep the boat afloat.
Those struggles, however, can be over when the Fins face the Steelers as Tua is expected to make his return to form.
And, with how proficient Waddle and Hill have been without Tua, chances are that things will pick up.
Let's put it this way: the Fins were averaging 27 points during the first 3 games where Tua was present, and without Tua, they haven't managed to hit 20 PPG.
A lot of people are thinking that the Steelers will be able to come up with a new upset after they were able to defeat Tampa Bay.
But the truth is that will be a very difficult feat to accomplish by a team that doesn't really have a great QB1.
Chances are that the Steelers, no matter who will be throwing, won't have a chance against a Miami team that is eager to accumulate great results.
Pittsburgh Steelers
After going down 4 times in a row this season, the Steelers truly surprised everybody in the football world as they handed a loss to the Buccaneers in week 6, a game that finished 20-18.
Kenny Pickett was forced to leave the game due to a concussion, and Mitchell Trubisky took over.
Trubisky had a good rest of the game as he finished with a touchdown and 9 completions for 144 yards.
That being said, victory seems far away if Trubisky gets the start again.
Sure, he was able to help with the win over the Bucs, but the truth is that he has been experiencing some problems when it comes to his passing.
Currently, Trubisky is 78-of-128 on his passing attempts for 797 yards and just 3 TDs and2 interceptions in 5 games.
We can also see Pittsburgh's d-line having some trouble with the Fins' offensive line that includes Waddle and Hill.
The team managed to contain Tampa Bay at home, but this game will be on the road, and versus a team with one of the best fan support in the league.
Steelers at Dolphins Betting Trends
Steelers are 2-7 SU in its last 9 games on the road.
Fins are 8-1 SU in its last 9 games at home.
Steelers are 1-4 ATS in their previous 5 games versus the Dolphins.
Dolphins are 10-5 against the spread in their previous fifteen games.
Under has hit in 6 of the Steelers' last 9 games.
Under has hit in 5 of the Dolphins' last 7 games at home versus the Steelers.
Steelers at Dolphins Betting Prediction
Here is our Steelers at Dolphins Betting prediction.
It's really difficult to see the Steelers grabbing a victory over the Fins in Miami.
Although Tua might be a bit rusty as he has missed a couple of games, he should return to his form as the game advances.
Thank you for checking out our Steelers at Dolphins Betting preview, best of luck with your action on this particular game.