Dolphins at Bengals Betting Odds and Game Preview, NFL Week 4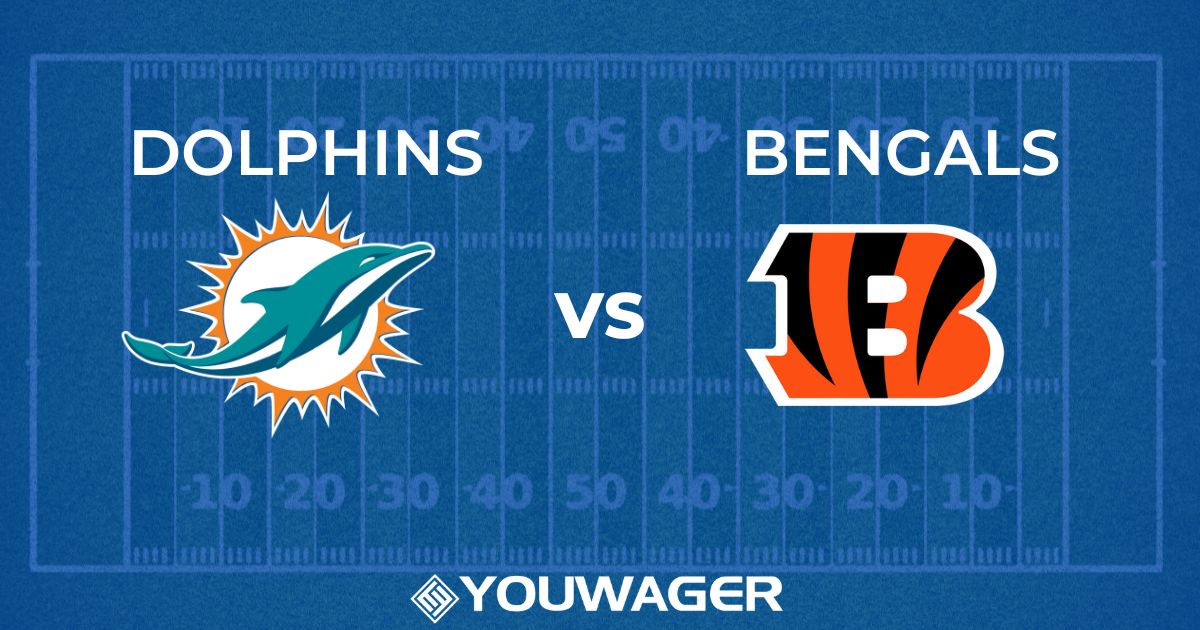 Here are the Dolphins at Bengals Betting Odds and game preview for this Week 4 Thursday Night Football.
The 3-0 Dolphins are visiting Paycor Stadium on Thursday, September 29, to play the current AFC champions, the 1-2 Bengals.
Cincy is coming from acquiring their first win of the season, while Miami is having an outstanding season and remain undefeated.
It is the Fins that have the edge on the head-to-head for the past two games, although the teams did not play each other in 2021.
Dolphins at Bengals Betting Odds
These are the Dolphins at Bengals Betting Odds, brought to you by YouWager.lv:
Miami Dolphins +3.5
Cincinnati Bengals -3.5
Total: 48.5
Check out our NFL Week 4 betting preview.
Dolphins at Bengals Betting: Miami
Now in this Dolphins at Bengals Betting preview, let's talk about Miami.
The Dolphins, the underdogs for this game, have defeated the Patriots, the Ravens, and the Bills in their first 3 meetings of the season, with the last two of those games being indicators of how good these Fins are.
Tua Tagovailoa currently leads the NFL with an 82.8 QBR, and he is also currently number two in the league in passer rating (117.8) and also in passing yards (925).
Tua also ranks in the top 5 quarterbacks in completion rate (71.3), yards per pass attempt (9.2), and passing TD's (8).
The starter for Miami counts with a couple of outstanding pass catchers in Jaylen Waddle and Tyreek Hill.
So, needless to say, these Dolphins are a different, much better team than in previous campaigns; and they definitely have robust figures that speak for themselves.
The Fins are also at the top of the league when it comes to scoring offense, with 27.7 points per game.
Miami has generated TD's on 7 out of 9 trips inside the red zone, and they are also scoring 44.4% of offensive possessions this current season.
This will be the last real test for the Fins for now as their next rivals include the Jets, Vikings, Steelers, Lions, Bears, and Browns. So, it is likely that they will acquire a very positive record before their bye.
Dolphins at Bengals Betting: Cincinnati
Next in our Dolphins at Bengals Betting preview, let's talk about Cincy.
Cincinnati had a rough start to their season as they fell twice before finally acquiring a win on week 3 versus the Jets.
The Bengals are a team that features plenty of offensive star power, with Joe Burrow as the starter, and weapons such as Ja'Marr Chase, Joe Mixon, and Tee Higgins.
Cincinnati has achieved a total of 71 first downs this year and is currently ranking in the top 5 in the offense.
But it is the Bengals' defense that has been performing outstandingly well, as they have allowed just 55 points in 3 games so far, with rivals scoring just 1.77 points per drive.
The Bengals have also been able to hold their rivals to 310.3 total yards and seventeen first downs per matchup.
This is a team that is currently very successful at holding up versus the run, ranking in the top 10 in fewer yards allowed.
If Cincinnati really wants to have success versus the Fins, they will have to try to focus on slowing down their explosive passing attack game.
Miami Dolphins at Cincinnati Bengals Betting Pick
Last but not least in our Dolphins at Bengals Betting preview, let's see what the best pick is for this particular game.
The Fins are undefeated, but Tua and Jaylen Waddle suffered injuries, and although they are reported to be available to play the Bengals in Cincinnati, chances are that they will not be at their best.
Plus, Xavien Howard is a key loss for Miami's defensive line.
With things like these, Joe Burrow and the Bengals have all that is required to acquire their second win of the season.
And, if the Bengals actually get the victory, this is the kind of win that can get the team back on track for another impressive postseason run.
PICK: BENGALS -3.5
Thank you for reading our Dolphins at Bengals Betting preview, best of luck with your action on this game!