Blaydes vs Aspinall Betting Odds, UFC Fight Night Preview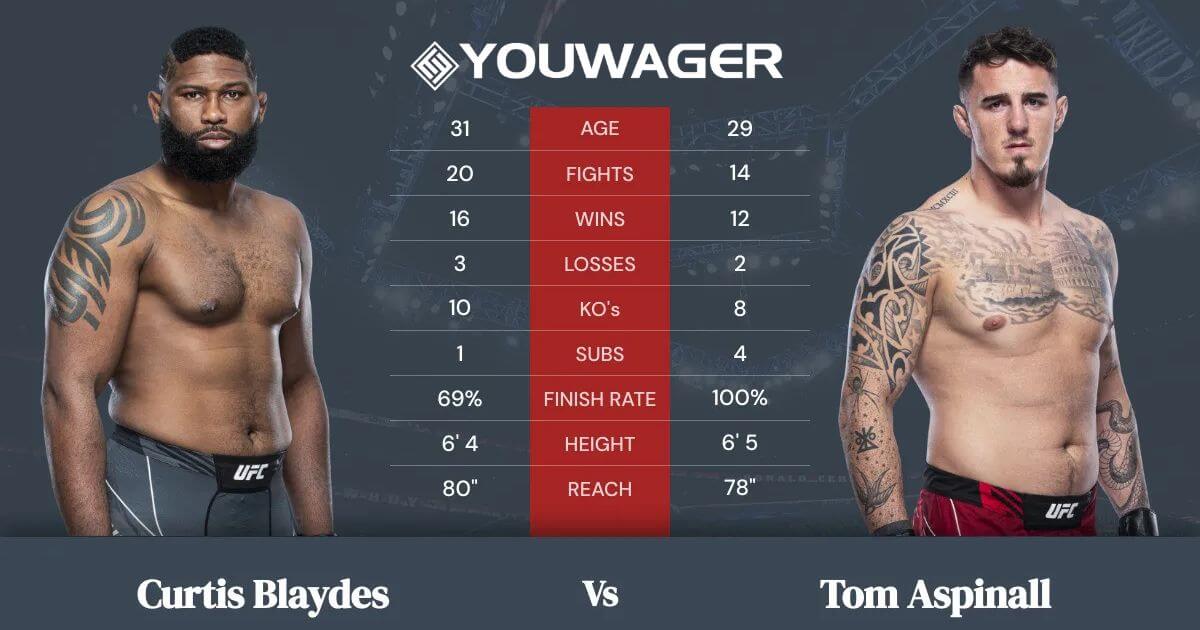 Here is the Blaydes vs Aspinall Betting preview and odds for the main event of UFC Fight Night London, taking place on July 23 at O2 Arena.
Blaydes vs Aspinall Betting Odds
Here are the Blaydes vs Aspinall Betting Odds brought to you by YouWager.lv:
| FIGHTER | MONEYLINE |
| --- | --- |
| TOM ASPINALL | -130 |
| CURTIS BLAYDES | +110 |
This is going to be a close fight where neither UFC fighter has too much advantage over the other.
Tom Aspinall is a -130 favorite over Curtis Blaydes, who is a +110 underdog.
This means that if for every $130 you risk on Aspinall, you can get an extra $100 in return.
If you choose to bet on Blaydes, the underdog, you will collect $110 for each $100 that you risk.
Blaydes vs Aspinall Betting: The Fighters
The favorite for this bout is also the younger one at 29 years old.
That being said, it is Blaydes that counts with a two-inch reach advantage.
Plus, Blaydes also counts with six more pro MMA bouts than Aspinall.
Both share a common opponent in Alexander Volkov and both have a 1-0 record versus that common opposition.
Tom Aspinall Fighter Profile
Aspinall is an England fighter who is currently 29 and holds a pro record of 12-2.
He possesses a 100% finish rate that includes eight by KO and four by submission.
Aspinall is currently on a fabulous eight-victory streak, and he has shown his full all-around game during this time.
He is also a perfect 5-0 since he became a UFC fighter.
Aspinall defeated Jake Collier during his UFC debut and has also gotten the win over Alan Baudot, Andrei Arlovski, and Sergey Spivak. And his latest win was also during another edition of UFC at London when he defeated Volkov, a former Bellator heavyweight champ.

Curtis Blaydes Fighter Profile
Blaydes is a 31-year-old fighter from the United States who currently holds a pro record of 16-3.
He possesses a 69% finish rate that includes ten KO's, one submission, and five by decision.
Blades won his last two fights and has won ten of his last twelve.
A four-victory streak started for Razon when he defeated Alistair Overeem by TKO.
This run ended with a defeat to Francis Ngannou.
He bounced back from this defeat and won another four fights in a row.
After his victory over Alexander Volkov, he suffered a new defeat to Derrick Lewis.
And now he has won two straight to Jairzinho Rozenstruik and Chris Daukaus respectively.
Blaydes vs Aspinall Betting Prediction
If we check out the finer details of this fight, we can say that it is Aspinall that has a slight edge over Razor Blaydes.
That is because it is clear that his all-around game is more complete than the one of his next rival.
Aspinall has the potential to lock Blaydes up in a submission, or he can knock him out.
That being said we can't certainly discard Blaydes, who is just as capable as Aspinall to get the victory in London on July 23.
Thank you for checking out this piece on Blaydes vs Aspinall Betting, we wish you the best of luck with your action on this bout, and we encourage you to continue checking out more of our sports content.