Best 30 NFL Players Over 30: Brady and Rodgers Headlines The List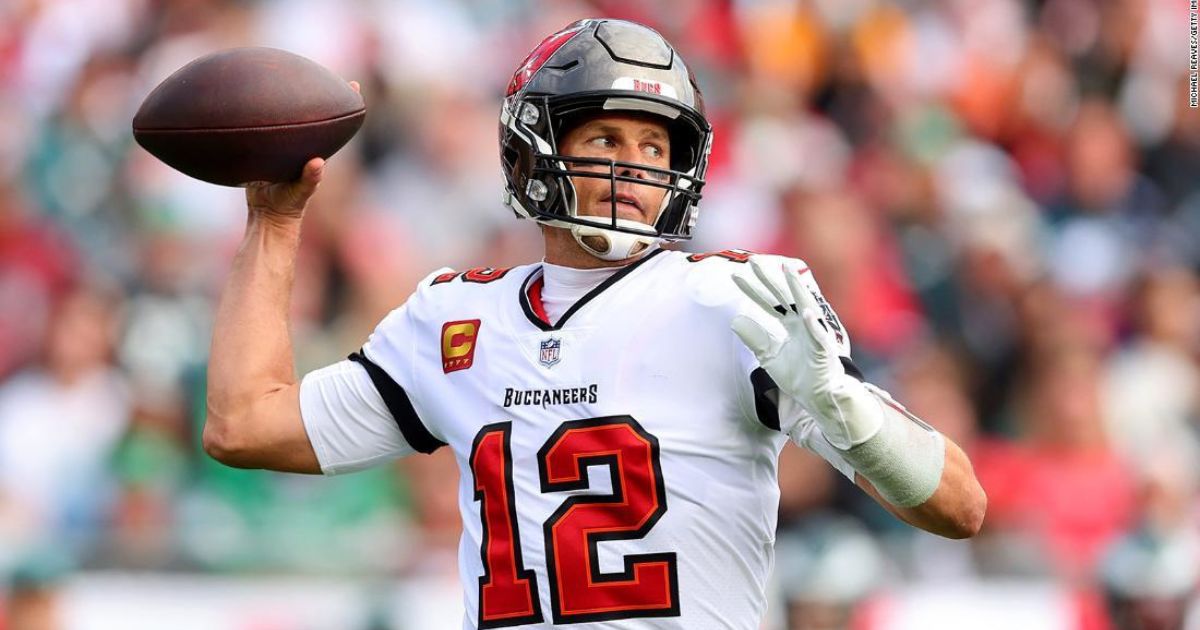 Here is a list of the Best 30 NFL Players over 30!
It is clear that American football is a sport that is ideal for young players.
But when you overlook the veterans in the league you are also overlooking a lot of talent.
In fact, heading to the 2022-23 NFL season, some of the best players at key positions happen to be 30 and over.
Best 30 NFL Players Over 30: 1. Tom Brady (45) QB – Tampa Bay Buccaneers
Let's start our list of the Best 30 NFL Players Over 30 with Tom Brady.
Yes, he is the oldest on the list, and still number one. Father Time has been quite generous with Tom Brady, probably the best quarterback that ever played the game of football.
Instead of losing quality, Brady actually seems to have gained arm strength since he relocated from New England to Tampa Bay.
Plus, his vision and preparation both are elite and remain intact. Brady definitely wants another ring, and he will make a real run to obtain that title. Thanks to Brady's talent the Bucs are ranked second best team in the league.
Best 30 NFL Players Over 30: 2. Aaron Rodgers (38), QB – Green Bay Packers
Let's continue our list of the Best 30 NFL Players Over 30 with Aaron Rodgers.
It is true that postseason excellence has evaded Rodgers lately. But it is also true that Rodgers continues to throw the ball with more confidence and precision than everyone except for Brady. This guy was last year's NFL MVP, and he is just as thirsty as Brady for the title.
Best 30 NFL Players Over 30: 3. Aaron Donald (31) DT – Los Angeles Rams
Now in this Best 30 NFL Players Over 30 list, is Aaron Donald.
Donald can easily be number one on this list. He definitely has a Hall of Fame-caliber resume that includes 98 sacks and 150 tackles for loss in 8 pro years.
And, let's add to that the fact that he is a player with a fearsome presence that forces rival teams to work around him.
Best 30 NFL Players Over 30: 4. Russell Wilson (33) QB – Denver Broncos
Let's continue our list of the Best 30 NFL Players Over 30 with Russell Wilson.
Wilson has always been in the talks as one of the best quarterbacks in the league. Sadly, his 2021 finger injury created a mental cloud, throwing the player out of sync.
He is making a return with a new team as he got traded from the Seahawks to the Broncos during the offseason. That being said, he is now healthy and with such talent, it is impossible to count him out.

Best 30 NFL Players Over 30: 5. Trent Williams (34) OT – San Francisco 49ers
Sure, Williams misses between one to three games every season, but he is so good that he has made it to the Pro Bowl an incredible nine times.
He possesses a massive frame that allows him to clear a lot of space for the run-heavy offense by Kyle Shanahan.
Best 30 NFL Players Over 30: 6. Travis Kelce (32) TE – Kansas City Chiefs
Kelce has been the safety valve KC's backyard-style offense has required, and he has played that part phenomenally well, for 8 seasons!
Kelce still manages to move like a receiver, and you can always find him available for a throw.
Best 30 NFL Players Over 30: 7. Cameron Heyward (33) DE – Steelers
Although it is TJ Watt that comes up with all the splashy moves for Pittsburgh's offense, it is Heyward that is the actual engine that allows everything to run smoothly.
He is a player that can create holes and also disrupt pockets, allowing his game to continue to escalate steadily.
Best 30 NFL Players Over 30: 8. Matthew Stafford (34) QB – Los Angeles Rams
Even after managing to win a title, Stafford continues to be on the "good" level and not the "great" level yet. With that said, he is a very skilled quarterback with a cannon arm.
And, what is most important, he fits perfectly in the offense plans of Sean McVay. There are no blocks for him to remain a top ten producer under center this upcoming season.
And his first tough test comes early as Stafford is ready to battle it out with Josh Allen at Week 1.
Best 30 NFL Players Over 30: 9. Zack Martin (31) OG – Dallas Cowboys
Sure, Tyron Smith has been doing it for a longer period of time, and he has also performed great at a more technical position, but the truth is that Martin is the interior blocking standard in the league.
Once he is on the field, his task is to help the Cowboys to continue to be one of the teams with the best fronts in the NFL.
Best 30 NFL Players Over 30: 10. Khalil Mack (31) OLB – Los Angeles Chargers
We can forget about Khalil Mack's 2021 season with the Bears, but that is something we can say about the full team. Despite that, Mack remains one of the most physically imposing assets at his position.
When he manages to get to quarterbacks, he definitely damages them.
Best 30 NFL Players Over 30: 11. Corey Linsley (31) C – Chargers
A former Packer and also All-Pro, Linsley is one of the reasons for the rapid ascent of Justin Herbert.
His debut with LA in 2021 is probably the finest turn of his pro football career.
Best 30 NFL Players Over 30: 12. Keenan Allen (30) WR – Chargers
We all know that Mike Willams is the big cash, big plays receiver in Los Angeles.
But his teammate Allen has been absolutely reliable for nine seasons.
This guy will definitely become a favorite target of Herbert this upcoming season, on which he will look for his 4th 100-catch season in a row.
Best 30 NFL Players Over 30: 13. Cameron Jordan (33) DE – Saints
This guy breathes football, and particularly defensive football as he has been one of the pillars of NOLA's defense for eleven seasons, in which he has missed just one game!
He experienced a low start in 2021, but he still remains an all-around defender that is part of the NFL elite.
Best 30 NFL Players Over 30: 14. Jason Kelce (34) C – Eagles
When it comes to 2nd-level blocking, Kelce remains the definitive model.
This guy is a run-game catalyst that is ready for his eighth season of full action.
Best 30 NFL Players Over 30: 15. Lane Johnson (32) OT – Eagles
This is a very similar case to the tackles presented here: they all are elite-caliber players that get hurt a lot.
Let's put it this way: Johnson has failed to play a full NFL season since 2015.
That being said, this is a player that is very fluid when moving around the field for someone of his size.
16. Von Miller (33) OLB – Bills
When you compare Von Miller's numbers for the past two seasons with the numbers of the game's best, Von Miller's figures are tame.
This guy is a Broncos legend that just happened to win a title with the Rams and now has found a new home in Buffalo.
17. Tyron Smith (31) OT – Cowboys
Smith is great, in fact, a true force, but that is when he is healthy, and in his case, that is not the norm but the exception.
As Smith's coach, you must know that he will miss some games.
But, when he is on the field, the payoff is outstanding as there are few tackles that possess such a polished game.
18. Chandler Jones (32) DE – Raiders
Chandler, a former Arizona Cardinals, has been a steady force for the past decade, and he is improving constantly.
19. Derek Carr (31) QB – Raiders
This guy is very efficient, but like Kirk Cousins, his experience has not translated into big-time victories.
Carr is a resilient leader that has managed to survive some negative regimes, and he has obtained better weapons during the offseason.
20. Kirk Cousins (34) QB – Vikings
Cousins is a great quarterback, and that fact is undeniable.
But the problem is that his low achievements truly don't reflect his high price tag.
That being said, his guy will continue to be a Minnesota legend forever, and the arrival of Kevin O'Connell may help to increase his overall efficiency and his focus on explosive plays.
21. Demario Davis (33) LB – Saints
This guy continues to be a presence in NOLA's defensive lineup.
Many coaches worry about the wear and tear at LB, but Davis has a motor that seems to be
You worry about the wear and tear at linebacker, but Davis' motor hasn't slowed at the heart of New Orleans' stingy defense.
Like Wagner, he makes plays in every category, but even more so up the middle and off the edge as a QB disruptor.
22. DeAndre Hopkins (30) WR – Cardinals
The resume of this guy truly speaks for itself.
He experienced 2021 full of injuries, and a suspension is anticipated.
But, when healthy, he has always been tough and reliable.
23. Joel Bitonio (30) OG – Browns
Having started every single game for 5 seasons in a row, durability is definitely a term that can definite Bitonio.
Needless to say, he helped Nick Chubb to achieve stardom.
24. Matthew Judon (30) OLB – Patriots
If there is something to say about Judon is that he is one of the most underrated pass rushers in the league.
He played for the Ravens and then relocated to New England where he's totaled 79 quarterback hits and 28 sacks in 3 seasons.
25. Darius Slay (31) CB – Eagles
He has surrendered big plays just like any other corner, but the confidence this guy possesses is unshakeable, and he is always where he is needed, like clockwork.
26. Jordan Poyer (31) S – Bills
This guy is the prototype of a great free safety that is patrolling the field relentlessly.
In 5 seasons with Buffalo, the ex-CB has managed to average 3.5 picks and 7 breakups per season.
27. Micah Hyde (31) S – Bills
The 2022 Bills are team that counts with elite players at all levels, and Hyde is definitely the guy that keeps all glued together.
28. Bobby Wagner (32) LB – Rams
Despite the fact that the big man in the middle is a breed that is in decline, he continues to manage to stay around the ball, and clear proof of that is his 170 tackles in 2021, a career-high.
29. Terron Armstead (31) OT – Dolphins
This guy can be a grade-A left tackle when he is fully healthy, particularly because he worked so close to Drew Brees for eight seasons.
The question again is, can he remain healthy?
Armstead has missed at least 6 games in 4 of his previous 6 seasons.
30. Ryan Jensen (31) C – Buccaneers
Jensen has not missed a single game in the previous 6 seasons, and he continues to be a title-caliber player that just happened to have played his first Pro Bowl year at 30.
Needless to say, he is one of the most reliable protectors for Tom Brady
We hope you've enjoyed our list of the Best 30 NFL Players Over 30, feel free to continue checking more of our sports content!