MLB Futures: A Look At Early Cy Young Baseball Races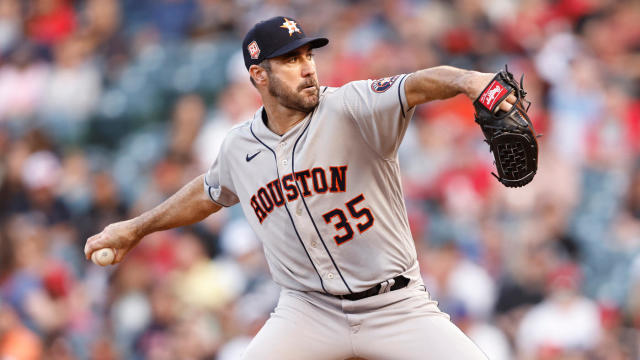 As we wrap up the second month of the baseball season it is a good time to check in on some of our MLB Futures bets.
Before the start of the season, we previewed the awards races, including the Cy Young for both leagues.
Are the favorites still the favorites? It is not too late to hedge if your players are falling behind in the race. Log into the sportsbook today for all the MLB action you need.
MLB Futures: Verlander is back on top
Astros pitcher Justin Verlander is seeking a fifth Cy Young and may have the inside track at this point in the season.
The 39-year-old ace is leading the AL in WHIP by a wide margin (0.72) and has an amazing 1.22 ERA through 51 innings. That ERA will be hard to sustain through the summer but Verlander has proven he has staying power.
The knock against Verlander, if you want to call it that, is how excellent the Astros are defensive.
To this point, it appears Verlander is fully back from Tommy John's surgery. In his last full season before the surgery, he had 300 strikeouts, a 0.258 ERA, and pitched more than 230 innings.
In our preseason preview, Verlander was not one of the top three AL pitchers among the shortest odds to win. Of those players which were Gerrit Cole, Shane Bieber, and last year's winner Robbie Ray, Cole is in the best position.
He has pitched the same number of innings as Verlander but has a 3.31 ERA and 1.045 WHIP.
In fact, teammate Nestor Cortes is putting together a better case for regular-season accolades.
Cortes has 61 Ks and a 1.70 ERA, and a 0.849 WHIP. Unlike Cole and Verlander, Cortes has never been about overpowering hitters.
Still, he has given up just 3 home runs this season. His lack of extended work in starts may bring him down, but his great outings are also lowering Cole's stock.
If we're looking for a pitcher who does overpower hitters, we are going to Kevin Gausman of the Blue Jays. He has 16 more Ks than Verlander in about the same amount of work, and his 2.25 ERA is likely to stick.
Despite a 4-3 record, Gausman has been one of the toughest guys to hit. He gives up less than 1 walk per 9 innings pitched and is yet to be taken deep.

MLB Futures: Burnes is the man to beat
The NL race is a little closer to what we were seeing in the preseason odds. Right now, Corbin Burnes is first in the NL in WHIP and batting average against, and second in Ks.
He averages more than 12 strikeouts per 9 innings. Burnes is an arm we can trust after leading baseball in ERA last year.
Even though he won the Cy Young last season, critics have questioned whether he is the guy who can go deep into games regularly.
That is not the case this season as he's put in more than 57 innings, which is more than Verlander or Cole.
His fielding-independent pitching is not quite as good as last year, meaning the Brewers' defense is covering him more. But Burnes is undoubtedly in the driver's seat right now.
The competition is nipping at Burnes' heels though. Max Scherzer would have been neck-and-neck with him if not for an injury sidelining him for at least six weeks.
Instead, we have Miami's Pablo Lopez who is surprising the league. Some analysts even give him an edge over Burnes.
Lopez has a 2.04 ERA and 56 Ks. He has allowed just 12 earned runs which is less than Burnes and 12 less than Aaron Nola. Lopez has also allowed 3 fewer home runs than Burnes and has not hit a batter.
In the AL race, we have some different names in the lead compared to our preseason odds. In the NL, Lopez was not even in the conversation. Whether the 26-year-old can maintain this level of play remains to be seen.
Contract concerns aside, Lopez is showing a lot of upside for the future, wherever that takes him.
Thank you for reading our piece on MLB Futures, we invite you to continue checking the rest of our sports content.