Stanley Cup Playoffs: Carolina vs New York Game 6 Odds, Preview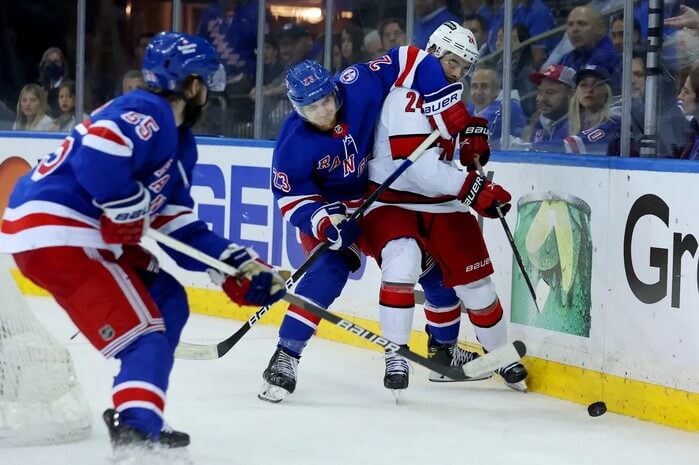 The New York Rangers host Carolina in a pivotal Game 6 in the NHL Stanley Cup Playoffs on Saturday.
The Tampa Bay Lightning awaits the wi27nner of this series in the Eastern Conference Finals. You can wager on this game and all the remaining NHL Playoff games live in our sportsbook.
Stanley Cup Playoffs: Hurricanes vs Rangers Odds
The Rangers will be a -1.5 puck line favorite at home against the Hurricanes on Saturday. On the money line, look for New York taking -160 odds or shorter. Carolina will be a +140 underdog or longer and the Total Goals Over/Under will be 5.5 goals.
The Home-Ice Advantage
Carolina has been a record-setting group this postseason, though not for the best reasons. It became the second team in NHL history to see the home team win each of its first 11 home games.
They have generated next to no offense playing outside of Raleigh. No team has lost its first five playoff road games and gone on to win the Stanley Cup.
Beyond the team playing at home, it is the team that takes control early that has been dominant throughout this series. These are two of the best teams defensively throughout the season. Carolina is also tied for first in power-play defense.
While we wait for the offense to have some life on the road, the defense also has not traveled well. The Hurricanes gave up 7 goals in two games at New York so far.
Hot Goalie Alert
When we are betting on hockey, we always keep our antennas up for a goalie getting hot. We have one in New York with Igor Shesterkin. In the first two games at home, Shesterkin stopped 72 of 74 shots on goal and made 30 saves.
He is No. 1 in save percentage, better than 93-percent on the season. He is also allowing the fewest goals against, just more than 2 per game.

Stanley Cup Playoffs: Hurricanes vs Rangers Prediction
It sounds unlikely that Carolina's road futility could possibly continue. However, New York is a tough team to get momentum against with any consistency.
The Rangers do not put up the volume of shots that Carolina or any of the remaining playoff teams do, but they get enough dirty goals to swing games in their favor.
We are taking the Rangers to win and cover at home, with the Total Goals again falling Under 5.5 in what will be a lopsided final score for this match of the Stanley Cup Playoffs.
Liked this piece? Feel free to check out more of our sports content.