Making Heads or Tails of Super Bowl Props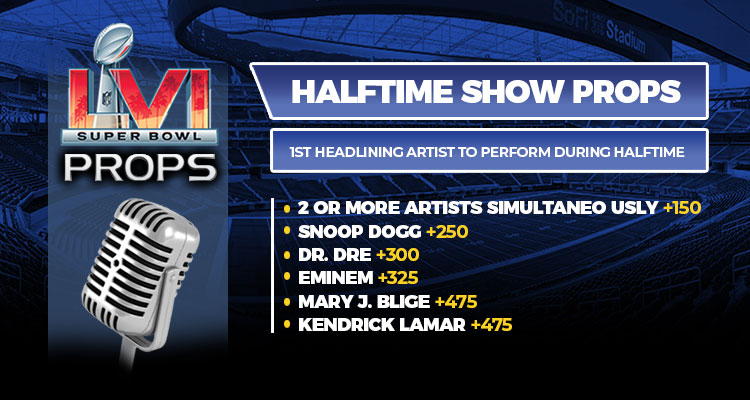 Super Bowl LVI is set to break betting records but there is a lot more to bet on than picking a winner.
YouWager's Super Bowl LVI prop bets are live right now with even more ways to win. The action starts even before kickoff and does not end until the trophy ceremony. Let's take a look at some information you should know before betting some of the more exotic prop markets.
National Anthem
Prop bets will start being decided before the game clock even starts ticking.
It all begins with the National Anthem, performed by country artist Mickey Guyton. Bet Over/Under 95 seconds on the length of the National Anthem performance at -120 odds either way. Mark that National Anthem time down to predict whether any scoring drive will be shorter than that time (Yes -250; No +170). The average length of the National Anthem over the last decade is 116 seconds.
Coin Toss
Next up is the coin toss and there are three ways to play here. First is which way the coin will land: heads or tails at -110. Will the winner of the coin toss win the game (-115)? Finally, will the coin toss caller guess the toss correctly (-115)? In the last 10 Super Bowls, heads and tails have each landed five times. Before that, heads landed four times in a row. All time, tails has the edge at 53-percent. The coin toss winner has only won the game twice in the last decade.
The Gatorade Shower
Once the game is decided it is a tradition to shower the winning coach in sports drink. Believe it or not, you can bet which color of liquid will be used to christen the new Super Bowl Champion.
Orange is favored to be poured on either Sean McVay or Zac Taylor at +175, followed by None (no shower) at +350 and Blue at +375. Keep in mind the colors of the teams playing in this game. For the Rams, Yellow/Green/Lime is +575.
The Buccaneers hit coach Bruce Arians with Blue last year and Andy Reid took an Orange shower the year before. The last coach to not get the shower was Bill Belichick when the Patriots won Super Bowl LI. Belichick skipped the shower in his first two Super Bowl wins as well.