Here come the New York Rangers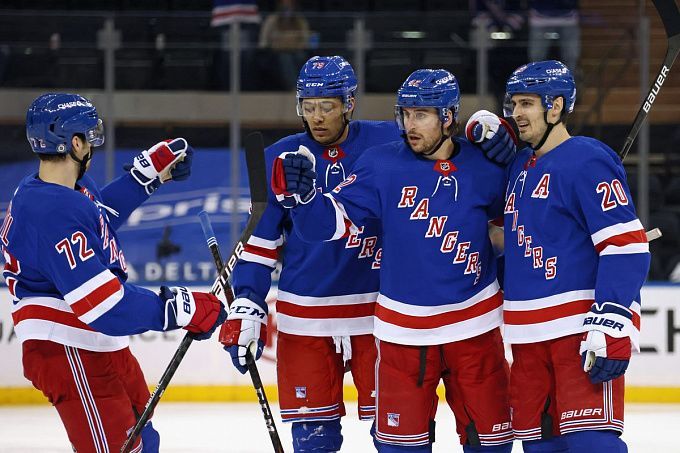 There is a hot team climbing the ranks in New York and no, it's not the Knicks.
The New York Rangers are the surprise team of the NHL season and as we near the midway point of the season it does not look like they are going away. Just how good are the Rangers? And are they a real threat in the East? Let us look a little closer at how this team is exceeding expectations.
Expectations vs. reality
New York was expected to score about 96 goals this season, possibly enough to squeak into the postseason. They are currently on pace for about 114 goals which would get the job done for home ice in the first round coming out of the Metropolitan Division.
Currently the Rangers are sitting atop their division with 60 points, with a +22 goal differential. They are fourth in all of hockey in scoring with only consensus contenders sitting ahead of them in Tampa Bay, Colorado and Florida.
Looking long term, the Rangers are +1600 to win the Stanley Cup on YouWager. Seven teams have shorter odds across the league.
How are the Rangers doing it?
The Rangers surprising performance as a team comes from several similarly unexpected individual performances. Chief among them is Igor Shesterkin's play in the twine. The third year net tender is eighth in wins and seventh in save percentage in the NHL, with 3 shutout wins. He is second in goals allowed percentage relative to the league's average. Only St. Louis' Ville Husso has been better.
On the scoring front Chris Kreider has been on fire. He has netted a league-high 30 goals already this season, surpassing his goal total for any other full season. The Rangers are +10 with him on the ice and he is making more than 20-percent of his shots on goal. Coming off a hat trick against the Coyotes last weekend, he is making a strong case for the Hart Trophy as clearly the most valuable player on his team.
Are the Rangers worth betting a future?
Yes. It is that simple. There are deeper teams with goalies who have proven to be more consistent for the long haul. But the NHL Playoffs are unlike any other league. If Shesterkin gets on another heater and Kreider continues to keep the pressure on, there is no reason this team can't surprise the Panthers or Lightning in the East. The Rangers are +900 to come out of the Eastern Conference and those odds will shorten if they continue to trend upward going into the second half of the season.