Toledo vs Bowling Green Predictions, Odds Week 12 2023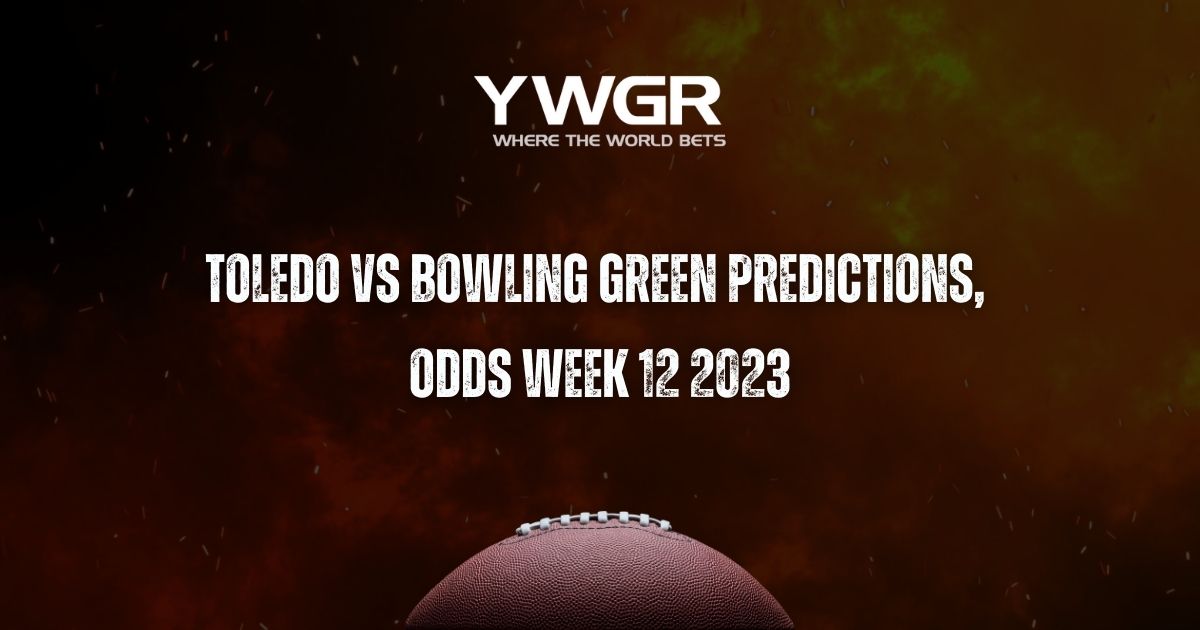 Check out our preview and prediction for Toledo vs. Bowling Green, a college football game taking place at Bowling Green in Week 12. Check out our picks for this NCAA showdown to win and cover the spread.
In passing yards, the Toledo Rockets are ranked 66th.
Against Bowling Green, opposing quarterbacks have a passing rating of 90.4.
Preview: Toledo vs. Bowling Green
On Tuesday, November 14th, at 7:00, the Toledo Rockets and Bowling Green Falcons will square off. Doyt L. Perry Stadium in Bowling Green, Ohio will host this game. ESPN2 is airing the game.The Rockets are 10 point road favorites in their matchup with the Mid-American team this week. Can they cover the spread and win on the road?
An Overview of the Bowling Green vs. Toledo Match
Teams: Bowling Green Falcons vs. Toledo Rockets
Where: Doyt L. Perry Stadium in Bowling Green
Date: November 14, Tuesday
Preview of Toledo: How Will A Loss Affect Toledo?
As they head into this week's game against Bowling Green, Toledo's record is at 9-1 following their 49-23 victory against Eastern Michigan. This season, Toledo has a 4-5 record against the spread. Eight times the Rockets have been favored compared to one game when they were the underdog. Toledo has a 5-4 over/under record for the entire current season. Their games have averaged 55.6 points overall, with 49.3 points serving as the normal over/under.
Against Eastern Michigan, the Rockets' passing game produced 27 pass attempts for 407 yards and three touchdowns. They scored four rushing touchdowns and averaged 3.2 yards per carry in the running game. Leading the way, DeQuan Finn amassed 407 passing yards versus Eastern Michigan, good for a passer rating of 140.35. He attempted 27 passes during the game, completing 85.2% of them.
By the end of the game, Eastern Michigan had gained 255 yards in total from the Rockets defense. Compared to 114 yards in the passing game, the team's run defense gave up 141 yards of rush yardage. Toledo's defense, which gives up 19.7 points per game, is ranked 70th in terms of points allowed. Teams facing them allow an average of 172.9 passing yards per game (ranked 27th in the country). They rank 93rd in college football for rushing defense, having surrendered 151.6 rushing yards.
Preview: Is Bowling Green Able to Regain Its Path?
As Bowling Green prepares to play Toledo this week, their record currently sits at 6-4 following their 49-19 victory over Kent State. This season, Bowling Green has a 5-4 record against the spread. Six games have seen the Falcons as the underdog; three occasions, they have been favored. Bowling Green has a 6-3 over/under record this season. The total number of points scored in their games has averaged 49.1, with an over/under of 44.8 points.
Against Kent State, the Falcons completed 23 pass attempts, gaining 286 yards and two touchdowns. They scored five rushing touchdowns and averaged 5.2 yards per carry in the rushing game. Quarterback Connor Bazelak finished with a QB rating of 95.94 in the victory over Kent State, completing 13 of 19 passes for 188 yards. He improved his performance by one touchdown as well.
In terms of defense, Bowling Green gave up 358 yards to Kent State. This includes surrendering 284 passing yards and the permitted 74 yards on the ground. The Falcons defense leads the league in quarterback rushes and has 25 sacks going into the game. They are conceding 24 points per game, which ranks 90th in terms of points allowed. They are 38th in the NCAA in terms of pass defense, giving up 191 passing yards per game on average. Furthermore, Bowling Green's run defense surrenders 137.7 rushing yards per game.
Toledo vs. Bowling Green Predictions, Patterns, and Evaluation
Bowling Green will try to maintain its winning streak over Toledo, which ended last year at 42–35. Bowling Green gained 395 passing yards and 61 running yards in the victory. Falcons 3rd down performance was 6/15. Toledo, on the other hand, rushed for 153 yards and completed 22 of their 40 passes for 329 yards.
Toledo has changed from being -11 point favorites to their current line of -10 (-110) since the lines opened. At the moment, Bowling Green is a +10 (-110) point underdog at home. Toledo now has an 80% implied victory probability and a moneyline payout of -405 in the context of the moneyline odds. Conversely, the Falcons have a moneyline of +299 and an implied win probability of 25%.
Major Trends in Betting
Toledo has a 3-2 overall record against the spread while playing on the road.
Bowling Green's home record against the spread in the last ten games is 6-4.
In their past three games as underdogs, the Falcons have a 2-1 record.
In their last ten games as the favorite, Toledo is 4-6.
YouWager.lv you can wager on the different betting types, such as moneyline, spread, and total, and you can bet either on your favorite team or an undervalued underdog, always with the best and latest wagering lines. Open your account now and receive a 100% bonus on your first cryptocurrency deposit, just click below: