Akron vs Eastern Michigan Predictions, Odds Week 12 2023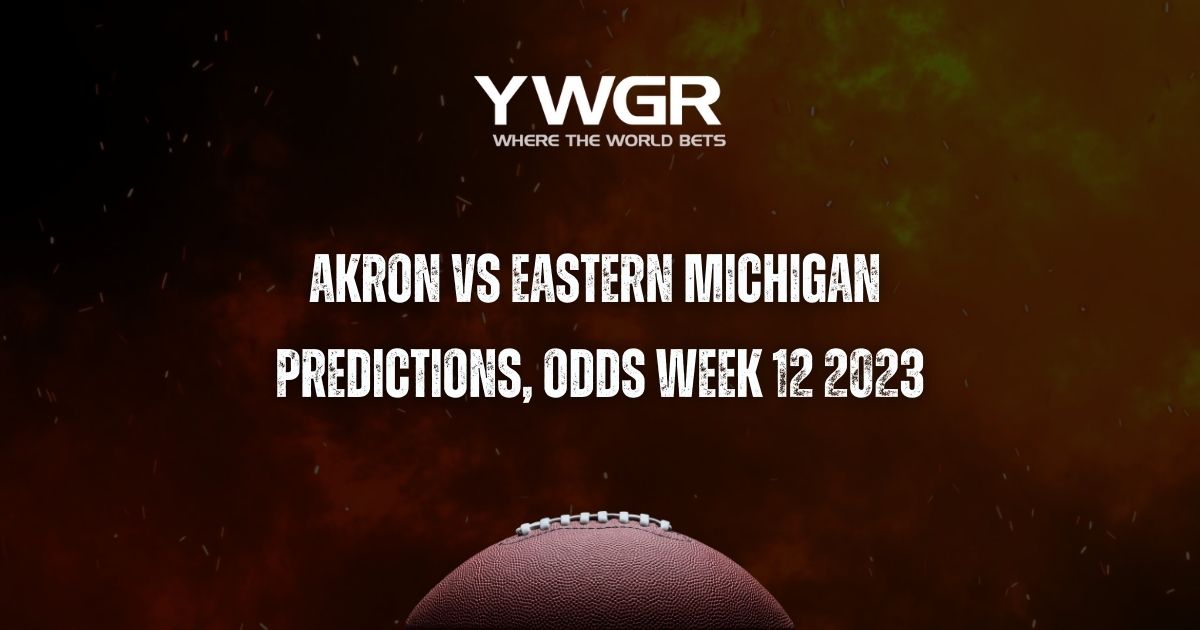 See which team is the favorite to win and cover the spread in this week 12 NCAAF Eastern Michigan vs Akron preview.
Every game, the Akron defense allows 28.1 points to be scored.
In terms of throwing yards, the Eastern Michigan Eagles rank 120th.
Preview: Akron at. Eastern Michigan
The Eagles and Zips will play college football in Week 12 on Tuesday, November 14 at 7:00 ET. At Rynearson Stadium, the Eagles will host the Zips, and CBSS will televise the game.In this Mid-American game, the Eagles are at home with a 4-point advantage. Can they cover the spread and win at home?
An Overview of the Akron vs. Eastern Michigan Match
Teams: Eastern Michigan Eagles vs. Akron Zips
Where: Rynearson Stadium in Ypsilanti
Date: November 14, Tuesday
Preview: Will Akron Be Able to Continue?
With a 2-8 record, Akron is ready to play Eastern Michigan. Miami (OH) was the team the Zips most recently fell to, 19-0. The Zips have been the underdog in six games going into this week's game against Eastern Michigan, and the favorite in one. They had a 2-4-1 ATS record going into the match. The over/under total for Akron's games during the last ten games has been 45 points on average. These games have had an average total score of 43.5 points, giving OU a 3-4 record.
The Zips' offense managed 212 yards of total offense but was kept scoreless in their most recent game. In the end, Akron gained 36 running yards and 176 throwing yards on 42 attempts, averaging 1.6 yards per ground try. Quarterback Jeff Undercuffler Jr. attempted 36 passes against Miami (OH) in their most recent defeat. With 156 throwing yards at the end of the game, he completed 55.6% of his throws. He also had two interceptions during the contest.
Miami (OH) was able to get 240 yards from Akron's defense. This entails surrendering 50 passing yards and the allotted 190 ground yards. The Zips defense, which leads the league in quarterback rushes and has 17 sacks, takes on Eastern Michigan. They are 113th in the country in terms of points allowed, giving up 28.1 points per game. They rank 34th in the NCAA in passing defense, giving up 182.5 passing yards per contest. The run defense of Akron allows 150.4 running yards per game.
Eastern Michigan Preview: Is There Any Chance for Eastern Michigan to Win Again?
The Eagles are just 4-6 on the season after losing their most recent game to Toledo 49-23. The Eagles have been the underdog in five games and the favorite in three coming into this week's game against Akron. They have a 5-3 ATS record going into the match. Eastern Michigan has a 4-4 over/under record this season. Their games have yielded a total of 44 points on average, with 45.6 points being the median over/under line.
Against Toledo, the Eagles' passing offense consisted of 25 completion attempts for 114 yards and one touchdown. They scored two rushing touchdowns and averaged 4.0 yards per carry in the running game. Austin Smith had an 86-yard passing game against Toledo, but he also completed a touchdown pass. With a completion rate of 37.5%, he received an overall passer rating of 30.9.
Toledo was given 510 yards by Eastern Michigan's defense in all. This includes allowing 407 passing yards and 103 yards on the ground. With eighteen sacks and a top ranking in quarterback rushes, the Eagles defense takes on Akron. They are allowing 25 points per game, which ranks 95th in the country, in terms of points allowed. They rank 55th in the NCAA in passing defense, giving up 204.8 passing yards per contest. The run defense of Eastern Michigan allows 190.2 running yards per game.
Eastern Michigan vs. Akron betting odds, trends, and analysis
When Eastern Michigan and Akron last faced one other, Eastern Michigan prevailed 34-28. Despite being outgained offensively, Eastern Michigan managed to win. Against Eastern Michigan, who finished with 345 yards of total offense, Akron finished with 386 yards.
Eastern Michigan has moved from being -4.5 point favorites when the odds were first set to their current line of -4 (-113). On the road, Akron is presently +4 (-108) points behind. The Eagles' starting odds were -225, but as of right now, their moneyline payout is -190. Currently, Akron has an expected win probability of 39% while Eastern Michigan has an implied win probability of 66%.
Major Trends in Betting
In their last 10 road games, Akron has a 6-4 record.
In their last 10 home games, Eastern Michigan has a 7-2-1 record against the spread.
In their last three games as a favorite, Eastern Michigan's over/under record is 1-2.
In their last three games as the favorite, Akron's record against the spread is 0-2-1.
YouWager.lv you can wager on the different betting types, such as moneyline, spread, and total, and you can bet either on your favorite team or an undervalued underdog, always with the best and latest wagering lines. Open your account now and receive a 100% bonus on your first cryptocurrency deposit, just click below: