Texas State vs Coastal Carolina Predictions, Odds Week 11 2023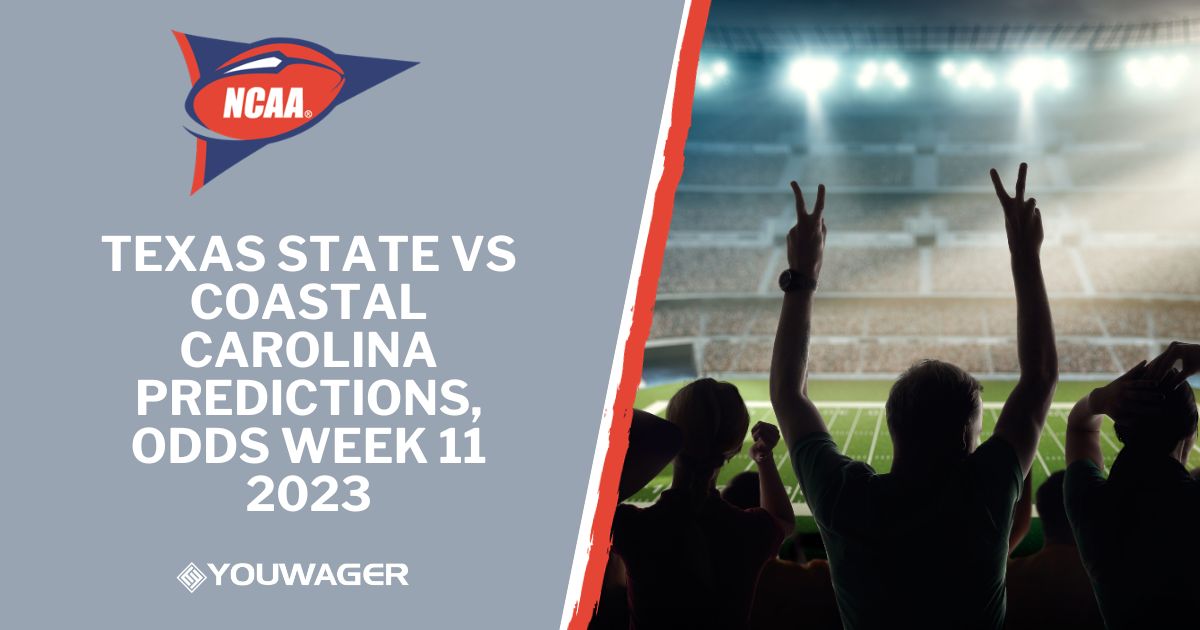 Continue reading for our NCAA week 11 preview of Texas State vs. Coastal Carolina. In this post, we will determine who will win and cover the spread.
Texas State ranks 16th in passing completion percentage with 69.1%.
The Coastal Carolina defense gives up 12.9 yards per completion.
TEXAS STATE VS COASTAL CAROLINA PREVIEW
The Bobcats will face the Chanticleers in this week's 11 CFB game, which will be broadcast on ESPN+ at 3:30 p.m. (11/11/23). The game will take place at Brooks Stadium in Conway, South Carolina.The Bobcats are 1.5 point road favorites in their Sun Belt league matchup. Will they be able to cover the spread and win on the road?
TEXAS STATE VS. COASTAL CAROLINA MATCHUP AT A GLANCE
Sport: College Football
Teams: Texas State Bobcats at Coastal Carolina Chanticleers
Where: Conway at Brooks Stadium
Date: Saturday, November 11th
TEXAS STATE PREVIEW: WHAT'S THE PLAN FOR TEXAS STATE FOLLOWING A LOSS?
Texas State's 45-24 victory over Georgia Southern improved their record to 6-3 as they prepare for this week's game against Coastal Carolina. Before this week's game against Coastal Carolina, the Bobcats had been favorite in five games and underdog in four. Their ATS record entering the game is 5-4. Over the course of nine games, Texas State's average over/under line has been 62.1 points. The cumulative score in six games has averaged 64.4 points, giving OU a 3-5-1 record.
The Bobcats finished with 31 pass attempts against Georgia Southern, gaining 301 yards and three touchdowns. They averaged 4.3 yards per carry on the ground, resulting in three running scores. TJ Finley led the way, tallying 301 passing yards and a passer rating of 139.38 versus Georgia Southern. During the game, he attempted 31 passes and completed 80.6% of them.
Texas State's defense surrendered 375 yards to Georgia Southern. This includes allowing 180 yards on the ground and 195 passing yards. Texas State's defense ranks 107th in points allowed per game, allowing 28.2 points per game. Teams average 258.1 passing yards per game against them (151st in the country). In terms of rushing defense, they rank 92nd in college football, allowing 149.3 yards per carry.
COASTAL CAROLINA PREVIEW: WILL COASTAL CAROLINA BOUNCE BACK FROM A LOSS?
As they prepare for this week's game against Texas State, Coastal Carolina's record has improved to 6-3 after a 28-24 win against Old Dominion. This season, Coastal Carolina has been the favorite in two games and the underdog in five. Their current ATS record is 5-2. This season, Coastal Carolina has a 1-6 over/under record. Their games have averaged 51 points, with the over/under line standing at 58.9 points.
The Chanticleers completed 31 passes for 180 yards and one touchdown against Old Dominion. They averaged 6.2 yards per carry on the ground, resulting in two rushing scores. Ethan Vasko found the endzone in a variety of ways against Old Dominion, throwing for 180 yards and one touchdown while also rushing for one.
The Chanticleers' defense gave up 345 total yards to Old Dominion at the end of the game. The team's run defense gave up 173 yards rushing while allowing 172 yards passing. The Chanticleers defense enters this week's game with 14 sacks and ranks first in QB hurries. So far, they've averaged 21 points per game (73rd in the league). They are 115th in the country in pass defense, allowing 237 passing yards per game. Furthermore, Coastal Carolina's defense allows 144.6 running yards per game when defending the run.
TEXAS STATE VS COASTAL CAROLINA BETTING ODDS, TRENDS & ANALYSIS
The series between these two teams has favored Coastal Carolina, who is 3-2 in their last five games.
Texas State has an average score differential of 18 and a 2-1 record against the spread in their last three games versus Coastal Carolina.
Coastal Carolina opened as 1-point favorites at home and remains favored, but the odds have shifted to +1.5. The Chanticleers' moneyline payout is currently -102, compared to the opening odds of -125. Coastal Carolina now has a 50% estimated win probability and Texas State has a 55% implied win probability.
KEY BETTING TRENDS
Looking at Texas State's three most recent away games, they have a 2-1 record against the spread.
Coastal Carolina is 4-1 ATS in their past five home games.
Coastal Carolina was 4-1 against the spread in their last five games as the underdog.
Texas State is 5-5 vs. the spread in the last ten games when favored.
YouWager.lv you can wager on the different betting types, such as moneyline, spread, and total, and you can bet either on your favorite team or an undervalued underdog, always with the best and latest wagering lines. Open your account now and receive a 100% bonus on your first cryptocurrency deposit, just click below: