Arkansas State vs South Alabama Predictions, Odds Week 11 2023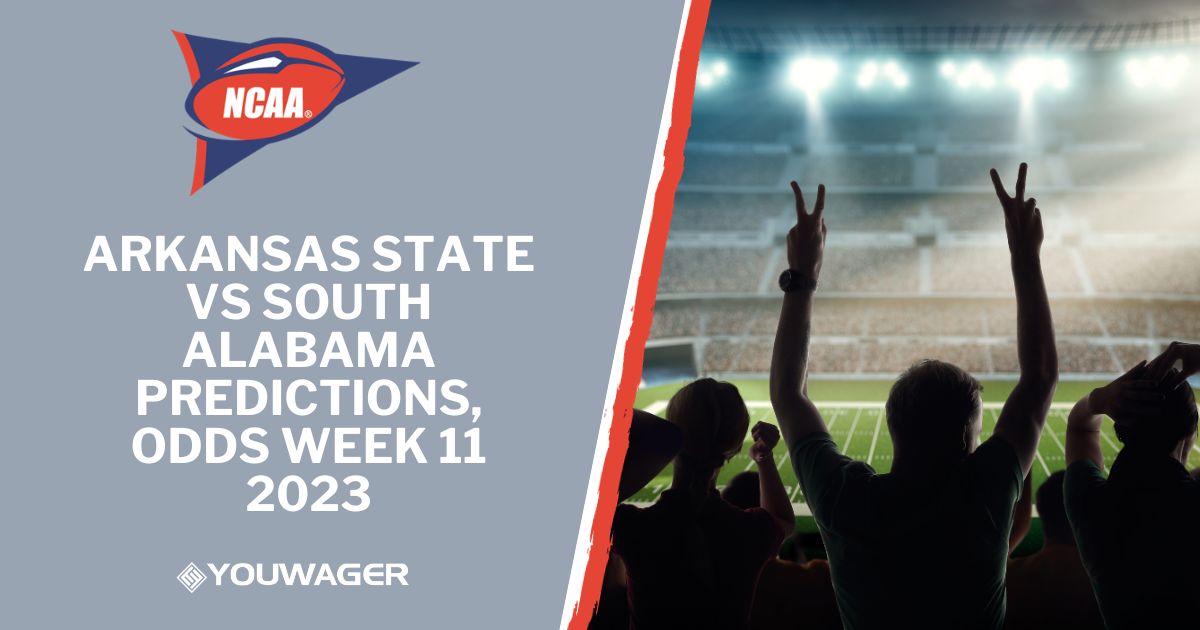 Continue reading for our NCAA week 11 preview of Arkansas State vs South Alabama. In this post, we will determine who will win and cover the spread.
In terms of throwing yards, the Arkansas State Red Wolves rank 69th.
The South Alabama defense gives up 12.7 yards per completion.
ARKANSAS STATE VS SOUTH ALABAMA PREVIEW
This week's CFB showdown between the Red Wolves and Jaguars can be found on ESPN+ at 5:00 (11/11/23). Hancock Whitney Stadium in Mobile (AL) will host this game.The Jaguars are 10 point favorites at home in this Sun Belt clash this week. Will the Jaguars win this one? Find out how I think this game will play out on Saturday.
ARKANSAS STATE VS. SOUTH ALABAMA MATCHUP AT A GLANCE
Sport: College Football
Teams: Arkansas State Red Wolves at South Alabama Jaguars
Where: Mobile at Hancock Whitney Stadium
Date: Saturday, November 11th
ARKANSAS STATE PREVIEW: CAN ARKANSAS STATE RECOVER AFTER A LOSS?
The Arkansas State Red Wolves enter this week's game with a 5-4 record that is above.500. They added a win to their record after defeating Louisiana (37-17) in their most recent encounter. Arkansas State has a 4-4 record against the spread this season. This is despite a -7.3 average scoring differential and being the underdog in all of their games. The average over/under line in Arkansas State's clashes has been 55.6 points over the span of nine games. These games have resulted in an average aggregate score of 56.4 points, giving OU a 4-4 record.
Arkansas State did not toss a touchdown against Louisiana but did run for three. They finished with 428 total yards and averaged 4.7 yards per rushing attempt and 194 total passing yards. Jaylen Raynor, the team's quarterback, did not record a passing score versus Louisiana, but he did add two touchdowns on the run. His whole performance was a 64.3% completion rate and 194 passing yards.
Arkansas State's defense surrendered 327 yards to Louisiana. This includes allowing 64 yards on the ground and 263 passing yards. Arkansas State's defense ranks 123rd in points allowed per game, allowing 31.9 points per game. Teams have averaged 268.3 passing yards against them (160th in the country). They've given up 173.2 rushing yards, ranking them 129th in college football.
SOUTH ALABAMA PREVIEW: IS SOUTH ALABAMA ON TRACK FOR ANOTHER WIN?
The Jaguars are 4-5 this season after losing their most recent game to Troy by a score of 28-10. South Alabama's season average score differential is +9, resulting in an ATS record of 3-5. The Jaguars have been the favorite in five games and the underdog in three. South Alabama's average over/under line through nine games is 49.5 points. Their games have averaged 52.8 points, resulting in an OU record of 5-3.
South Alabama did not pass a touchdown against Troy but did run for one. They finished with 252 total yards and averaged 3.6 yards per rushing attempt and 155 total passing yards. Gio Lopez rushed for 155 yards and completed 17 of 27 passes for a 63.0% completion rate versus Troy. He finished the game without scoring on the ground or through the air.
South Alabama's defense surrendered 400 yards of offense against Troy. They allowed 271 yards in the passing game and 129 yards on the ground. South Alabama's defense enters this matchup ranked 156th in passing yards allowed per game. Opponents have attempted 25.7 passes on average against the Jaguars. They have allowed 21.9 points per game, ranking them 77th in college football. They are ranked 50th in the NCAA for rush defense.
ARKANSAS STATE VS SOUTH ALABAMA BETTING ODDS, TRENDS & ANALYSIS
South Alabama will seek to build on last year's 31-3 victory over Arkansas State. South Alabama's offense dominated, scoring 31 points on 362 yards of total offense. The Jaguars totaled 16 first downs while going 3/15 on third down. They allowed 177 passing yards and -19 rushing yards.
There hasn't been much movement in the point spread line. South Alabama was a 10-point favorite at the start. This is where the lines are right now. According to the current moneyline odds, Arkansas State has a 22% chance of winning and a moneyline payout of +346. The Jaguars, on the other hand, have an implied win percentage of 83% and a moneyline of -473.
KEY BETTING TRENDS
Arkansas State is 3-2 against the spread while playing on the road.
South Alabama is 5-5 ATS in their last 10 home games.
South Alabama has an ATS record of 1-2 in the three most recent times they were the underdog.
Arkansas State is 3-2 ATS in their last five games as the betting favorite.
YouWager.lv you can wager on the different betting types, such as moneyline, spread, and total, and you can bet either on your favorite team or an undervalued underdog, always with the best and latest wagering lines. Open your account now and receive a 100% bonus on your first cryptocurrency deposit, just click below: