Duke vs North Carolina Predictions, Odds Week 11 2023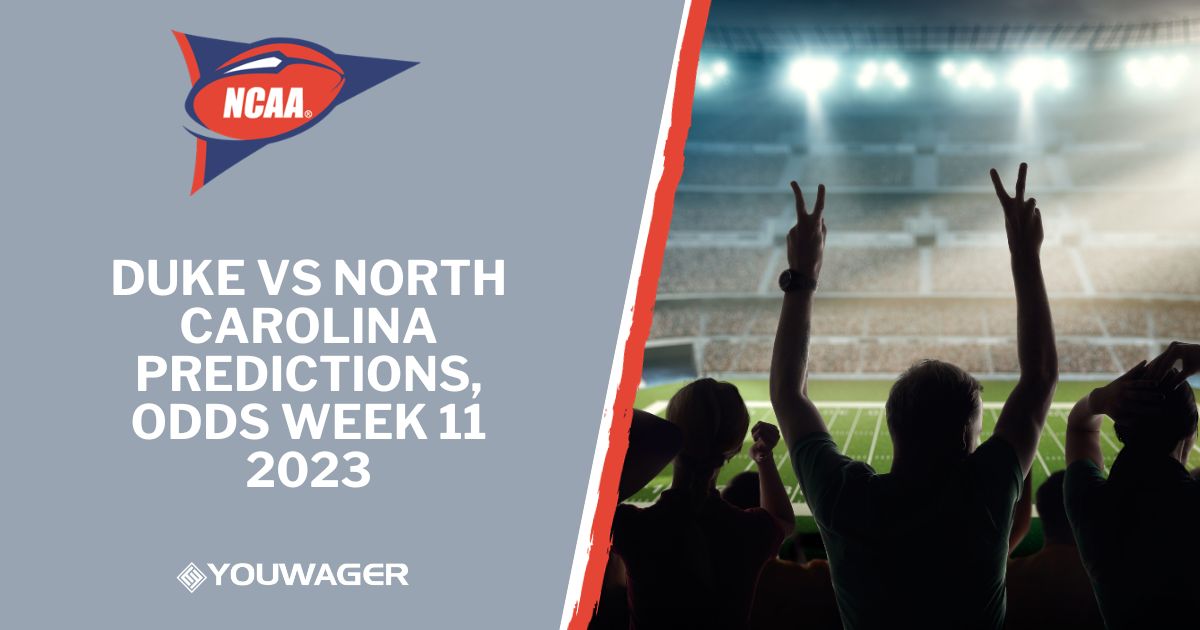 Check out our Duke vs. North Carolina college football preview for this week's game in Chapel Hill. See who we predict will win and cover the spread in this NCAA matchup.
The Duke Blue Devils are 114th in the US in terms of throwing yards.
The defense of North Carolina allows 23.3 points per game.
DUKE VS NORTH CAROLINA PREVIEW
On Saturday, November 11th at 8:00 PM ET, the Duke Blue Devils will meet the North Carolina Tar Heels at Kenan Memorial Stadium in Chapel Hill, NC. The game will be televised live on ACCN.North Carolina is the 11.5-point favorite in their Atlantic Coast matchup. Is this a foregone conclusion that they will win? Continue reading to find out what I think about this confrontation.
DUKE VS. NORTH CAROLINA MATCHUP AT A GLANCE
Sport: College Football
Teams: Duke Blue Devils at North Carolina Tar Heels
Where: Chapel Hill at Kenan Memorial Stadium
Date: Saturday, November 11th
DUKE PREVIEW: WILL DUKE REBOUND AFTER A LOSS?
Duke improved to 6-3 with a 24-21 victory against Wake Forest as they prepare for this week's matchup against North Carolina. So far, Duke has been the favorite four times and the underdog four times. As a result, the team has a 4-4 ATS record and a +10 average score difference. Duke's average over/under line has been 47.2 points over the span of nine games. OU's total score in six games has averaged 41.3 points, giving them a 4-4 record.
The Blue Devils scored twice on the run against Wake Forest and gained 183 yards. In the passing offense, Duke scored once and threw the ball 19 times for 86 yards. Grayson Loftis completed 7 of 19 passes for 86 yards and a QB rating of 47.26 in the win over Wake Forest. He also scored one touchdown in the game.
Wake Forest's defense gained 400 yards against Duke. This includes 159 yards on the run and 241 yards throwing. The Blue Devils defense has 20 sacks and is #1 in QB hurries this season. In terms of scoring defense, they are ranked 53rd, allowing 15.7 points per game. Their pass defense ranks 32nd in the NCAA, allowing 179.3 passing yards per game. Duke allows 150 yards rushing per game.
NORTH CAROLINA PREVIEW: HOW WILL NORTH CAROLINA BOUNCE BACK AFTER A LOSS?
North Carolina's record rose to 7-2 after a 59-7 victory over Campbell, as the Tar Heels prepare to face Duke this week. This season, North Carolina has a +15.8 scoring margin. They are 5-2 against the spread and have been favored in all of their games. In North Carolina's nine games, the average over/under line has been set at 57.9 points. The combined score in these games has been 62.4 points, giving OU a record of 3-3-1.
The Tar Heels completed 28 passes for 318 yards and five touchdowns against Campbell. On the rush, they averaged 8.4 yards per carry and scored three times. Drake Maye ended the game with a QB rating of 143.84, completing 16 of 23 passes for 244 yards. He also had four touchdowns in the game.
The Tar Heels defense dominated against Campbell, allowing only 7 scores on 287 yards. Campbell's passing game accounted for 185 yards. On the ground, North Carolina allowed 2.5 yards per attempt. North Carolina's defense is 83rd in the US in points allowed per game, allowing 23.3 per game. Teams have averaged 239.4 passing yards per game (122nd) against the unit. They are ranked 98th in the NCAA in rushing defense, allowing 153 yards per carry.
DUKE VS NORTH CAROLINA BETTING ODDS, TRENDS & ANALYSIS
North Carolina won the most recent matchup between the clubs, 38-35, last year. North Carolina rushed for 156 yards and passed for 380 yards. Duke, on the other hand, racked up 542 yards of offense.
North Carolina started as a 10-point favorite at home, but the odds have swung in their favor, and they are now -11.5. North Carolina has an 84% probability of winning and a moneyline payout of -518, according to the current moneyline odds. The Blue Devils, on the other hand, have a moneyline of +377 and an implied win probability of 21%.
KEY BETTING TRENDS
When looking at Duke's last five away games, they have a 2-3 record against the spread.
North Carolina is 2-1 against the spread in its previous three home games.
As an underdog, North Carolina is 4-1 ATS in their last five games.
When favored, Duke is 6-4 vs. the spread in the last ten games.
YouWager.lv you can wager on the different betting types, such as moneyline, spread, and total, and you can bet either on your favorite team or an undervalued underdog, always with the best and latest wagering lines. Open your account now and receive a 100% bonus on your first cryptocurrency deposit, just click below: