Arizona vs Colorado Predictions, Odds Week 11 2023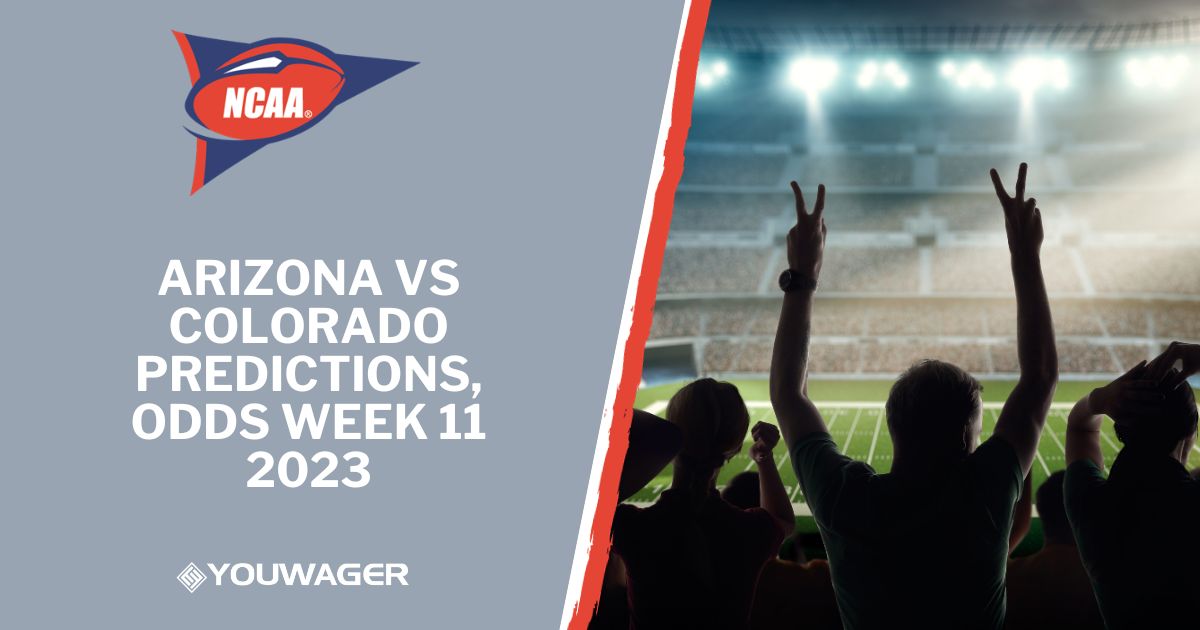 Read our Arizona vs. Colorado college football preview for this week 11 game in Boulder. In this NCAA showdown, see who we think will win and cover the spread.
Arizona averages 287.6 passing yards per game.
Colorado's defense ranks 131st in terms of points allowed.
ARIZONA VS COLORADO PREVIEW
The game between the Wildcats and the Buffaloes is scheduled to begin at 2:00 p.m. ET on Saturday, November 11th. This week's CFB showdown will be shown on PACN.In this Pac-12 match, the Wildcats are favored by 10.5 points on the road. Can they win on the road and cover the spread?
ARIZONA VS. COLORADO MATCHUP AT A GLANCE
Sport: College Football
Teams: Arizona Wildcats at Colorado Buffaloes
Where: Boulder at Folsom Field
Date: Saturday, November 11th
ARIZONA PREVIEW: CAN ARIZONA RECOVER AFTER A LOSS?
As they prepare for this week's game against Colorado, Arizona's record has improved to 6-3 after a 27-10 victory over UCLA. Arizona has been the favorite twice and the underdog four times thus far. This has resulted in a 5-1 ATS record with an average score difference of +11. Arizona's average over/under line through nine games is 59.7 points. Their games have averaged 50.6 points, resulting in an OU record of 0-6.
The Wildcats' offense totaled 432 yards of offense versus UCLA, with 132 yards coming from running plays and 300 yards coming from passing plays. They converted 11 of 16 third-down attempts and tossed three touchdowns in total. In Arizona's triumph over UCLA, quarterback Noah Fifita threw three touchdown passes. He finished with a passer rating of 123.96 and completed 78.1% of his throws for 300 yards.
The Wildcats defense was outstanding against UCLA, allowing only 10 points on 271 yards. UCLA's passing game totaled 157 yards. Arizona allowed 3.9 yards per attempt on the ground. The Cardinals' defense comes into the contest ranked 109th in passing yards allowed per game. Opponents throw the ball 30.8 times per game against the Wildcats. They have allowed 19.8 points per game, which ranks 68th in college football. They are ranked 24th in the NCAA in terms of rushing yards allowed.
COLORADO PREVIEW: CAN COLORADO KEEP THINGS ROLLING?
Colorado comes into this game with a 4-5 overall record. Their most recent game was a difficult one, as they were defeated by Oregon State by a score of 26-19. This season, Colorado has been the favorite in two games and the underdog in five. Their current ATS record is 5-1-1. The average over/under line in Colorado's matchups has been 62.6 points over the span of nine games. These games have resulted in an average combined score of 64.6 points, giving OU a record of 2-5.
Offensively, the Buffaloes were 5/14 on third down against Oregon State, totaling 239 yards. They got two scores and 245 yards in the passing game. The Buffaloes failed to score on any of their 18 running attempts, finishing with -6 yards. Shedeur Sanders ended with a QB rating of 96.63 in the loss to Oregon State, completing 24 of 39 throws for 245 yards. He also had two touchdowns at the end of the game.
Oregon State's defense concluded the game with 419 total yards against the Buffaloes. The team's run defense gave up 196 yards rushing while allowing 223 yards passing. The Buffaloes defense enters the game with 23 sacks and is first in QB hurries. In terms of points allowed, they rank 131st with 33.9 per game. They are ranked 181st in the NCAA in pass defense, surrendering an average of 300.7 passing yards per game. Furthermore, Colorado's run defense allows 168.4 running yards per game.
ARIZONA VS COLORADO BETTING ODDS, TRENDS & ANALYSIS
Arizona won the most recent head-to-head meeting between the clubs (last year) 43-20. Arizona will want to run the ball well again after gaining 178 yards on the ground the last time they met. Colorado finished with 340 yards of total offense, while Arizona had 673.
On the road, Arizona entered as 9.5 point favorites. The lines have swung in their favor, and they are now -10.5. According to the current moneyline odds, Arizona has an 81% chance of winning with an ML payoff of -431. The Buffaloes, on the other hand, have an implied win percentage of 24% on a moneyline of +317.
KEY BETTING TRENDS
Arizona is 6-4 in its last ten away games.
Colorado is 1-1-1 ATS in its previous three home games.
The Buffaloes are 3-0 as underdogs in their previous three games.
Arizona is 3-2 as a favorite in their last five games.
YouWager.lv you can wager on the different betting types, such as moneyline, spread, and total, and you can bet either on your favorite team or an undervalued underdog, always with the best and latest wagering lines. Open your account now and receive a 100% bonus on your first cryptocurrency deposit, just click below: