Auburn vs Arkansas Predictions, Odds Week 11 2023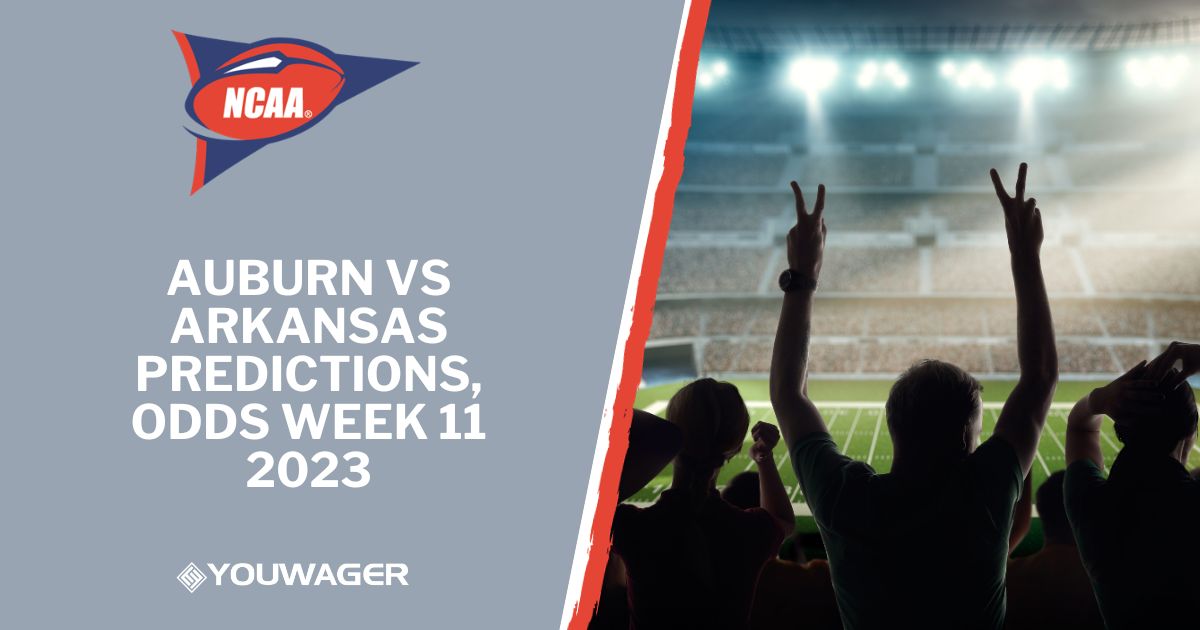 Read on for our week 11 Auburn vs Arkansas college football preview, with betting odds and analysis, and find out who we think will win and cover in Fayetteville.
Auburn's defense allows 21.7 points per game.
Arkansas' offense ranks 70th in terms of passing attempts.
AUBURN VS ARKANSAS PREVIEW
The Tigers and Razorbacks meet in a week 11 NCAAF matchup at Donald W. Reynolds Razorback Stadium at 4:00 p.m. ET. The game will be broadcast live on SECN on Saturday, November 11th.The Razorbacks are three-point favorites over their SEC opponent. Can the Tigers pull off a surprise? Or will the Razorbacks win at home?
AUBURN VS. ARKANSAS MATCHUP AT A GLANCE
Sport: College Football
Teams: Auburn Tigers at Arkansas Razorbacks
Where: Fayetteville at Donald W. Reynolds Razorback Stadium
Date: Saturday, November 11th
AUBURN PREVIEW: HOW WILL AUBURN BOUNCE BACK AFTER A LOSS?
Auburn's 31-15 victory over Vanderbilt improved their record to 5-4 as they prepare for this week's game against Arkansas. Auburn's season average scoring differential is +5.6, resulting in an ATS record of 4-4. The Tigers were favorites four times and underdogs four times. Auburn currently has a 3-5 over/under record this season. Their encounters have produced a total score of 48.9 points on average, with the median over/under line set at 50.9 points.
The Tigers tried 27 passes against Vanderbilt, garnering 194 yards and scoring two touchdowns. They averaged 6.5 yards per carry on the ground, resulting in two running scores. Payton Thorne finished with a QB rating of 93.75 in the win over Vanderbilt, completing on 17 of 27 throws for 194 yards. He also had two touchdowns to his name.
Auburn ended their game against Vanderbilt with a total of 266 yards allowed on defense. Against Auburn, Vanderbilt passed the ball 32 times for 166 yards. The Tigers surrendered 100 yards on the ground. This season, the Tigers' defense has allowed 154.7 running yards per game, ranking 113th. Opponents are averaging 202.8 passing yards per game against Auburn, and opposing quarterbacks have a passer rating of 79.7. They are currently ranked 68th in the NCAA in terms of points allowed.
ARKANSAS PREVIEW: WHAT'S NEXT FOR ARKANSAS AFTER A LOSS?
Arkansas enters this week's game against Auburn aiming to build on their recent 39-36 victory against Florida. Arkansas, on the other hand, is only 3-6 this season. Prior to this week's game against Auburn, the Razorbacks had been favored in three games and underdog in four. Their ATS record entering the game is 3-4. Arkansas' average over/under line in nine games has been 52.1 points. The cumulative score in these games has averaged 52.2 points, giving OU a 3-4 record.
The Razorbacks tried 31 passes against Florida, garnering 255 yards and scoring two touchdowns. They averaged 5.1 yards per carry on the ground, resulting in one rushing touchdown. Arkansas quarterback KJ Jefferson not only threw two touchdown passes but also rushed for one. Throughout the game, he threw for 255 yards and had a completion rate of 64.5%.
The Arkansas defense concluded the game allowing 394 total yards to Florida. The team's run defense gave up 112 yards rushing while allowing 282 in the passing game. This season, the Arkansas defense has allowed an average of 130.2 running yards, ranking them 157th. When facing Arkansas, opponents average 210.3 passing yards, with opposing quarterbacks achieving a passer rating of 95. In the NCAA rankings, they are presently ranked 56th in points allowed.
AUBURN VS ARKANSAS BETTING ODDS, TRENDS & ANALYSIS
The last time Arkansas and Auburn met was last year, when Arkansas won 41-27. Arkansas' offense dominated, scoring 41 points on 520 yards of total offense. The Razorbacks totaled 23 first downs while going 8/14 on third down. They allowed 285 passing yards and 183 running yards.
Arkansas has gone from a -2 point favorite to a -3 (-110) line since the lines began. On the road, Auburn is a +3 (-111) point underdog. Arkansas has moved from -127 to -156 on the moneyline, placing their expected win probability at 61%. Auburn is presently priced at +128 with an estimated win probability of 44. On the moneyline, Auburn opened at +105.
KEY BETTING TRENDS
Auburn's last ten games against the spread have resulted in a 3-6-1 record.
Arkansas is 4-1 ATS in its last five home games.
Arkansas has a 4-1 ATS record as an underdog in their last five games.
Auburn is 2-1 against the spread in their last three games as a favorite.
YouWager.lv you can wager on the different betting types, such as moneyline, spread, and total, and you can bet either on your favorite team or an undervalued underdog, always with the best and latest wagering lines. Open your account now and receive a 100% bonus on your first cryptocurrency deposit, just click below: