SMU vs Temple Betting Predictions, Odds Week 8 2023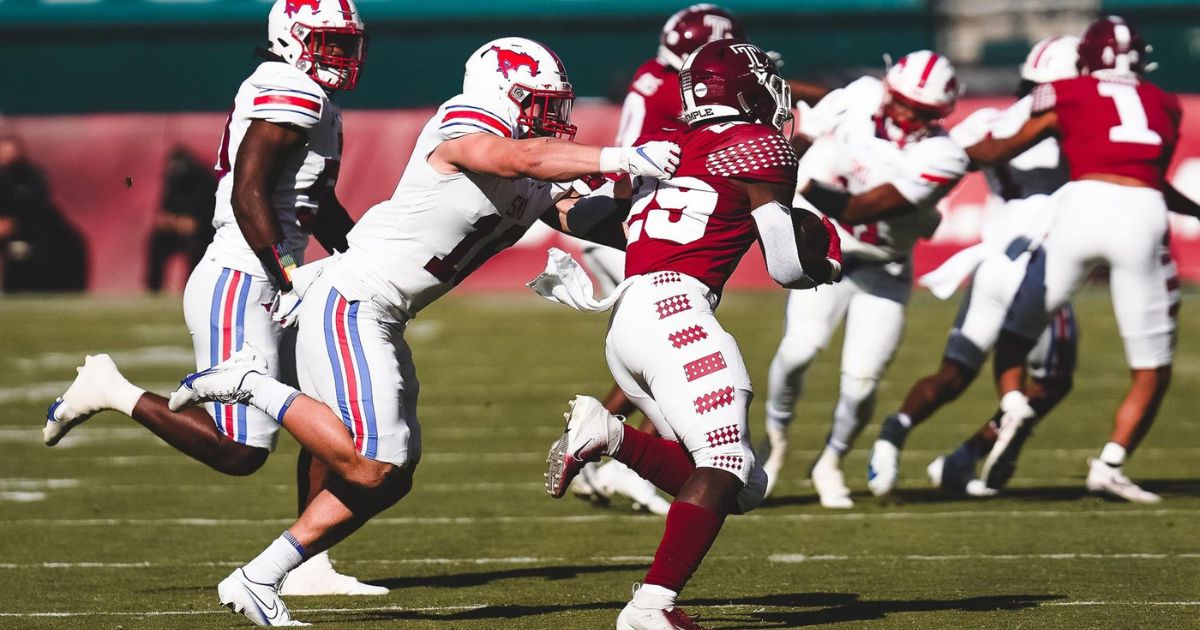 SMU vs Temple Betting odds and predictions for this college football game that is set for NCAA week 8 of the 2023-24 season.
The players of the other team have an 84.9 passer rating against SMU.
With 262 yards passed, Temple is 26th in the country.
The Mustangs and Owls play at Lincoln Financial Field at 7:00 ET in a week 8 NCAAF game. The game is set for Friday, October 20th, and you can watch it on ESN2.There are 19.5 point odds on the road for the Mustangs in this game between two American Athletic foes. Do they have what it takes to win on the road and cover?
SMU vs Temple Betting Odds
Here are the SMU vs Temple Betting odds:
| TEAM | SPREAD | MONEYLINE | TOTAL |
| --- | --- | --- | --- |
| SMU | -21 | -1400 | Over 54.5 |
| Minnesota Vikings | +21 | +950 | Under 54.5 |
SMU vs Temple Betting Predictions
These are the SMU vs Temple Betting predictions.
If you look at the last ten games between the two teams, Temple has won six of them.
As the favorite, SMU has lost all three of their last games against Temple.
At first, SMU was an 18-point favorite on the road. The lines have moved in their favor and are now at -19.5. The moneyline for SMU started at -910, and it has now moved to -1192, giving them an implied win rate of 92%. When it comes to Temple, their chances are currently 13%, and their moneyline is +689. At first, the Owls' moneyline was +550.
SMU vs Temple Betting Prediction: Mustangs
Here is the SMU vs Temple Betting prediction for the Mustangs.
The SMU Mustangs have a 4-2 record, which is above.500, going into this week's game. The last game they played, against East Carolina, they added a win to their record (31–10). This season, SMU has gone 3-3 against the spread. The Mustangs have been the favorite four times and the outsider twice. SMU has a 1-5 record on the over/under so far this season. The average score in their games together has been 50.3 points, and the average over/under line has been 60.7 points.
The Mustangs' offense gained 335 yards in the game against East Carolina. Of that total, 59 yards came from running plays and 276 yards came from passing plays. They only succeeded four times out of fifteen times on third down and threw three goals in total. Through 19 of 38 passes, quarterback Preston Stone completed 19 of 38 passes for 276 yards in the win over East Carolina. His QB rating was 100.33. Besides that, he scored three goals for the team.
The Mustangs' defense was great against East Carolina. They only let them score 10 points on 290 yards of offense. The passing game for East Carolina ended with 193 yards. Up front, SMU gave up 2.6 yards for every play. They have 17 sacks and are the first team to rush the quarterback. They give up 17 points per game, which is 47th in the league. The team ranked 36th in the NCAA in pass defense, giving up 183.5 yards per game. In addition, SMU's run defense gives up 127.8 yards per game.
SMU vs Temple Betting Prediction: Owls
Here is the SMU vs Temple Betting prediction for the Owls.
Temple is ready for this game, even though they have a 2-5 record overall. They lost their most recent game to North Texas by a score of 45–14, which was disappointing. Temple hasn't done well against the spread this season. They are 0-5 as the underdog and 0-1 when they are the favorite. Each game, the team's score margin is -13.7 points on average. The over/under line for Temple's games is currently 53.8 points after seven games. The average number of points scored in OU games is 57.4, and they have a 3-3 record.
Temple's offense had 347 yards and two touchdowns on the ground against North Texas. On third down, they were 8/16, and on their 30 pass attempts, they averaged 8.8 yards per catch. Because the team lost, quarterback Quincy Patterson didn't score a touchdown pass against North Texas, but he did score one touchdown run. His overall stats were 105 passing yards and a success rate of 40.0%.
North Texas scored 527 yards against Temple's defense. Their defense gave up 307 yards through the air and 220 yards on the ground. At 35.6 points per game, Temple's defense ranks 127th in the country when it comes to points given up. Each game, their opponents have gained 231.7 receiving yards, which is the 102nd most in the country. This is the 154th worst defense in college football in terms of running yards allowed (207).
SMU vs Temple Betting Trends
Here are the SMU vs Temple Betting trends:
When looking at SMU's last three road games, they have a 1-2 record against the spread.
Their last ten home ATS records are 2-8.
Before this game, the Owls had never lost as a favorite.
As the favorite, SMU has won two of their last three games and lost one.
At YouWager.lv you can wager on the different betting types, such as moneyline, spread, and total, and you can bet either on your favorite team or an undervalued underdog, always with the best and latest wagering lines. Open your account now and receive a 100% bonus on your first cryptocurrency deposit, just click below:

SMU vs Temple Betting Predictions, Odds Week 8 2023 by YouWager.lv.