NFL Power Rankings Week 6: 49ers, Eagles, Chiefs Lead List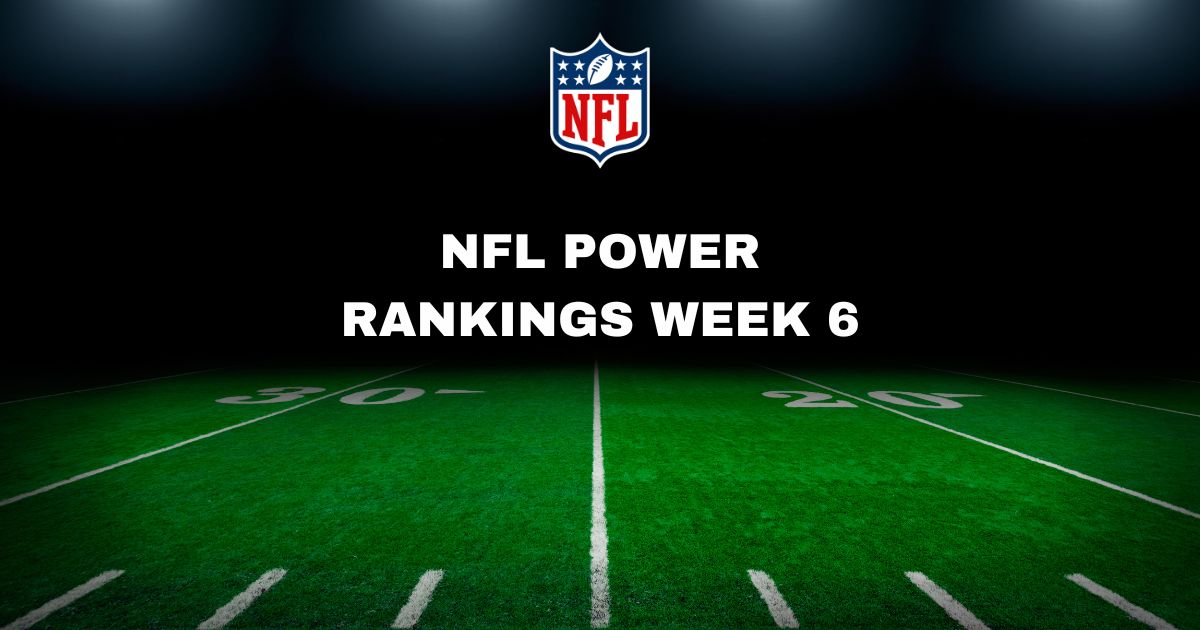 On the NFL Power Rankings Week 6, the Eagles returned to number two, Lions are now part of the top five, and the Jags made it to the top 10.

NFL Power Rankings Week 6 Top 10
Here are the top 10 teams according to NFL Power Rankings Week 6:
NFL Power Rankings Week 6: 1- The San Francisco 49ers
First on our NFL Power Rankings Week 6, we have the 49ers.
If there were still people who didn't believe in Brock Purdy, Sunday night should have shut them up a bit. It's great that the 49ers' offense is clicking right now. As long as Purdy has a healthy Four Horsemen (CMC, Brandon Aiyuk, George Kittle, and Deebo Samuel), it will be impossible for most defenses to stop them.
When he scored a lot of points against a highly-rated Dallas defense, Kyle Shanahan looked like he was having a great time. That being said, it's time to praise San Francisco's defense, which hasn't missed a beat since DeMeco Ryans quit as coordinator.
The 49ers are first in the league in both points allowed per game (13.6) and turnover margin (+7), tied with Tampa Bay. You might not be able to beat them, but it's going to take a lot of work to get them right now.
NFL Power Rankings Week 6: 2- Philadelphia Eagles
Secon on this list of the NFL Power Rankings Week 6 we have the Eagles.
After beating the Rams, the Eagles are now 5-0, which makes them a delightfully flawed team. If you compare it to what the 2022 Eagles did, it's not always very pretty, but that doesn't seem to mean much anymore.
You can be upset about not executing in the red zone or any other problem that comes up during the game if you want to.
Nick Sirianni has shown that he'll jump at almost any good chance that comes his way. This can make up for a lot.
What kind of team starts with the ball on its own 25-yard line 32 seconds before halftime and plans to score? It does so on a "Brotherly shove" as the clock runs out.
The same team that knows it will go for it on fourth down if it has to; that calls QB draw on third-and-9. But the plan gets a lot tougher, so the execution can't stay lukewarm for much longer.
NFL Power Rankings Week 6: 3- Kansas City Chiefs
Third on this list of the NFL Power Rankings Week 6, we have the Chiefs.
Even though the Chiefs had a hard time putting the game away, two touchdown plays in the third quarter—one with Travis Kelce and one without him—helped them get the win.
Even if Kelce doesn't do anything amazing, Kansas City might have to get good at that kind of game this season.
Besides the blowout loss to the Bears in Week 3, the other four games were close and came down to a late possession.
That's a lot like how the 2019 Chiefs won. They fought through nine close games (with a 5–4 record) to win their first Super Bowl since 1969. Without a doubt, they'd be happy with a win instead.
It could happen again soon, since they have two games coming up against Denver. But it's always good to learn how to win games that are close and tough.
NFL Power Rankings Week 6: 4- Miami Dolphins
Fourth on the NFL Power Rankings Week 6 list, we have the Dolphins.
This wasn't Tua Tagovailoa's best game. His pick-six made the game look much tighter than it really was.
While the Dolphins did beat the Giants, it was because their supporting group was so good. Calvin Johnson holds the NFL record for most receiving yards in a single season with 1,964 yards.
Tyreek Hill is on track to break that record with 2,213 yards. That's great, but it hurts to hear that De'Von Achane (9 TDs in 4 games) will be out for a while with a knee injury.
Even though the Giants' offense was all over the place on Sunday, the defense played well enough to give them hope.
After getting beat up by the Bills in Week 4, Vic Fangio's team needed that. In Week 6, Miami plays the Panthers, who are hurt.
Then the real fun begins before the Week 10 break: in Week 7, they play at the Eagles, in Week 8, they play at the Patriots, and in Week 9, they play at the Chiefs.
NFL Power Rankings Week 6: 5- Detroit Lions
Fifth on the NFL Power Rankings Week 6 list, we have the Lions.
The Lions beat the Panthers 42–0 without Amon-Ra St. Brown, Jahmyr Gibbs, and other players. This makes what they've already done through Week 5 even better. This win shouldn't be forgotten, even though it came against Carolina, who had never won a game.
When playing against weaker teams, good teams easily win. A great team is able to do this effectively even when key players are missing on both sides of the ball.
You can say it out loud: the Lions are now in that group. Since 2022, they've won 12 of 15 games, including wins at Arrowhead and Lambeau this season.
They are now the clear favorite in the NFC North. The Lions have a great chance to end a 32-year playoff win drought, even though defensive players are getting hurt more often.
Emmanuel Moseley is the latest victim, having torn his ACL for the second time in as many years.
NFL Power Rankings Week 6: 6- Buffalo Bills
Sixth on the list of the NFL Power Rankings Week 6, we have the Bills.
It's possible that the Bills had a hard time getting used to the different time zones because they didn't fly to London until Friday.
The offense had been behind until two too-little-too-late touchdown drives in the fourth quarter. In three straight weeks, they scored 30 or more points.
This was a double gut punch because of how they fell and the fact that Matt Milano and DaQuan Jones were both hurt on defense. Even though Von Miller is coming back on Sunday, this good defense is in tough shape since Tre'Davious White got hurt last week.
The pass rush should get better when Greg Rousseau comes back in the future, but the big plays that were given up in defense were a problem.
Even though they lost, I still have the Bills ahead of the Jaguars. Why? For the most part, the Bills have played better and would likely be the favorite in a playoff repeat, even if it were in Jacksonville.
NFL Power Rankings Week 6: 7- Jacksonville Jaguars
Seventh on this list of the NFL Power Rankings Week 6, we have the Jags.
As good as the win over Atlanta in Week 4, I think Sunday was the first time I could really say the offense was clicking.
Before getting 474 yards and 29 first downs against Buffalo, this team wasn't doing very well, even with Trevor Lawrence's three mistakes, of which two were lost.
I am also aware that he and his team have lost too many fumbles and are getting sacked too often. But getting back to being strong in big plays was very important.
Calvin Ridley and Travis Etienne made that happen, which was meant to be. While the defense has mostly been strong, the attack needs to find some spark.
NFL Power Rankings Week 6: 8- Dallas Cowboys
Eighth on our list of the NFL Power Rankings Week 6, we have the Cowboys.
In Week 3, they lost badly to the Cardinals. In Week 4, they had a laughable win over the Patriots.
And in Week 5, they got whipped badly by the 49ers. After three weeks, what do we think of this team? They both had terrible nights on Sunday.
Tony Pollard vanished after fumbling in the first quarter. Dak Prescott also had a bad night. Many bad things were said about the backup defense, to the point where it's reasonable to question their good name.
When Dallas got tough, the 49ers fought back and got several times into the end zone.
This coming Monday, the Cowboys play their old friend Kellen Moore and the Chargers in prime time. You can bet that Moore paid close attention to what Kyle Shanahan did on Sunday.
Is Dallas going to get better? Or limp into the bye week in Week 7 with a 3-3 record?
NFL Power Rankings Week 6: 9- Seattle Seahawks
Ninth on the NFL Power Rankings Week 6 list, we have the Seahawks.
Before their Week 5 bye week, the Seahawks put on a great defensive show against the Giants.
If there was one bad thing about getting 11 sacks, it was that it took away from how much better Seattle's run defense has been through four games.
Last year, the Seahawks gave up 1.7 yards per run more than they do now. That's because opponents were stronger up front. They're not good enough on third downs, on either side of the ball, which is a worry given their 3-1 start.
The Seahawks should be fine, though, as long as Geno Smith is healthy and the passing game gets going again down the field.
They have time to fix things because they don't play the mighty 49ers until Weeks 12 and 14.
NFL Power Rankings Week 6: 10- Baltimore Ravens
Tenth on the list of the NFL Power Rankings Week 6, we have the Ravens.
I think the shocking loss to the Colts in Week 3 hurt less than the loss on Sunday. It's not ideal to lose to a backup quarterback, but Gardner Minshew is a good quarterback and the Colts are a good team overall.
Plus, that game was just plain weird in a lot of ways. Week 5? The Ravens just let Pittsburgh win.
Throughout the game, they had many chances to put the Steelers under pressure, but dropped passes, mistakes (two by Lamar Jackson late), and problems on special teams set off an avalanche that was finished by Pickett to Pitts.
The Ravens play well. I think they'll get out of whatever funk they're in and understand it. The trip to London might be good for you. Or at least better for them than their last trip abroad.
11- Tampa Bay Buccaneers
It's hard not to like most of what we've seen from this team after their loss to the Eagles in Week 3. That game was a stark reminder of how bad the Bucs were against the only real threat they've faced so far. Todd Bowles has quietly done a great job as a whole.
He has rebuilt a strong, tough defense and given quarterback Baker Mayfield and offensive coordinator Dave Canales control of the attack.
Though the running game isn't very active, the defense has done a great job in the red zone to keep scores low and give Tampa Bay a chance to win most games. Can this recipe keep going?
We'll probably find out during this tougher stretch of games, as the next three (at the Bills, vs. the Falcons, and vs. the Lions) are all very important.
12- Cleveland Browns
After Week 4, when Deshaun Watson missed the game and the defense had its first really bad game of the season, we had to look at this team again before their Week 5 bye.
On Sunday, San Francisco comes to town. After that, there are road tests in Indianapolis and Seattle, and there are enough questions to make you wonder if this team is built to last.
The most important problem is that the offense isn't consistent, and we don't know if Watson and Kevin Stefanski have the answer.
It's hard to run the ball right now without Nick Chubb, and there are worries about the offensive line because of Jedrick Wills' play and the lack of depth.
No matter how good the defense has been, they should make more mistakes. This group needs all the things it can take from other teams.
13- Los Angeles Chargers
After the team won two straight games and went into the bye week tied at 2-2, the fear meter went down. However, the Chargers have to play 13 games in a row.
Their opponents this remaining schedule includes the Cowboys this Monday, the Chiefs in Weeks 7 and 18, the Lions in Week 10, the Ravens in Week 12, and the Bills in Week 16.
Winning close games against the Vikings and Raiders don't give the Chargers enough confidence going into that stretch.
The biggest worry is stopping fast-paced pass plays, and a lot of L.A.'s final opponents are pretty good at throwing the ball. The road ahead is long.
14- New Orleans Saints
That should have fixed the Saints' scoring problems, right? Even though that might be too much, it was good to see them play a bit more aggressively early on, and it was great to see Derek Carr play well after he didn't look quite right the week before. The Patriots defense is supposed to be good.
After a while, they went back to being more traditional, and who could blame them? At that point, New England had pretty much given up.
When you have a defense that can blank and frankly embarrass an opponent in its own field, you can handle bad play on the other side of the ball.
There were many people on both sides who helped make this a good win.
15- Cincinnati Bengals
You knew that the Bengals' offense would get better at some point. When I saw how Joe Burrow moved on the first-drive touchdown pass against Arizona, I thought he might be feeling better.
When he ran for 10 yards at the end of the third quarter, I knew for sure.
That was a big change, and Burrow's keeping his guy, Ja'Marr Chase, successful was also big. This wasn't a great game for the defense, even though they had two interceptions (one a pick-six) and three sacks.
The tackles and run fits were pretty gross, which is something that keeps happening. This Sunday, they play Seattle, which loves to drive the ball hard. That game will be the bigger test.
Their chances of still being in the game are good if they can handle the Seahawks' rush and have another great day throwing the ball.
16- Atlanta Falcons
On Sunday, Desmond Ridder played the way some critics said he couldn't, which was a huge step forward for this team. It was the 23-yard pass to Drake London with less than a minute left that was the biggest. It came after a low snap and with Ridder under a lot of pressure.
From there, all the Falcons had to do was run out of time and kick the ball. There were many good things about this game.
Ridder, London, Kyle Pitts, Bijan Robinson, and Atlanta's underrated defense all played big parts in the win. The Falcons have lost three games in a row and are only.500 against teams that are above.500 (except for Tampa in Week 7) before their bye week in Week 11.
Athens is back in good shape and ready to compete for the NFC South title.
17- Indianapolis Colts
Things do seem to be getting better, though. The Colts have won three of their last four games, and Jonathan Taylor is back with a big new deal.
However, Anthony Richardson's early-career problems are getting worse, which is a worry.
Gardner Minshew has been a great backup quarterback and might be the best in the NFL. He has been a great relief. But Richardson has now hurt himself three times in four games.
The AC joint sprain in his right shoulder will keep him out for at least a month.
There is a catch-22: The most dangerous thing about Richardson might be that he runs a lot. The more he runs, the more likely it is that he will get hurt.
The Colts can still be in the running for the AFC South title if they can keep up their pace over the next five games. For what he's done so far, Shane Steichen should be named Coach of the Year right away.
18- Green Bay Packers
Even though the offense got off to a slow start with a bad interception by Jordan Love, it still looked like the Packers had a great chance to win. Since they did.
And the plan for the second half started off great: At first, Rudy Ford made a nice pick. Then, AJ Dillon led the Packers to the end zone on a drive that took all of his 247 pounds.
Even though they let the go-ahead touchdown drive happen, the defense held strong. But Love had a hard time connecting with his receivers most of the night, and he threw three terrible picks in the end.
The most worrying thing is that Love's three picks never really got the ball to where he wanted it to go; they were just bad choices and/or throws. The performance needs to get better.
19- New York Jets
Breece Hall ran for 177 yards, which was the high point of his career, after the Jets took the pitch count off of him. He looked great in the open field against Denver. The defense had some ups and downs, but after halfway, almost everything was great.
That unit could be more dominant all the time, and comments like the late scoop-and-score can help boost their confidence. Zach Wilson's skills are very good at many small things.
But the Jets lost points against the Broncos because of two mistakes in high-pressure moments and other mistakes in the red zone.
New York needs to find ways to get Garrett Wilson more involved, even though the showing wasn't bad. When Hall and Garrett Wilson are at their best, the Jets are scary.
20- Pittsburgh Steelers
I'm not going to go into the specifics of how the Steelers got to 3-2 with a -31 point deficit and some crazy changes in the game.
You have to admire how tough and creative the team is for coming up with new ways to win games. But I don't think there will be a trip to Cabo during this bye week.
I think Pittsburgh knows it needs to do a lot of work. Mike Tomlin talked about big changes nine days ago. Still, they are on top of the AFC North for now.
21- Houston Texans
The Texans did almost everything right against the Falcons. They had fewer penalties (7-5), won the turnover battle (2-0), and C.J. Stroud led an exciting touchdown drive that gave them the lead with less than two minutes left on the road.
For starters, Stroud has thrown 186 straight passes without an interception, which is an NFL record. He also hasn't been sacked since Week 2.
I won't blame you if you're mad that Houston's defense let up the drive that won the game.
But given how well Stroud is playing, it was upsetting that the offense couldn't do better than 4 for 13 on third downs and 1 for 3 in the red zone.
DeMeco Ryans might feel bad about trying a field goal early on fourth-and-1. This team is further along than I thought they would be, no matter what.
22- Los Angeles Rams
The Rams played surprisingly well in Weeks 1 and 2, which may have changed how we saw their promise.
However, they haven't been as good in recent games, despite an overtime win on the road and two close losses to teams that came into the season as real Super Bowl contenders.
Even though they've had some good football, Los Angeles hasn't seemed to put together a full game since Week 1.
The receivers look like they're in great shape, Matthew Stafford has been fighting, and the defense usually keeps the other team's score low. Why can't the Rams finish more runs and get more close wins?
23- Tennessee Titans
After beating the Jaguars at home in Week 4, the Titans lost again on the road, making it 0-3 for the season. Indianapolis picked on Tennessee and kind of beat Mike Vrabel at his own game.
That was the most shocking thing that happened on Sunday.
A tried-and-true way to lose is to lose both lines of scrimmage, the turnover fight, and all four of your chances to score in the red zone.
Derrick Henry and the running game stopping would not surprise me as much; we've seen that happen before. However, what about the Titans' renowned run defense?
The Colts blew it out. They almost had more rushing yards (193) in this game than Tennessee gave up in its previous three games put together (211).
24- Las Vegas Raiders
The troubles of Jimmy Garoppolo almost cost the team the game, but the defense played its best game in a while. It wasn't just Maxx Crosby, though he was great as usual.
Big plays also came from people who weren't expected to. As of Week 5, the Raiders had only picked off one pass all season. Before Monday, Robert Spillane had seen one.
Big Game Bob caught two passes from Jordan Love, which makes sense, even though they only led to three Raiders points.
With just the right amount of help from the offense in key spots, Amik Robertson's pick in the end zone in the last minute sealed the deal.
The Raiders were able to win, but Garoppolo's terrible third quarter will stay with me until next week.
25- Minnesota Vikings
The fact that they've lost eight mistakes and let every opponent score first helps explain at least some of their 1-4 record. So, does the fact that they were close to beating the Chiefs give us any comfort? It's hard to when Justin Jefferson had a bad game and had to leave with a leg injury.
It's even harder when things go the same way they did in previous losses.
On the first play from scrimmage, the team lost a ball, which was likely something that Kevin O'Connell and his staff worked on all week in practice. … mistakes with the clock and the game…. offensive and defensive mistakes at important times in a game that could have been won.
There's a lot to fix before going on the road to play the Bears. The Vikings will not have their best player for at least the next four games because Jefferson has been placed on injured reserve.
26- Washington Commanders
You can win the games that are coming up, but first you need to stop some really worrying trends. The well-known defense is taking a beating from big plays. Too many hits are going to Sam Howell.
And the rookie class hasn't been much help either. For example, first-round CB Emmanuel Forbes Jr. had another bad game last week.
The protective front might be the easiest problem to solve. Getting stronger and more disciplined on the defensive line would help with the secondary worries.
The Commanders' famous quarterback killers are putting pressure on quarterbacks and sacking them, but they haven't taken over games yet. Washington's defense has gotten worse in part because of that unit.
27- Arizona Cardinals
You knew the Cardinals were getting a weak Bengals team at a good time, which made this loss even worse.
Joshua Dobbs, on the other hand, had his first really bad day of the season, and the defense let the offense keep running the same play over and over: Joe Burrow to Ja'Marr Chase.
Arizona already didn't have Budda Baker (on IR) in the secondary, and they lost Jalen Thompson in the middle of the game. The Bengals kept going after CBs Marco Wilson and Antonio Hamilton (who seems to have taken over as a starter for rookie Kei'Trel Clark). Hamilton got hurt on Sunday as well, and it seems like the Cardinals have to fix problems in the back end every week. Also, star running back James Conner is going to be out for a while with a knee injury.
28- Denver Broncos
After the Jets loss, there were many things that could be blamed, but Sean Payton is the first one that comes to mind. After all, Payton made words about himself before the season that clearly helped the Jets win on Sunday.
Was it haughty? meant to keep his players safe?
Whatever it was, Payton's 1-4 start in Denver has been a huge failure. The Broncos could be 3-2 (and should not be 4-1), but that doesn't make it better when one of their losses was by 50 points.
This team has made too many mistakes on its own to be called a "wolf in sheep's clothing." Against New York, the offense was very quiet for most of the second half, and the run defense was again shredded. We're back to the beginning.
29- New England Patriots
These last two weeks have been the worst for this brand in a long time. When the score was 24-0 and Bill Belichick had to kick on fourth-and-3 from the Saints' 40-yard line, it was scary.
It looked like one of the best football teachers ever had lost. It's been two weeks in a row that Mac Jones has had to sit out because it was best for him.
The season has gone from being frustrating to being downright scary, and I don't think a hurt defense will save the day.
It's safe to say that New England is one of the worst NFL teams until further notice, which is just weird to type. There is no longer any fear.
NFL Power Rankings Week 6: Last Teams
Last but not least on this least of the NFL Power Rankings Week 6, we have the last 3 teams in the list, the Bears, the Giants, and the Panthers.
30- Chicago Bears
Even though Thursday's win came out of nowhere, it did build on some of the offensive progress made during most of the loss to the Broncos.
This shows that things are changing on that side of the ball.Now that Justin Fields has had back-to-back banner games, and DJ Moore's rise has given Chicago a real edge.
Still, the offensive line and backfield need work, and the defense needs to get better even though they did pretty well at Washington.
The Bears have two home games in a row against teams they can beat (the Vikings and the Raiders).
Also, Eddie Jackson, Jaylon Johnson, and Kyler Gordon are all set to return at some point, which should help their defense.
31- New York Giants
I feel bad for Joshua Ezeudu, who said sorry for letting his quarterback get beat up again on Sunday.
No way is it just one player, not a third-round pick in 2022 playing left tackle when he shouldn't be there.
But that's the state of the Giants' offensive line right now—everyone has been hurt and isn't working well.
And the sack Ezeudu gave up hurt Daniel Jones' neck. It was one of seven sacks New York gave up on Sunday, after giving up 11 in Week 4.
Giants' injuries have made it hard for them to score, and it's only Week 6!
Someone needs to put Darren Waller in a bubble right now. This is terrible.
32- Carolina Panthers
The Panthers were ahead in each of their first four loses, which made some people feel better. But after their fifth loss, everyone had to admit that they were trying too hard.
The bad news first: this team won't be making the playoffs. Carolina plays the Dolphins this week in Miami. No team that is 0-5 has ever done that before.
The Panthers don't have their first-round pick in the 2024 NFL Draft, which would be the first overall pick right now.
Also, Bryce Young, the quarterback they traded that pick for this year, is having a tough time.
In each of his four starts, he has lost the ball at least once, been sacked 12 times, and is only getting 5.2 yards per carry.
It's clear that the Panthers want to see more from him right away.
At YouWager.lv you can wager on the different betting types, such as moneyline, spread, and total, and you can bet either on your favorite team or an undervalued underdog, always with the best and latest wagering lines. Open your account now and receive a 100% bonus on your first cryptocurrency deposit, just click below: