Notre Dame vs Louisville Prediction, Odds Week 6 2023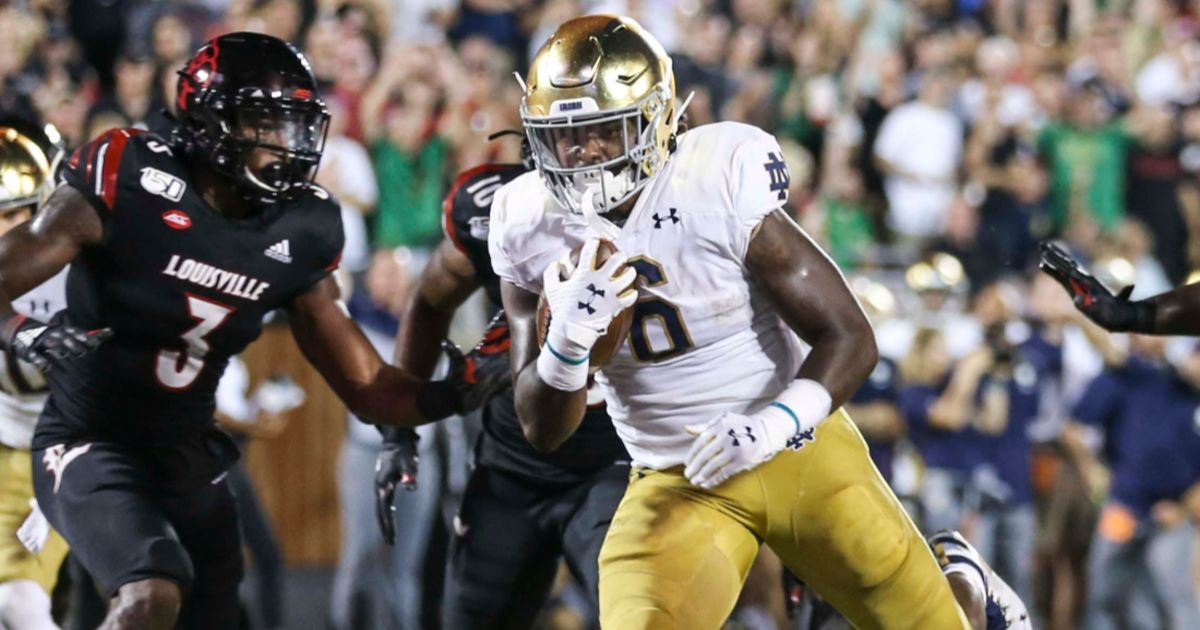 Notre Dame vs Louisville prediction and odds for Week 6, 2023
See our pick and preview for Notre Dame vs. Louisville in the NCAA week 6 below. This article will identify the person who will win and cover the spread.
The passer rating of opposing quarterbacks against Notre Dame is 54.1.
Passing attempts rank Louisville's offense in 41st place.

Notre Dame vs Louisville Betting Odds
Notre Dame -6.5
Louisville +6.5
Total: 54 Over/Under
Notre Dame vs Louisville Prediction
Now, let's check out the Notre Dame vs Louisville prediction.
Plan to see the Fighting Irish and Cardinals' Week 6 CFB game on ABC at 7:30 on Tuesday, October 7th (10/7/23).
L&N Federal Credit Union Stadium in Louisville, Kentucky will serve as the game's host.
The Fighting Irish are seen as 6.5-point favorites to win this non-conference game.
Is betting on them to cover the spread a good idea, or are the Cardinals a better choice? Find out by reading on.
Notre Dame vs Louisville Matchup at a Glance
Teams: Louisville Cardinals vs. Notre Dame Fighting Irish
Where: L&N Federal Credit Union Stadium in Louisville
Date: October 7th, Saturday
Notre Dame Prediction
The Notre Dame Fighting Irish have a 5-1 record that is above.500 going into this week's game against Louisville.
This comes after they just defeated Duke (21-14) in a contest. Four times so far, Notre Dame has been the favorite; once, they have been the underdog.
As a result, there has been an average score differential of +23.5 and an ATS record of 3-1-1. Notre Dame has a 2-3 over/under record so far this season.
The total score of their games has been 49.5 points on average, while the average over/under line has been 52 points.
The Fighting Irish's offensive running game covered 159 yards on 32 tries and scored two rushing touchdowns versus Duke.
With 31 passes tried, they managed 222 yards in the passing game but no touchdowns. Sam Hartman completed 15 of 30 passes for 222 yards in the victory over Duke.
He did not throw or run for a touchdown, and his overall passer rating was 74.58.
At the end of the contest, Duke's offense gained 323 total yards thanks to the Fighting Irish defense. In contrast to the 134 passing yards allowed, the team's run defense gave up 189 running yards.
With 13 points allowed per game, Notre Dame's defense ranks 44th in terms of points conceded. Teams have been passing for 146.8 yards on average against them, ranking them 13th nationally.
They rank 59th in college football for rushing defense thanks to their 124.5 rushing yard total allowed.
Louisville Prediction
Following a 13-10 victory over NC State, the Louisville Cardinals are aiming to beat Notre Dame and maintain their perfect record.
Louisville has an ATS record of  > for the year and has started every game as the favorite.
Louisville has a 2-2 over/under record so far this season. The total score of their games has been 54.2 points on average, while the average over/under line has been 52.2 points.
Louisville finished with one score on the offensive end of the field against NC State but failed to reach the end zone when rushing.
They accrued 286 passing yards and 20 running yards in total. Jack Plummer, the quarterback, finished with a QB rating of 71.85 in the victory over NC State, completing 21 of 35 passes for 286 yards.
He enhanced his performance by scoring one touchdown.
The Cardinals' defense against NC State was outstanding, allowing just 10 points on 201 total yards. The passing game for NC State totaled 112 yards.
Louisville allowed 2.9 yards per attempt up front. Louisville enters the contest with 121st-most passing yards allowed per game on defense.
When playing the Cardinals, opponents throw the ball the average number of times a game is 30.8.
They are allowing 17.2 points per game on average, which ranks 50th in college football. In terms of rushing yards allowed, they rank 40th in the NCAA against the run.
Betting odds, trends, and analysis for Louisville vs. Notre Dame
With a perfect record against Louisville, Notre Dame hopes to keep it up.
Louisville has the advantage in the previous 10 head-to-head contests between Notre Dame and Louisville, with an ATS record of 6-3-1.
Notre Dame's odds have changed since they were first published, going from being -7 point favorites to their current line of -6.5 (-112).
Louisville, on the other side, is currently a home underdog by +6.5 (-109) points. The Fighting Irish's current moneyline payout is -277, which is different from the opening odds of -278.
At the moment, Louisville has a 31% indicated victory probability, while Notre Dame's is 73%.
Key Trends
In their last three road contests, Notre Dame has a 3-0 overall record against the spread
In their last five home games, Louisville has gone 1-4 against the spread
When Louisville entered a game as the underdog the previous three times, their ATS record was 1-2
Notre Dame has an ATS record of 4-1 in their last five games as the underdog
Notre Dame vs Louisville Free Pick
Free betting prediction for Notre Dame vs Louisville from YouWager.lv: Notre Dame -6.5
At YouWager.lv you can wager on the different betting types, such as moneyline, spread, and total, and you can bet either on your favorite team or an undervalued underdog, always with the best and latest wagering lines. Open your account now and receive a 100% bonus on your first cryptocurrency deposit, just click below: