LSU Tigers vs Florida State Seminoles Betting Prediction, Odds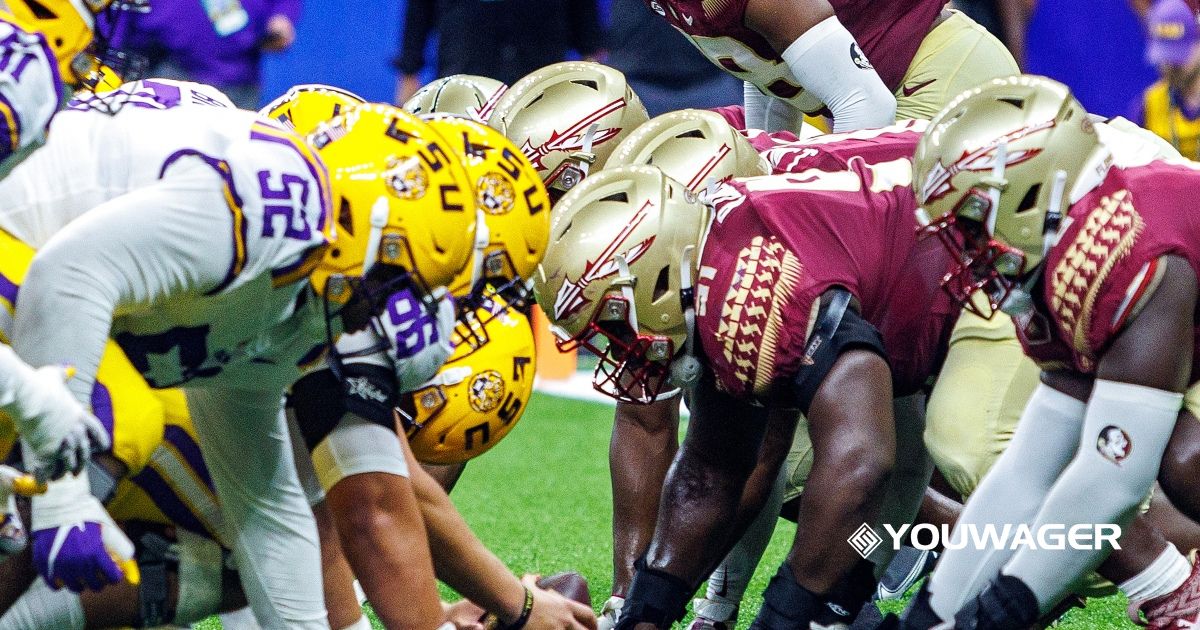 Here is an LSU Tigers vs Florida State Seminoles Betting preview for the game that is taking place on September 3, 2023.
This season, LSU and Florida State are both seeking a breakthrough in the CFP, as they face off to open the season. This game will be close, according to our college football predictions, but one team has a clear advantage.
The fact that this game was set three years ago and that both the LSU Tigers and the Florida State Seminoles are on the verge of breaking through to national contention is fortunate for us college football fans.
Although the athletic departments could only aspire for such a result, they had no means of foreseeing that both teams would be ranked in the top 10 in the AP preseason poll for 2023. Remember the preseason of 2020, when neither LSU nor Florida State garnered even one vote in the AP poll?
Both the Tigers and the Seminoles are thriving right now, which is a combination of happenstance and the transfer portal opening up in response to the activation of NIL rights.
These, however, are off-season features. This is the time of year. Labor Day Sunday is the second consecutive year that these two powerhouse teams will square off in a stand-alone matchup.
Here are our free choices and predictions for the Sunday, September 3 matchup between LSU and Florida State in college football.
LSU Tigers vs Florida State Seminoles Betting Odds
Let's check out the LSU Tigers vs Florida State Seminoles Betting odds:
LSU Tigers -2
Florida State Seminoles +2
Total:  56 Over/Under
LSU Tigers vs Florida State Seminoles Betting Prediction
Here is our LSU Tigers vs Florida State Seminoles Betting prediction.
The goal here is to avoid giving any betting tips and instead concentrate on what can be discovered about LSU's offense versus this particular defense. I want to draw attention to the fact that Tigers quarterback Jayden Daniels last season converted numerous good pockets into pressures and scrambles. A point to be made is that it is statistical, not anecdotal, and is expected to occur again in 2023.
I want to draw attention to Florida State's potent defensive line, which is led by star NFL prospect Jared Verse and three significant transfers, including Western Michigan tackle Braden Fiske. Despite having little known depth, one wonders just how powerful LSU's offensive line will be—and it should be strong.
But the best bet won't come from that in-depth analysis. Simply said, it will fawn over Verse and be in awe of Daniels being shielded from him. LSU will have no issue on Sunday night if the Tigers do protect Daniels.
LSU might still have no issue on Sunday night given the length of the encounter.
LSU and Brian Kelly
Next in this LSU Tigers vs Florida State Seminoles Betting Prediction, let's talk about the the relationship between LSU and coach Brian Kelly.
The year 2022 was a letdown for the Tigers in certain ways. Yes, even after they finished 10-4 and advanced to the SEC title game. When compared to previous years, Brian Kelly committed some errors.
Kelly finished 40-0 in games he won outright in his final four seasons at Notre Dame, going 25-14-1 against the spread as a favorite. He developed the undervalued and underappreciated ability of winning the games that he was meant to win in college football. He had a less than consistent first season in Baton Rouge, going 5-4-1 ATS and 7-3 in outright wins as a favorite.
However, that was to be expected. Kelly took over a program that was in disarray and changed the majority of the squad. Now, everything is more secure. Finding a new special teams coordinator is the only solution after repeated errors with that group lost the Tigers this specific matchup in 2022.
With months to plan, it makes sense to rely on Kelly's expertise. In a relatively short period of time, Mike Norvell has done a remarkable job of revamping the entire Seminoles program. It is commendable that both streams of progress have made headway. Despite all the preseason fanfare surrounding Florida State, the team only had a 6-4 ATS record as a favorite the previous year.
The Seminoles have only been favorites 8-9 times in Norvell's three seasons in Tallahassee. Regarding the game this weekend, Florida State is 6-5 ATS when it is a one-possession underdog under Norvell, including 2-1 last year.
The Seminoles had a 3-8 overall record during those times, including 1-2 last year, with the lone victory coming as a result of LSU's poor special teams play. The fact that you can manage 6-5 ATS as a one-possession underdog but 3-8 outright speaks to some challenges in close games that could conceivably be attributed to coaching.
Since last season, there has been some movement on both of these rosters thanks to the transfer portal's magic. However, other from being slightly older and more consolidated, they remain largely the same as they were. With each, there is a fair amount of hype—possibly too much.
The recognized commodities of head coaches, however, varied significantly. In contests he should win, Brian Kelly has proven himself. Even as an underdog, Mike Norvell still exhibits erratic behavior in that area.
It makes some sense to support a coach who has a strong track record and is the favorite in a game that is within a field goal. Just keep in mind that the long-term lesson is in how Daniels responds to Verse's demand.
Our best bet: LSU -2
LSU Tigers vs Florida State Seminoles Betting: Same-Game Parlay
Now in this LSU Tigers vs Florida State Seminoles Betting prediction, let's check out info on a same-game parlay.
The aforementioned was not said to belittle Norvell. Kelly will take a test from him. And the Florida State defensive line will receive a lot of attention during that test. It really is a top-notch item.
Both the Under and Daniels' Over prop bets on passing touchdowns are centered on their defensive line. Daniels frequently puts himself under pressure. He must then rely on his receivers to demonstrate their prowess in scramble drills.
Daniels' passing yardage average last year was down from his career average of 8.05. He only had three interceptions while throwing 17 touchdowns. He has completed 49 touchdown passes in 43 games over his career. And that's where this situation's value lies.
Either someone will force Daniels out of the pocket, or Daniels will force himself out of it. He yet frequently throws for large gains. That should result in one planned score and one improvised touchdown in a typical game flow while still preventing the LSU attack from settling into a predictable pattern.
Spread and Over/Under Analysis
All summer long, this spread has been inside a field goal. entire summer. This demonstrates how the market becomes more focused during the lean months of June and July. The total decreased from 57.5 to 55.5 at most books and 56.5 at some others in the previous week or two, remaining relatively stable.
That sum seems high. Whatever the reason, this total seems high. You may blame the new clock rules, blame the fact that LSU is still recommended to win and cover while Florida State's defensive line is praised, or blame Week 1 jitters in primetime.
In their season opener during the past Labor Day weekend, these two scored a combined 47 points. If we convert the spread and total for this weekend into an expected score of 30-27 in favor of LSU, then the Tigers missed that mark five times last year, with three more games ending at 30-32 points, while Florida State missed the mark three times, with a fourth game ending at just 28 points.
Both of them are more than capable of putting on a slow performance to open the season.
LSU Tigers vs Florida State Seminoles Betting to Know
Last season, LSU finished 3-2 in games decided by one touchdown, while Florida State went 4-2 in those situations, including its upset of the Tigers in Week 1 thanks to their special teams. Learn more about the Florida State vs. LSU college football betting trends.
At YouWager.lv you can wager on the different betting types, such as moneyline, spread, and total, and you can bet either on your favorite team or an undervalued underdog, always with the best and latest wagering lines. Open your account now and receive a 100% bonus on your first cryptocurrency deposit, just click below: