Heat vs Nuggets Game 3 Betting Odds, NBA Finals Preview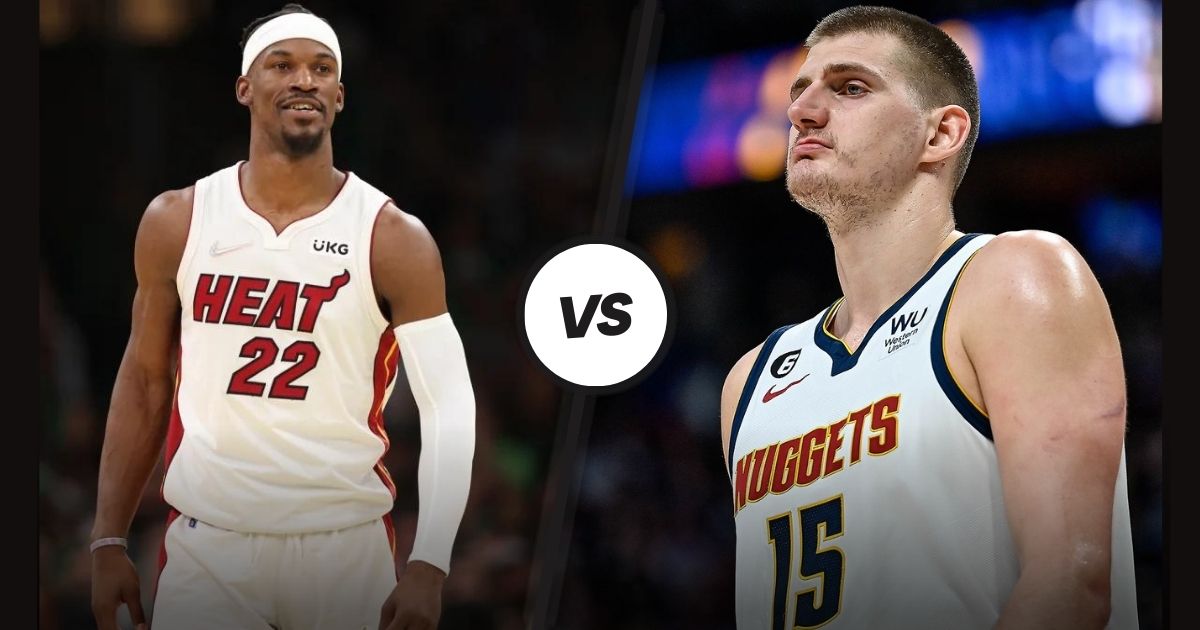 Heat vs Nuggets Game 3 Betting Odds and overall preview for game 3 of the present NBA Finals.
After the Heat beat the Nuggets 111-108 in Game 2, the 2023 NBA Finals will move to South Beach for Game 3 on Wednesday, April 30, at 8:30 p.m. ET (ABC). Denver's home playoff loss was their first in 10 tries this postseason. Miami's come-from-behind win was their fourth in the 2023 NBA Playoffs when they were down by eight or more points going into the fourth quarter.
In Game 1, the Heat shot 33.3 percent from beyond the arc (13 of 39) and only tried two free throws. In Game 2, they shot 48.6 percent (17 of 35) from beyond the arc and made 18 of 20 free throws. After scoring 13 points in Game 1, Jimmy Butler scored 21 points on 7-of-19 shooting in Game 2. However, it was the contributions of Gabe Vincent (23 points), Bam Adebayo (21 points), Max Strus (14 points), and Duncan Robinson (10) that shocked the Ball Arena crowd.
Denver had a better shooting rate (52%) at the end of Game 2, but their defense wasn't as good as it needed to be to win an NBA Finals game. The Nuggets had the third-worst defensive rating in the playoffs, at 129.1. This means that they gave the Heat too many open shots, which they will happily take advantage of.
"They came in here and worked harder than us," Nuggets coach Michael Malone said after the game. During the Heat's memorable run to the Finals, this was a theme that their opponents used a lot. Malone has every right to blame his team for being outworked, but Miami's ability to do well when things don't go their way and wear down opponents over 48 minutes is also something to be proud of.
Will the Heat take a 2-1 lead in the series, or can the Nuggets get back on defense and take back the lead? Below, we'll talk about Game 3 of the 2023 NBA Finals, which will be between the Heat and the Nuggets. We'll look at the odds and give our betting tips.
Heat vs Nuggets Game 3 Betting Odds
Here are the Heat vs Nuggets Game 3 Betting Odds, brought to you by YouWager.lv:
Denver Nuggets -2.5, Moneyline -135
Miami Heat +2.5, Moneyline +115
Total: 214.5 Over/Under

Heat vs Nuggets Game 3 Betting Preview
Now it's time for our Heat vs Nuggets Game 3 Betting:
The price of the Nuggets winning the series shot up from -400 to -700 after Denver's stress-free 11-point victory in Game 1, but it dropped back down to -275 heading into Game 3. The current series odds for Denver indicate that the team has a 73.33 percent chance of winning the entire thing, which is far lower than the top implied probability of 87.5 percent that it would win its first-ever NBA Championship when its price tag was -700.
The Nuggets are slight favorites to win Game 3 on the road by a spread of -2.5 points, but this best-of-seven series now has a real possibility of going the distance. The decision made by Miami to start Kevin Love rather than Caleb Martin and to let Butler guard Jamal Murray made a significant contribution to Denver's offense being slowed down, which allowed Miami to steal Game 2. Nikola Jokic still got his, scoring 41 points on 16-of-28 shooting, but Murray finished with just 18 points in the game after scoring 26 in the first game.
During the regular season, Denver allowed its opponents to shoot a three-point percentage that was the second-lowest in the league. However, that was only during the regular season. Together, Strus and Robinson shot six of 13 from long range, but Vincent continued to struggle from beyond the arc, making only four of six of his attempts.
Will Denver's defense become more linked around the perimeter, resulting in a night for Miami in which they shoot fewer threes at a lower percentage? Denver did benefit from some good fortune in Game 1, as Miami failed to capitalize on many solid opportunities; nevertheless, the same shots were successful in Game 2.
To add to the mystery that is the 2022-23 Miami Heat, the team has a shooting percentage from beyond the arc of 40.3 percent in their 12 games played away from the Kaseya Center during the postseason, but they have only made 37.3 percent of their three-point attempts in their eight games played within the arena. If you believe that the Heat will continue to shine from the perimeter, you should consider placing your bets on the Heat as an underdog on the moneyline (+115) rather than anywhere else. If, on the other hand, you believe that the Nuggets will come out with more vigor and enhance their perimeter defense, then Denver (-2.5) has a strong chance of taking a 2-1 lead in the series.
It is difficult to find bettable edges on sides and totals in the NBA Finals, and while we wish we could be more sure in choosing one side over the other, we simply can't.
In the interest of making a prediction, we are going to side with Michael Malone's team fixing the holes in their defense and gaining a 2-1 lead in the series thanks to a game that saw less goals scored. The speed of play in this series is too slow to justify a wager on the OVER, despite the fact that both sides have taken effective shots.
Thank you for getting your Heat vs Nuggets Game 3 Betting action with YouWager.lv!